A Peek into Bajaj Finance's Stellar March Quarter Performance
Apr 28, 2021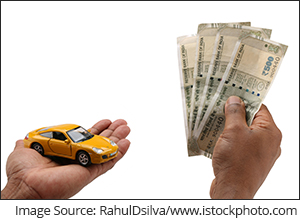 Non-banking finance company Bajaj Finance saw its net profit rise sharply in the fourth quarter over a year ago even as core income remained subdued.
The company's net profit rose 42% year-on-year (YoY) to Rs 13.4 billion in the January-March period from Rs 9.4 bn a year ago.
Net interest income (NII) fell 2.4% YoY to Rs 45.6 bn at the end of the March quarter, compared to Rs 46.8 bn a year ago.
The non-bank finance company's (NBFC) board also declared a dividend of Rs 10 per share.
Bajaj Finance's Asset Quality in March Quarter
Bajaj Finance's gross non-performing asset (NPA) ratio as on March 31 stood at 1.79% compared with 2.86% pro forma gross NPA as on December 31.
Net non-performing assets rose to 0.75% of its total advances, compared to pro forma net NPA of 1.22% in the preceding quarter.
Loan loss provisions in the fourth quarter stood at Rs 12.3 bn, down 37% YoY from Rs 19.5 bn.
Non-overdue one-time restructuring book stood at Rs 17.3 bn. This includes secured exposures of Rs 9.1 bn, one large business-to-business (B2B) retailer account of Rs 3.9 bn, and Rs 4.2 bn of unsecured assets.
The auto finance business saw the highest gross NPA ratio at 9.3%.
Business Performance Highlights
Consolidated assets under management (AUM) rose 7% to Rs 1.53 lakh crore at the end of the March quarter from Rs 1.43 lakh crore in the preceding three months.
A year ago, AUM were lower at Rs 1.47 lakh crore.
Bajaj Finance owns a 100% stake in Bajaj Housing Finance Ltd and Bajaj Financial Securities Ltd, which are considered in the consolidated assets under management.
The company in its investor presentation reported that 5.47 million new loans were booked in the March quarter (Q4FY21) as against 6.03 m a year ago.
It also reported that new loans origination across businesses, except auto finance, is back to pre-Covid levels. New wallet loans remain in abeyance while selective lending is taking place in the retail EMI business.
The company acquired 2.26 m new customers in Q4FY21 versus 1.85 m customers in Q4FY20. Total customer franchise stood at 48.57 m as of 31 March 2021, a growth of 14% YoY.
Total geographic footprint stood at 2,988 locations and over 1,10,300 distribution points.
Commenting on the second wave of Covid infection and its impact on business, Bajaj Finance said disruption in Q1FY22 could be reasonably mitigated in subsequent quarters.
Here's the table showing how Bajaj Finance's asset under management for the top five segments performed in Q4FY21.
Bajaj Finance: Performance Across Key Segments in Q4FY21
| Top 5 Segments | AUM as of 31 March 2021 (Rs bn) | YoY Growth (%) |
| --- | --- | --- |
| Consumer B2C | 304.5 | -3% |
| SME Lending | 202.1 | 4% |
| Auto Finance | 121.1 | -7% |
| Rural B2C | 118.2 | 11% |
| Sales Finance | 115.2 | 9% |
Data Source: Company Investor Presentation
Comfort on Capital and Liquidity Front
Bajaj Finance's capital adequacy stood at 28.34% as of 31 March 2021.
Cost of funds for Q4FY21 was 7.39% vs 8.37% in Q4FY20.
The company said it has maintained a liquidity buffer of Rs 164.8 bn as of 31 March 2021. This represents 12.5% of its total borrowing.
The company also paid down over Rs 75 bn to various banks in last two quarters to reduce cost of funds.
Deposits book stood at Rs 258 bn, a growth of 20% YoY and its contribution to consolidated balance sheet was 20% as of 31 March 2021.
Equitymaster's Technical View on Bajaj Finance...
We reached out to Brijesh Bhatia, Research Analyst at Equitymaster, and Editor of the premium monthly recommendation service Fast Profits Report, for his technical view on Bajaj Finance.
Here's what he has to say:
When you are bullish on Finance stocks, you should not miss Bajaj Finance.

The recent dip tested the long-term 200 DEMA (Daily Exponential Moving Average) at Rs 4,500 and 50% Fibonacci retracement, and bulls have convincingly taken stock price higher to Rs 5,000 levels.

The falling trendline (marked Red) on stock price and RSI (Relative Strength Index) indicates the fresh bullish momentum has emerged and 65 league cannot be ruled out.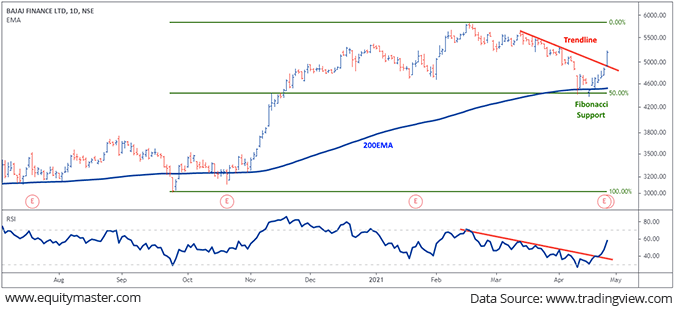 How Stock Markets Reacted to Bajaj Finance's Q4 Numbers...
Shares of Bajaj Finance witnessed buying interest in intraday trade today and the stock of the company is presently trading up by 6.7% at Rs 5,204.
Bajaj Finance share price has touched a 52-week high of Rs 5,921 and a 52-week low of Rs 1,783.
On a year-to-date (YTD) basis, share price of Bajaj Finance is down 8% and over the past one year, it has gained a whopping 138% as can be seen from the chart below.
Bajaj Finance Share Price Performance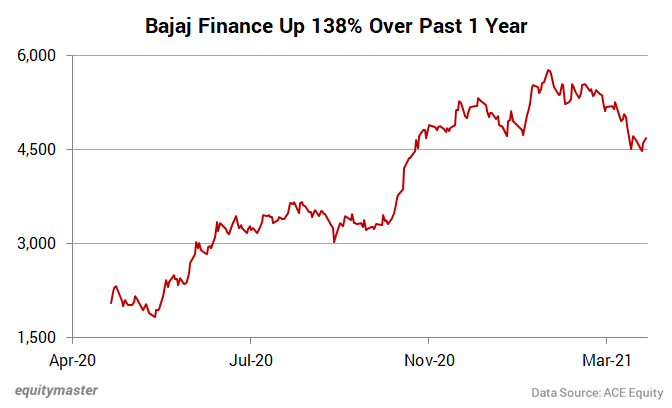 About Bajaj Finance
Set up in 1987, Bajaj Finance is a subsidiary of Bajaj Finserv (52.8% ownership), the financial services arm of the Bajaj group.
Bajaj Finance has a diversified product suite comprising key businesses such as vehicle loans (two and three-wheelers manufactured by Bajaj Auto), consumer durable loans, personal loans, mortgage loans, small business loans, loans against securities, commercial finance, and rural finance.
The company is the largest financier of two-wheelers and consumer durables in India.
Bajaj Finance has emerged as one of the largest retail asset financing NBFCs in India, and continues with its two-pronged strategy of building scale and maximising profit.
Segments such as mortgages, small business loans, and commercial lending are focused on building scale, while consumer durable loans, personal loans, and two and three-wheeler financing are focused on maximising profit.
For more details about the company, you can have a look at Bajaj Finance's fact sheet and Bajaj Finance's quarterly results on our website.
You can also compare Bajaj Finance with its peers on our website:
Bajaj Finance vs Cholamandalam Invest
Bajaj Finance vs Edelweiss Financial
To know what's moving the Indian stock markets today, check out the most recent share market updates here.
Monish Vora is a keen student of the markets and shares his observations through his clear and concise commentary.