Apr 28, 2022 - 'Big Whale' Ashish Kacholia Bought These Multibagger Stocks in March 2022 Quarter
'Big Whale' Ashish Kacholia Bought These Multibagger Stocks in March 2022 Quarter
Apr 28, 2022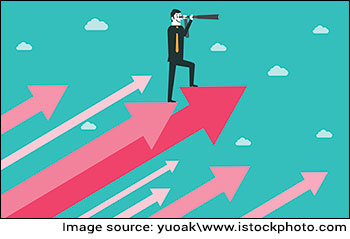 As the March 2022 quarter came to an end, companies filed their latest shareholding patterns. We noticed some volatile activity in select stocks.
These stocks are the ones where the so called gurus of stock market have added or reduced exposure.
There have been instances in the past where the stock market gurus has taken a stock for a ride.
Take for instance the stock of Talbros Automotive Components. In a matter of 4 trading days, the stock surged over 45% just because market gurus added the stock to their portfolio.
Don't take this the wrong way. It's normal to follow stock market gurus. After all, they are well-known for their popular stock picks.
Today, we are here to tell you what a market guru has been up to in the recent quarter.
If you do a Google search for Ashish Kacholia, you will find that he is well known for his stock picks in the smallcap and midcap space.
Ashish Kacholia is the co-founded Hungama Digital with none other than big bull Rakesh Jhunjhunwala. He started his own company Lucky Securities in 2003.
He is often called the 'Big Whale'.
So, when Kacholia adds any stock to his portfolio, or increases/decreases stake in companies, the market is all ears.
During the quarter ending March 2022, Kacholia went on a shopping spree and overhauled his portfolio.
He bought fresh stakes in as many as five companies.
Apart from that, he increased stake considerably in Xpro India and Garware Hi-Tech Films, in which he now holds 3.6% and 3.7% stake.
The most recent company in question is CHD Developers.
Before you search what it does, let me tell you that the company has been suspended from trading on the stock exchanges.
The company's share price on the BSE is quoted at Rs 0.68 as of 24 August 2020. Since then it has no trading activity.
According to the company's shareholding pattern as of September 2021, Ashish Kacholia had zero stake in it.
CHD Developers recently filed its March 2022 shareholding where it was revealed that Ashish Kacholia holds 4.95% stake or 6.4 m shares.
The interesting thing here is Ashish Kacholia used to hold shares of the company back in June 2020. After that, his name was missing from the list of individual shareholders from July to September 2020.
So how come his name appeared in the most recent shareholding pattern after a gap of nearly two years?
For now, it seems this question will remain unanswered until more details are revealed.
Freshly added companies in Kacholia's portfolio...
Apart from CHD Developers, here are few other companies (currently listed) that Kacholia added to his portfolio.
#1 Creative Newtech
An interesting purchase was Creative Newtech, one of the multibagger stocks of 2021.
Creative Newtech is an IT consulting and services company that specialises in supply chain management.
They are partnered with numerous renowned brands like Honeywell, Panasonic, Philips, Samsung, Zeiss, and many more.
Kacholia currently holds 0.34 m shares, which amount to a 2.8% stake in the company.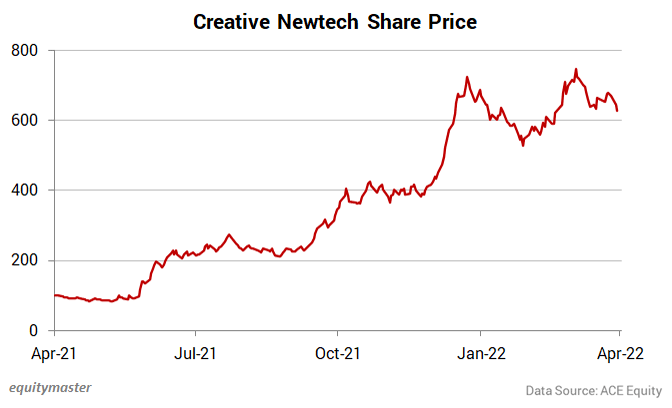 The NSE listed stock has been consolidating for the last month but has delivered nearly 500% in the past year.
#2 Fineotex Chemical
Another multibagger of 2021, Fineotex Chemical is a small-cap chemical stock.
Based in Mumbai, the speciality chemical and enzymes producer caters to industries like textile, water treatment, leather, construction, paint, agrochemicals, and adhesive.
The company recently forayed into homecare, hygiene, and mining specialty chemicals segments.
With production facilities in India and Malaysia, Fineotex earns over 40% business from the overseas market.
According to the latest shareholding pattern published by the company, Kacholia held 1.8% stake, as he bought over 2 m shares during the March 2022 quarter.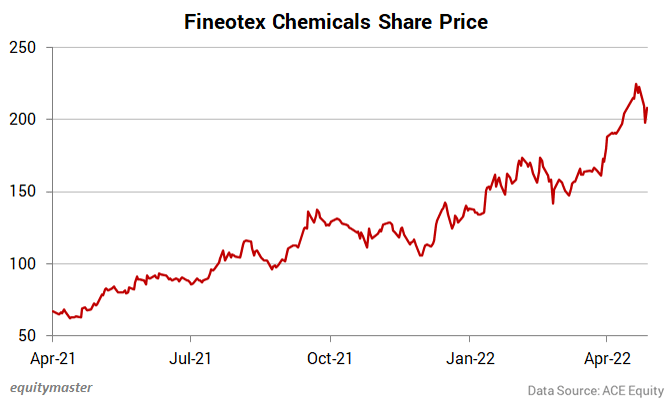 Share price of Fineotex has nearly tripled over the last year.
#3 Stove Kraft
A riveting addition by Kacholia was the household appliances company, Stove Kraft.
You unknowingly come across the company's products regularly. The company owns kitchen appliance brands like Pigeon, Gilma, and Black & Decker.
The company also has commenced manufacturing LED products in its Bengaluru facility, under the brand Pigeon LED.
After staging a strong debut on the bourses in February 2021, the stock dipped 35% in 2022.
The stock took a major dive in February 2022 after it reported a sharp 67% year-on-year (YoY) decline in its profit after tax due to higher operational costs.
Though the timing of investment can't be said with certainty, one can assume that the big whale found an opportunity in the recent sell-off. He bought close to 0.58 m shares giving him 1.8% stake in the company.
#4 Gravita India
Yet another multibagger of 2021, Gravita India is a manufacturer and exporter of lead metal and other lead products.
Established in Jaipur, the company has a manufacturing capacity of around 0.1 m tones through eco-friendly battery recycling and lead scrap.
As per the shareholding pattern for March quarter, Kacholia held 0.9 m shares which is about 1.4% of total paid-up capital.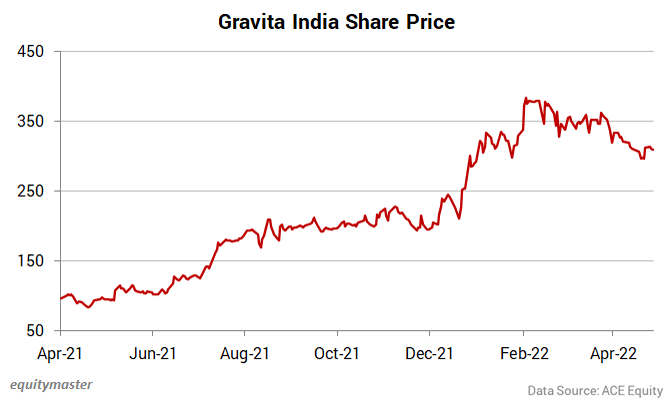 Despite being under consolidation in 2022, the stock has surged from around Rs 90 to Rs 310, logging over 240% rise in one year.
While all these delivered multibagger returns in 2021, it remains to be seen if these stocks continue to do the same in 2022...
Which other companies did Kacholia increase stake in?
The ace investor raised his position in as many as 9 stocks in March 2022 quarter.
Apart from adding additional shares of Garware Hi-Tech Films and Xpro India to his portfolio, Kacholia increased his stake in La Opala RG, Faze Three, United Drilling Tools, Ami Organics, Yasho Industries, Bharat Bijlee, and Kwality Pharmaceuticals.
Trimmed positions?
Kacholia sold around 0.6% stake in Vishnu Chemicals and 0.2% stake in Somany Home Innovation. The star investor also trimmed his position in Mold-Tek Packaging, ADF Foods, and Mastek.
Should you, a retail investor, blindly track guru portfolios?
In short, the answer is NO!
Market guru portfolios are usually made available at the end of every quarter. Much can change over this period.
Also, the news generally comes out at the end of the day, after the market hours in bulk or block deal data. The stock would already have soared by that time.
There are chances the stock might rally for a few more days but no one knows when it can come crashing down.
Don't forget this basic fact - share prices on the bourses go up with demand and drop with a sell-off.
This demand and supply of shares are, at times, in contrast with the fundamentals of the company.
Also if followed blindly, a retail investor will buy after a market guru. Thus the investor will buy the shares at a higher price. He/she will also sell the same position after the guru has sold thus receiving a lower price.
Though tracking a guru portfolio is not a bad idea, replicating the investments without understanding the risks, can be.
Disclaimer: This article is for information purposes only. It is not a stock recommendation and should not be treated as such. Learn more about our recommendation services here...