Why Did Tata Communications Shares Plunge Today?
Apr 29, 2021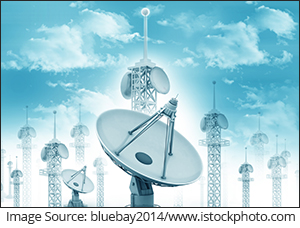 Tata communications (Tata Comm) revenue for the year grew by 0.2% year on year (YoY), coming in at Rs 171 bn.
The voice business declined by 17.3% YoY. This decline was compensated by the data business which grew by 4.5% YoY.
Data revenue growth was slower than expected due to Covid related weakness.
The company's Q4FY21 revenue was at Rs 40.7 bn, witnessing a decline of 7.4% on YoY basis.
This decline has been largely due to de-growth in the voice business and slower than expected growth in the data business.
Its consolidated earnings before interest, tax, depreciation, and amortisation (EBITDA) for the year stood at Rs 42.6 bn.
EBITDA grew by 29.5% YoY with a margin of 24.9% which expanded by 560 basis points (bps) YoY led by focus on the right operating structure and cost efficiency initiatives.
EBITDA for the fourth quarter was at Rs 10.2 bn, growing at 16.8% YoY.
Tata Comm's profit for the year was Rs 12.5 bn as compared to a loss of Rs 860 m in FY20. This is the highest ever profit in the last 11 years, on the back of a strong operational performance.
The profit translates into an earnings per share (EPS) of Rs 44.
Its capital expenditures (CAPEX) for Q4 was up to Rs 3.9 bn as compared to Rs 3.4 in Q4FY20.
The company's board of directors has recommended a final dividend of Rs 14 per share of the face value of Rs 10 each for the financial year ended 31 March 2021.
Debt Decreased in the Fourth Quarter
Net debt at the end of the quarter was Rs 77.9 bn, a decrease of Rs 1.9 bn as compared to last quarter. Strong cash flow generation has helped bring debt at comfortable levels.
Note that during the quarter they made a payment of Rs 3.8 bn to Department of Telecommunications (DoT) due to difference in the accounting of costs.
DoT Trouble Faced by Tata Communications
Tata Communications has disputed the demand made by the Department of Telecommunications (DoT) for payment of dues worth Rs 11.9 bn on grounds that the international and national long distance (ILD & NLD) licenses owned by the company do not fall under the purview of supreme court's adjusted gross revenue (AGR) verdict.
During the quarter ended 30 September 2019, the company had received demands from DoT aggregating to Rs 66.3 bn towards license fee on its AGR for the financial years 2006-07 till 2017-18.
The demands received by the company included an amount of Rs 54.3 bn which were disallowed by the DoT towards the cost adjusted to gross revenues by the company that were claimed on 'accrual basis' instead of payment basis, for which revised statements on the basis of actual payment has been submitted to the DoT.
Though, the company believes that it has a case to defend, it has made a provision of Rs 3.4 bn during the quarter ended 31 March 2020 and for the balance amount of Rs 50.9 bn, the company believes that the likelihood of the same materialising is remote since the deduction on payment basis has not been considered by the DoT.
During the quarter ended 31 March 2021, the company has made a payment of Rs 3.8 bn under protest to DoT.
--- Advertisement ---
These 3 Stocks are the Dark Horses of the Stock Market

The mainstream media mostly ignores them.

Mutual funds and hedge funds can't buy them in bulk.

Stock brokers rarely cover them.

These stocks are the dark horses of the stock market.

They only come in limelight after they have rallied by hundreds or even thousands of percent.

Our head of smallcap research, Richa Agarwal, has a knack for identifying such stocks before they begin their rally.

Over the years, she has spotted such stocks which have gone on to offer triple and even quadruple digit gains for investors. (* Past performance is no guarantee of future results)

Today, when the markets are near all-time high... and some investors are thinking of booking profits... Richa has spotted 3 such stocks which are set for a massive rally.

She will reveal the details of these 3 stocks on 28th June at her free online summit.

Click here to sign-up. It's free.
------------------------------
Rakesh Jhunjhunwala Sells Stake in Tata Communications
Ace investor, Rakesh Jhunjhunwala who held 1.1% stake in the company through his wife Rekha Jhunjhunwala in December 2020 quarter, is now holding only 1% of Tata Communications shares after March 2021 quarter.
According to the data available with the BSE, Mr Jhunjhunwala sold out 2.5 lakh Tata Communications shares.
As per December 2020, Rekha Jhunjhunwala held 3.2 m equity shares of the company, which now stands at 3 m equity shares in March 2021 quarter.
This Rakesh Jhunjhunwala portfolio move was shocking news for the retail investors because other public shareholders like mutual funds and foreign institutional investors (FIIs) had raised their stakes in Tata Communications.
Equitymaster's View on Telecom Sector...
We reached out to Tanushree Banerjee, Co-Head of Research at Equitymaster, and editor of the premium stock recommendation service StockSelect, for her view on the sector.
Here's what she has to say...
"While the telecom sector can have huge upsides due to 5G, investors must be very selective about the stocks. Higher-than-expected investments in spectrum acquisition or 5G deployment remain a risk.

Other than a few telecom companies, most others do not have sufficient balance sheet strength".
BREAKING: It's Good Time to Invest in Gold, but Just Don't Go Blindfolded
How the Stock Markets Reacted to Tata Communications Q4FY21 Numbers Today...
Shares of Tata Communications opened the day at Rs 1,152 on the BSE and Rs 1,149.6 on the NSE and closed at Rs 1,115 (down 3%) and Rs 1,112 (down 3.3%), respectively.
At its current price, it is trading at a P/E of 47.
The share also touched its 52-week high of Rs 1,367.7 and 52-week low of Rs 357 on 8 March 2021 and 29 April 2020.
Over the last 30 days, the Tata Communications share price is up 5.4%. Over the last one year, the company's share price is up 214.6%.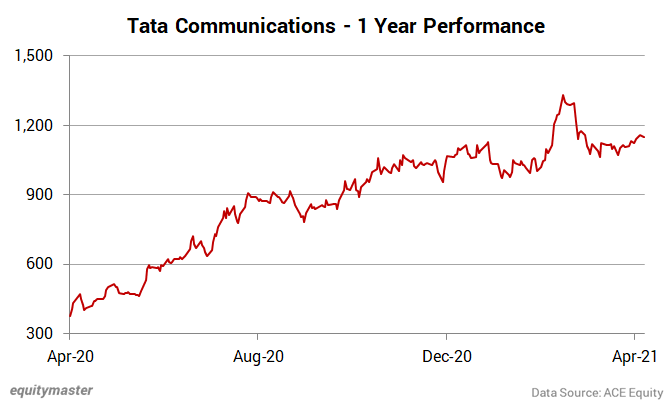 About Tata Communications
Tata Communications is an Indian telecommunications company. The company is part of the Tata group.
Tata communications network spans more than 5 lakh kilometers of subsea fiber and more than 2.1 lakh kilometers (130,000 mi) of terrestrial fiber. The company has invested US$ 1.2 bn in its global subsea fiber network.
It provides network services and software-defined network platforms, such as ethernet, SD-wan, content delivery networks (CDNs), internet, multiprotocol label switching (MPLs), and private lines.
It has more than 400 points of presence (PoPs) with data centre, cloud (private cloud and public cloud management) and co-location in 44 sites.
It is present in more than 200 countries and territories around the world.
The company serves over 7,000 customers globally that represent over 300 of the Fortune 500.
For more details about the insurance sector, you can have a look at Tata Communications factsheet and quarterly results on our website.
You can also compare Tata Communications with its peers -
Tata Communications vs Indus Towers
Tata Communications vs Bharti Airtel
And to know what's moving the Indian stock markets today, check out the most recent share market updates here.