How Did Bajaj Auto Perform in Q4FY21?
Apr 30, 2021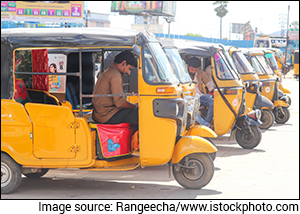 Bajaj Auto reported a 1.6% year-on-year (YoY) growth in standalone net profit at Rs 13.3 bn for March quarter of FY21. The same was Rs 13.1 bn in the year-ago period.
On a quarterly basis, the company's profit tumbled 14.4% from Rs 15.6 bn.
On a consolidated basis, the profit grew 14.5% to Rs 15.5 bn from Rs 13.5 bn in March quarter of FY20.
The auto major's revenue grew 26% to Rs 86 bn against Rs 68.2 bn YoY. Sequentially, it was down 3.5% from Rs 89.1 bn.
As on 31 March 2021, the company's surplus cash and cash equivalents stood at around Rs 176.9 bn as against Rs 143.2 bn as on 31 March 2020.
Operational Performance for the Fourth Quarter
Operationally, Bajaj Auto's earnings before interest, tax, depreciation, and amortisation (EBITDA) came in at Rs 15.6 bn for the quarter, up 20% YoY from Rs 12.9 bn reported last year.
Higher input costs, negative operating leverage, and depreciation of rupee against the US dollar led to EBITDA margin contraction to 18.1%, down 90 basis points (bps) YoY.
Operating profit for the quarter too grew 21% YoY to Rs 14.9 bn from Rs 12.3 bn while the pre-tax profit rose just 1% YoY to Rs 17.4 bn.
Key Financial Highlights
| Rs in bn | Q4 FY21 | Q4 FY20 | Change |
| --- | --- | --- | --- |
| Turnover | 88.8 | 73.5 | 21% |
| Revenue from operations | 86 | 68.2 | 26% |
| EBITDA | 15.6 | 12.9 | 20% |
| EBITDA % | 18.1% | 19% | |
| Operating Profit | 14.9 | 12.3 | 21% |
| Profit before tax | 17.4 | 17.2 | 1% |
| Profit after tax (PAT) | 13.3 | 13.1 | 2% |
| Consolidated PAT | 15.5 | 13.5 | 15% |
Data Source: Company's Quarterly Report
Dividend Payout
Bajaj Auto's board of directors has approved a dividend at the rate of 90% of standalone profit after tax (PAT), or Rs 140 per share (1,400%) of face value of Rs 10 each on equity shares.
Sales Volume Outlook for Q4FY21
The fourth quarter recorded a healthy double-digit growth of 18% YoY in volume for motorcycles in domestic market, overall exports, and auto spare parts business.
Total domestic sales for Q4FY21 stood at 5.3 lakh units compared with 4.8 lakh units in Q4FY20 and exports stood at 6.4 lakh units, up 24% YoY from 5.1 lakh units.
Overall, total sales came in at 1.2 m units during the quarter.
Bajaj Auto's Pulsar 125 continues to witness strong pull in the domestic motorcycle market and clocked a sale of over 1.3 lakh units as against nearly 0.5 lakh units in Q4FY20.
Sales Volume Outlook for Full Year - FY21
Export of motorcycles were nearly 1.8 m units. Total exports were over 2 m units, for the third year in a row.
Bajaj Auto's KTM along with Husqvarna, sold over 1.4 lakh units in domestic & export markets. Pulsar sold over 1.25 m units in domestic and export markets.
Domestic commercial vehicle (CV) business remains impacted due to inadequate demand for short distance mobility. However, over the quarters, this business is recovering, albeit slowly.
Bajaj Auto's Market Share in Terms of 3 Wheeler - Passenger Segment
India is the largest market for three-wheeler vehicles in terms of both sales and production across the globe.
Back in FY2019-20, around 6.4 lakh three-wheelers (load + passenger) were sold in India and 5 lakh units were exported.
Three-wheelers produced in India are also exported to countries such as South Asia, Middle East, Africa, and Europe.
India's three-wheeler passenger segment is heavily dominated by Bajaj Auto.
The company remains market leader in big three-wheeler passenger carrier segment with a market share of nearly 46.9%.
In goods carrier segment, the market share improved over FY20 by 670 bps to 33.7%.
--- Advertisement ---
WATCH: FULL Replay of Our Urgent Broadcast

The full replay of our urgent broadcast on India's Revival is available for a limited time now.

In case you missed watching our broadcast LIVE...

You can see all the important highlights from our broadcast in this replay.

Please note that we may take this replay off the internet any minute.

So it is highly recommended you watch it immediately.

Click Here to Watch the Replay NOW
------------------------------
Equitymaster's Technical View on Bajaj Auto...
We reached out to Brijesh Bhatia, Ace Technical Analyst at Equitymaster, and editor of the premium monthly recommendation service Fast Profits Report, for his technical view on Bajaj Auto.
Here's what he has to say...
Auto Index has been underperforming against Nifty since last week of January 2021.
The bullish harmonic pattern is visible on the Auto Index/Nifty ratio chart indicating the tide might turn in auto space.
Bajaj Auto has always been a leader when a bullish trend begins which has been witnessed in last couple of weeks.
Bajaj Auto's Weekly Chart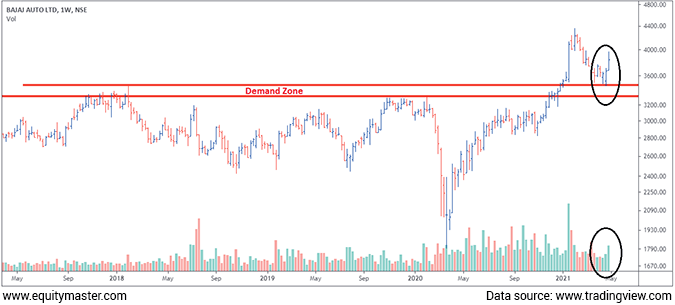 Technically, the stock has tested the demand zone on weekly chart at Rs 3,470 and reversed back to Rs 3,900 levels. The rising volumes indicates accumulation by smart investors.
Investors should not miss an opportunity of investing in auto stocks, especially in the two-wheeler space.
BREAKING: It's Good Time to Invest in Gold, but Just Don't Go Blindfolded
How the Stock Markets Reacted to Bajaj Auto Q4FY21 Numbers Today...
Shares of Bajaj Auto opened the day at Rs 3,800 on the BSE and Rs 3,805 on the NSE and closed at Rs 3,841 (up 0.2%) and Rs 3,834 (down 0.1%), respectively.
At its current price, it is trading at a P/E of 24.
The share also touched its 52-week high of Rs 4,361.2 and 52-week low of Rs 2,363.3 on 4 February 2021 and 6 May 2020.
Over the last 30 days, the Bajaj Auto share price is up 5.7%. Over the last one year, the company's share price is up 57.3%.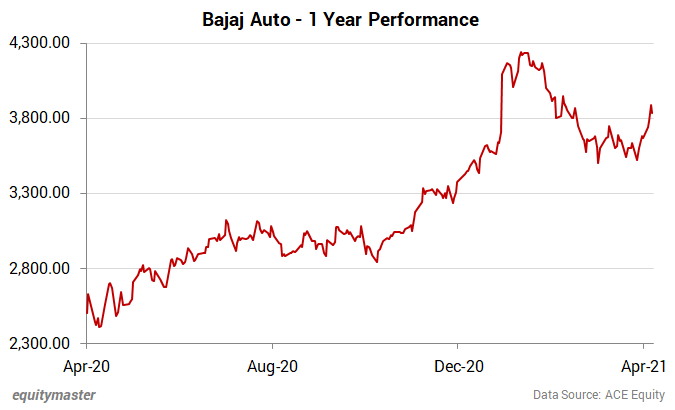 About Bajaj Auto
Bajaj Auto is a US$ 2.3 bn company founded in 1926. The company is one of the leading two and three wheeler manufacturers in India and it's also world's fourth largest manufacturer.
The auto major has three plants in all, two at Waluj and Chakan in Maharashtra and one plant at Pant Nagar in Uttaranchal.
The Bajaj brand is well known for its research and development (R&D) product development process engineering and low-cost manufacturing skills.
In India, Bajaj Auto has a distribution network of 485 dealers and over 1,600 authorised services centres.
It has 171 exclusive dealers for the three-wheeler segment. It has a total of 3,750 outlets in rural areas.
The company is also well known across several countries like Latin America, Africa, Middle East, South Asia, and South East Asia.
It has a distribution network in 50 countries with a dominant presence in Sri Lanka, Colombia, Bangladesh, Mexico, Central America, Peru, and Egypt.
For more details about the insurance sector, you can have a look at Bajaj Auto factsheet and quarterly results on our website.
You can also compare Bajaj Auto with its peers -
And to know what's moving the Indian stock markets today, check out the most recent share market updates here.