Indian Hotels Q4 Review: Reports Net Loss, Revenue from Operations Decline
May 3, 2021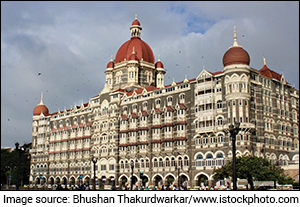 Tata group hospitality arm Indian Hotels Company reported a consolidated net loss of Rs 977.2 m for the fourth quarter ended March 2021, impacted by continued pandemic related challenges.
The company had posted a net profit of Rs 763 m for the corresponding period of the previous fiscal, Indian Hotels Company (IHCL) said in a regulatory filing.
For the fiscal ended March 2021, the hospitality major posted a net loss of Rs 7.9bn. It had registered a net profit of Rs 3.6 bn in the preceding fiscal year.
Operational Performance for the Fourth Quarter
The revenue from operations stood at Rs 6.2 bn for the quarter under consideration. It was Rs 10.6 bn for the same period a year ago.
The consolidated revenue from operations for the fiscal ended March this year stood at Rs 15.8 bn. It was Rs 44.6 bn in the year-ago period.
On a standalone basis, Indian Hotels Company's earnings before interest, tax, depreciation, and amortisation (EBITDA) came in at Rs 1.2 bn for the quarter under review, down 53% year-on-year (YoY) from Rs 2.5 bn reported last year.
The consolidated EBITDA for the fourth quarter stood at Rs 830 m, down 66%, compared to Rs 2.5 bn reported in the previous fiscal year.
"Despite continued pandemic related challenges that have impacted the travel and hospitality sector, IHCL has remained laser-focused on executing its R.E.S.E.T (revenue, excellence, spend optimization, effective asset management, thrift & financial prudence) 2020 strategy," IHCL MD and CEO Puneet Chhatwal said.
The company has developed innovative revenue streams to meet evolving customer needs and have followed stringent spend optimisation and financial prudence measures.These initiatives helped the company achieve quarter-on-quarter growth and deliver a positive EBITDA in the last two-quarters of FY 2020-21.
The company will continue to evolve to cater to dynamic market trends, with agility at its core, he added.
Equity Dividend
For the year ending March 31, the company's board of directors has recommended an equity dividend of 40% of face value of Rs 1 each on equity shares, amounting to Rs 0.4 per share.
Indian Hotels Company to Raise Funds
Board of IHCL approved raising of long-term funds not exceeding Rs 2.8 bn by way of external commercial borrowings, foreign currency borrowings, non-convertible debentures, term loans or through any other debt instrument in one or more tranches.
The Board also authorised a committee to determine and approve the quantum, timing. and terms and conditions of the instrument to be issued.
Indian Hotels Shareholding Pattern as of 31 March 2021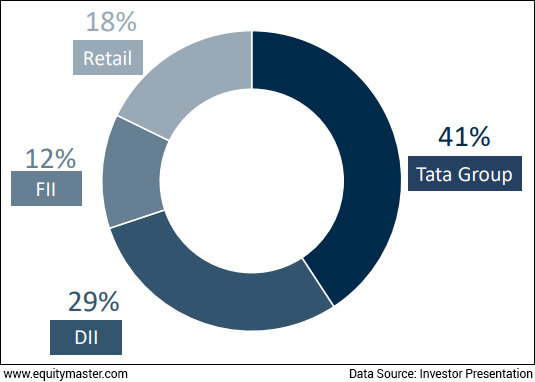 Outlook on India's Hospitality Industry
The industry is expected to contract 65% in the current year with massive operating and net losses, wiping out the cumulative profits of the four past years.
According to a leading financial daily, a sharp demand recovery is possible in the later part of the financial year 2021-22, as vaccine rollouts gain traction.
Much though will be contingent upon the spread of the pandemic and success of vaccination efforts.
The situation is still evolving, with numerous headwinds as seen with the restart of crowd control and lockdowns, increasing India's Covid cases over the last month.
The domestic hospitality industry has been one of the worst-hit sectors, severely affected by the Covid-19 pandemic and subsequent lockdowns, which restricted mobility, and hotel occupancies in all the major markets.
As per investment information and credit rating agency (ICRA), observed that pan-India occupancy hit an all-time low of 18-20% in eight months of the financial year 2021, down from 64-65% in the previous year.
Equitymaster's View on Hotels Sector Right Now
We reached out to Richa Agarwal, Senior Research Analyst at Equitymaster, and Editor of the smallcap service, Hidden Treasure, for her view on the hotels sector.
Here's what she has to say about hotels sector right now...
"Hotels even in the pre-pandemic days has been quite a fragmented industry. The industry has been faced major disruption from the likes of Ola and Airbnb.

Since the onset of Covid, travel, be it for leisure or work, has suffered. There is still uncertainty on when things will be normalised, and until then, managing operational costs will be challenging.

With most work related meetings conducted over zoom and video calls, even when things normalise, we expect work related travel to shrink and that is likely to impact hospitality sector.

On the positive side, the pandemic is likely to lead to consolidation in the industry where only the fittest players with disciplined balance sheets are likely to sail through".
How the Stock Markets Reacted to Indian Hotels Q4FY21 Numbers Today
Shares of Indian Hotels opened the day at Rs 109.5 on the BSE and Rs 110 on the NSE.
At its current price, it is trading at a P/E of 37.4.
The share also touched its 52-week high of Rs 139.3 and 52-week low of Rs 62.1 on 7 December 2020 and 18 May 2020.
Over the last 30 days, the Indian Hotels share price is up 3.4%. Over the last one year, the company's share price is up 45%.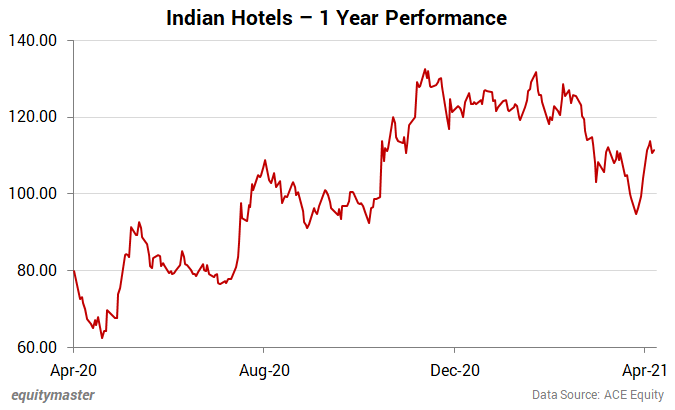 About Indian Hotels
The Indian Hotels Company is an Indian hospitality company that manages a portfolio of hotels, resorts, jungle safaris, palaces, spas and in-flight catering services.
It is a subsidiary of the Tata Group conglomerate.
IHCL was founded in 1868 by Jamshedji Tata and is headquartered in Mumbai.
The group operates in more than six continents with a mission to improve the quality of life of the communities it serves globally.
The Indian Hotels Company is South Asia's largest hospitality-focused enterprise with Indian origins.
With businesses ranging from iconic luxury to upscale and budget stopovers as well as in-flight catering, IHCL's pioneering leadership is backed by a rich 115-year legacy.
Brands under IHCL - Taj, SeleQtions, Vivanta, The Gateway, Ginger, Expressions, and TajSATS.
IHCL has a portfolio of 221 hotels, including 55 under development globally across 4 continents, 12 countries and over 100 locations.
For more details about the insurance sector, you can have a look at Indian Hotels factsheet and quarterly results on our website.
You can also compare Indian Hotels with its peers:
Indian Hotels vs Oriental Hotels
Indian Hotels vs East India Hotels
Indian Hotels vs Mahindra Holidays
And to know what's moving the Indian stock markets today, check out the most recent share market updates here.