Can the Stock of IndusInd Bank Go Higher After Great Q4?
May 3, 2021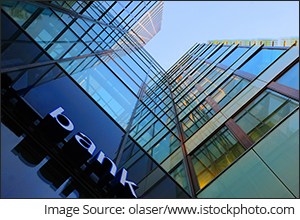 Private sector bank IndusInd Bank on Friday post market hours, reported a 190% year-on-year (YoY) rise in its net profit for the quarter ended March to Rs 8.8 bn.
The bank had posted profit of Rs 3 bn in the corresponding quarter of last year. The spike in profit was on the back of decline in provisions and contingencies.
The bank reported a net interest income (NII) of Rs 35.3 bn for the quarter under review, which was higher than analysts' estimates of Rs 34.8 bn.
Tax expenses for the period, at Rs 3.2 bn, saw a significant increase of 240.3% over Rs 0.9 bn in the March quarter of FY20.
The bank said that its board has approved a final dividend of Rs 5 per share.
Here's a table comparing IndusInd Bank's quarterly performance on key parameters.
IndusInd Bank Financial Performance
| (Rs m) | Q4FY21 | Q4FY20 | Q3FY21 | YoY (%) | QoQ (%) |
| --- | --- | --- | --- | --- | --- |
| Interest Income | 74,194 | 73,866 | 72,415 | 0.40% | 2.50% |
| Interest Expenses | 38,848 | 41,554 | 38,354 | -6.50% | 1.30% |
| Net Interest Income | 35,346 | 32,312 | 34,061 | 9.40% | 3.80% |
| Tax Expenses | 3,199 | 940 | 2,670 | 240.30% | 19.80% |
| Net Profit | 8,756 | 3,018 | 8,528 | 190.10% | 2.70% |
| % of Gross NPAs | 2.67 | 2.45 | 1.74 | | |
| % of Net NPAs | 0.69 | 0.91 | 0.22 | | |
Data Source: Company Presentation
Asset Quality Improves
IndusInd Bank's loan book quality was stable. Gross NPA were at 2.67% of gross advances as on 31 March 2021 as against 2.45% as on 31 March 2020.
On account of higher level of prudential provisioning, the net NPAs were 0.69% of net advances as on 31 March 2021, as compared to 0.91% on 31 March 2020.
The bank strengthened its balance sheet by improving provision coverage ratio (PCR) to 75% as on 31 March 2021 from 63% as on 31 March 2020.
Provisions and contingencies were Rs 89.4 bn (comprising of provision for credit and other losses at Rs 79.4 bn and towards taxes on income at Rs 10 bn) as compared to Rs 63.7 bn in the corresponding period of previous year.
The bank's capital adequacy ratio (CAR) as per Basel III guidelines was at 17.38% as on 31 March 2021 (15.04% as on 31 March 2020). Tier 1 CAR was at 16.83% compared to 14.57%.
Highlights from the Conference Call
IndusInd bank's retail disbursement growth was strong. The CV book witnessed a bounce back, with disbursements growing 44% sequentially.
The bank's NBFC book continued to perform and none of the accounts are under restructuring.
Its diamond loan book shrunk in H1FY21 due to weak global demand.
The bank said it is accelerating exposures towards MNC, education, healthcare, and NBFCs, where it possesses domain expertise.
Credit card spends share improved to 5% vs overall market share of 2.5%.
Bank Cautious Despite Spike in Profits
IndusInd Bank has reiterated its cautious view on business even as it expects a better chance of economic revival due to increasing pace of vaccinations, normal monsoons, and pent-up demand for key business segments like vehicle loans.
CEO Sumant Kathpalia said the bank continues to remain cautious despite an improvement in business sentiment, higher collection ratios, and fee income which is back to pre-Covid levels.
"It is very difficult to give any forecast because of the uncertainties due to Covid. We have navigated well in a turbulent year. Our collections are healthy. The focus now is on how Covid plays out.

The bank is carrying significant buffers outside these provisions as a prudent measure. Our areas of domain expertise such as vehicle finance, micro-finance and diamond finance have witnessed strong disbursements and we expect the growth to become further broad-based in the current financial year."
Kathpalia added that the bank made an extra Rs 6 bn Covid-related provision during the quarter above the Rs 10 bn it was carrying in its books as it fortified its balance sheet for any risks emerging in the future.
IndusInd Bank's Shareholding Pattern as of 31 March 2021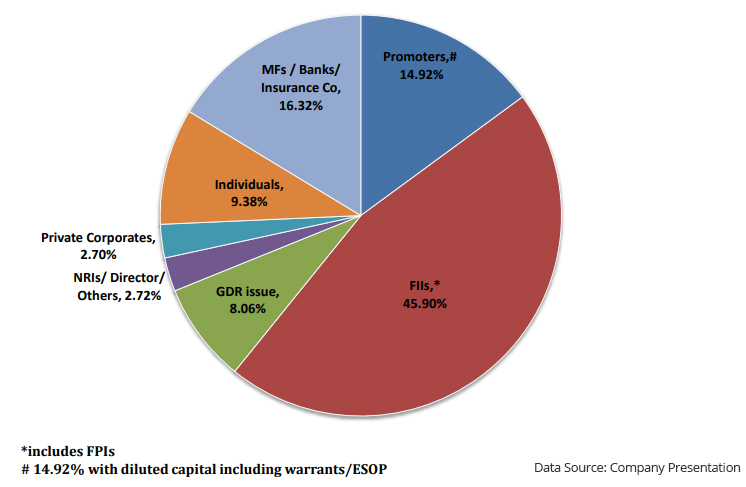 Equitymaster's View on IndusInd Bank's Q4FY21 Performance...
We reached out to Tanushree Banerjee, Co-Head of Research and banking sector analyst at Equitymaster, for her view on the private bank's performance.
Here's what she has to say about IndusInd Bank's Q4FY21 results:
IndusInd Bank's exponential rise in profits comes on the back of writeback of NPA provisions.

It remains to be seen whether the bank shows a control on incremental NPAs, especially in the auto, microfinance and retail segments, in the coming quarters.

The improved capital adequacy of the bank should allow it to grow once the economy picks up steam.
In a similar vein, Tanushree had recorded a video in October 2020, on the real upside in the Kotak-IndusInd merger.
As per Tanushree, the real upside in the merger is not whether arithmetically the two banks will have enough branches, ATMs or employees.
But what matters is whether their strengths will be complimentary and whether the combined entity could compound shareholder returns within a few years.
Check out this video to know the math behind this proposed merger.
How Stock Markets Reacted to IndusInd Bank's Q4 Numbers
Shares of IndusInd Bank opened 3.5% higher today in a weak market, but erased gains later.
Presently, IndusInd Bank shares are trading down by 1.4%.
Banking stocks are trading on a negative note today with shares of Yes Bank and Federal Bank among the top losers.
IndusInd Bank share price touched a 52-week high of Rs 1,119 and a 52-week low of Rs 330.
Here's an interesting data on IndusInd Bank shares...
When Sumant Kathpalia took charge as CEO on March 24 last year, shares of the private lender were trading near a decade low of Rs 302.
There was much scepticism around its ability to survive the asset quality crisis and questions were raised on whether it can withstand the sudden run on its deposits, partly due to the Yes Bank crisis.
Skip forward to present day, IndusInd Bank shares are trading at Rs 922, a 2x gain over the same period.
IndusInd Bank Shares Have Gained 2x since Sumant Kathpalia Took Charge as CEO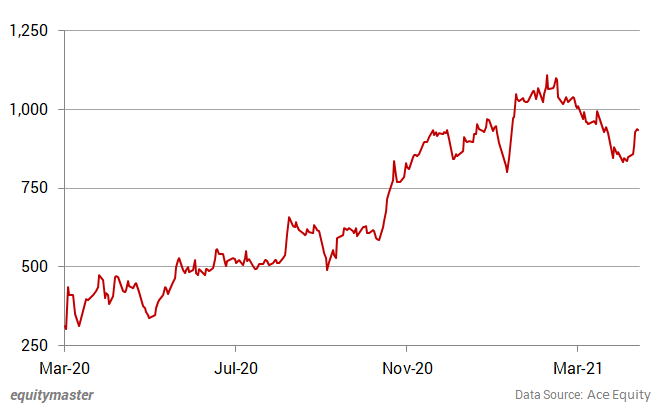 At the current price of Rs 922, the P/E ratio for IndusInd Bank India stands at 24.3 times.
About IndusInd Bank
IndusInd Bank, which commenced operations in 1994, caters to the needs of both consumer and corporate customers. Its technology platform supports multi-channel delivery capabilities.
As on 31 March 2021, IndusInd Bank has 2,015 branches and 2,872 ATMs spread across geographical locations of the country.
The bank also has representative offices in London, Dubai and Abu Dhabi.
IndusInd Bank was included in the NSE Nifty benchmark index on 1 April 2013.
For more details about the bank, you can have a look at IndusInd Bank's fact sheet and IndusInd Bank's quarterly results on our website.
For a sector overview, you can read our banking sector report.
You can also compare IndusInd Bank with its peers on our website:
IndusInd Bank vs Kotak Mahindra Bank
To know what's moving the Indian stock markets today, check out the most recent share market updates here.