Sugar Stocks Continue Uptrend on Healthy Outlook. Can the Rally Sustain?
May 4, 2021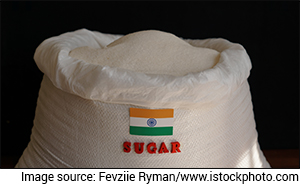 In an otherwise weak market, sugar stocks rallied up to 20% yesterday on strong earnings outlook and optimism over the government's policy on ethanol blending.
Most of the sugar stocks hit the upper circuit limit on Monday with shares of E.I.D. Parry and Balrampur Chini hitting their 52-week highs.
Factors Contributing to the Rally
India's sugar industry is set to benefit from global and domestic factors.
Lower output from countries like Brazil, Thailand and the EU would keep supplies tight, enabling India to increase exports.
Harvest trends are pointing at lower sugarcane yield this year in Brazil and other key sugar-producing countries are not expected to produce higher output.
According to reports, sugar output for April in Brazil was down 35% year-on-year (YoY).
A Reuters report quoting industry group Unica said: "Brazil's center-south sugar output was only 624,000 tonnes in the first half of April versus 971,000 tonnes in a similar period last year. Cane crush was seen at 15.6 m tonnes, 30% less than in 2020."
This bodes well for India as lower output from these countries will keep supply tight and global prices firm.
On the domestic front, favorable policies, rising ethanol demand (blending target of 20% by CY25 from 8% currently), aggressive ethanol capacity addition would drive an earnings by going forward.
The government's steps to ensure sugarcane farmers are paid without significant arrears has also boosted investor sentiment.
So far this year, Indian sugar mills have exported 2.49 m tonnes of sugar. An additional 3.03 m tonnes of sugar is in transit, according to trade body AISTA (All India Sugar Trade Association).
Sugar Prices on the Rise
Domestic sugar prices have increased 7-8% in last one month mainly due to high summer demand & crushing season getting over reflecting no surprises on sugar production front.
Media reports state that many analysts believe domestic sugar prices would remain above Rs 34/kg given aggressive exports & diversion of sugarcane towards ethanol production.
Similarly, global sugar prices are also on rise and have risen as much as 15% in the past two months.
Equitymaster's Technical View on Sugar Stocks...
We reached out to Brijesh Bhatia, Research Analyst at Equitymaster, and Editor of the premium monthly recommendation service Fast Profits Report, for his technical view on sugar stocks.
As per Brijesh, sugar stocks are looking positive. As per his charts, they are breaking out and could potentially deliver huge returns.
Brijesh believes that sugar still has a huge upside when it comes to an investment for next 12-15 months. As per him, in the next 12-15 months, you might make a big wealth creation.
In fact, Brijesh has recorded a video explaining why sugar stocks are ready to soar higher.
Check out this video to find out more.
How Sugar Stocks are Performing Today
Sugar stocks are trading on a mixed note today as investors booked profit in some stocks after the recent run-up.
Shares of Triveni Engineering and Dalmia Bharat Sugar fell 5% while Uttam Sugar plunged 10%.
Bajaj Hind. Sugar rose over 6% while Sakhti Sugars surged over 9%.
Sugar stocks have been trending higher in the recent months, amid expectations of a rise in exports from India amid lower output in Brazil and a consequent surge in global prices.
So far this year, shares of Dalmia Bharat Sugar & Industries have surged 108%, while those of Triveni Engineering have climbed 98%.
Balrampur Chini has advanced over 85%. Other stocks including Dhampur Sugar Mills, DCM Shriram Industries, Bannari Amman Sugars, and Bajaj Hindustan Sugar have also seen their share prices increase significantly.
All sugar stocks are in the green in 2021.
We will keep you posted on the latest developments from this space.
Stay tuned!
To know what's moving the Indian stock markets today, check out the most recent share market updates here.