Tata Chemicals Shares Tumble Over 8% After Q4 Earnings
May 4, 2021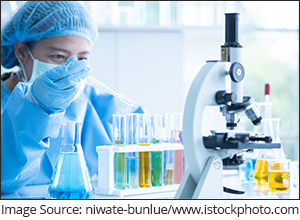 Tata Chemicals reports 85% decline in consolidated profit after tax (PAT) at Rs 290 m for the quarter ended March 2021.
The consolidated PAT of the company stood at Rs 2 bn for the corresponding period of the previous fiscal year.
On a standalone basis, PAT for the quarter ended March 2021 stood at Rs 1.2 bn, as compared to Rs 1.1 bn of the corresponding quarter of last year.
For the full year (FY21), consolidated PAT stood at Rs 4.4 bn, down by 58%, as compared to Rs 10.3 bn for the corresponding last year.
PAT for the year ended March 2021, on standalone basis stood at Rs 4.8 bn, down by 29%, as compared to Rs 6.7 bn for the corresponding last year.
Operational Performance
On a consolidated basis, the income from operations rose by 11% to Rs 26.4 bn during the quarter under review compared to Rs 23.8 bn in the corresponding period of 2019-20.
For the financial year 2021, the company's income from operations stood at Rs 102 bn, as compared to Rs 103.6 bn in the last year.
On a standalone basis, for the quarter, the income from operations rose by 15% to Rs 8.4 bn, as compared to Rs 7.3 of the corresponding quarter of last year.
The company's standalone revenue from operations rose by 3% to Rs 30 bn for the fiscal year 2021, as compared to Rs 29.2 bn in the previous year.
--- Advertisement ---
The Smallcap Revival Summit

Join us on the evening of 20th May to learn,

• Why despite rallying over 100% since March-2020 lows... small-cap stocks are set for a massive rally over the coming months and years
• Details of our top 3 stocks to capture potentially huge gains from this upcoming small-cap rally
• And how to spot opportunities, even in the current market, with the potential to generate 200%, 400%, and even 900% long-term gains

Plus, there is a lot more that we are going to cover.

The summit is free to attend for Equitymaster readers.

But since there are limited seats, we would recommend you to register at the earliest.

Grab your spot for the Summit here. It's free.
------------------------------
Revenue Earned from Two Key Verticals of Tata Chemicals
Basic Chemistry Products: Revenue at Rs 7.9 bn (up 13%), operating profits were marginally down at Rs 1.9 bn (margin 23%) in FY21, down from Rs 2bn (margin 28%) versus the last year.
Overall margins were marginally impacted due to lower sales realisation despite improved sale volumes across product portfolio.
Specialty Products: Specialty products business in India had a good and encouraging last quarter for FY21.
Revenue increased for the quarter to Rs 490 m (up by 59%), on the back of increasing volumes across products portfolio.
Overall for FY21, revenue increased to RS 1.5 bn (up 106%) versus Rs 740 m recorded in the previous year.
Commenting on the results, Mr Mukundan, MD & CEO of Tata Chemicals said -
"During the year, we witnessed a sequential improvement in demand and this quarter saw continuation of the same trend.

With the second wave of COVID-19, our priority will be the health and safety of our stakeholders and we are undertaking several initiatives to cater to the well-being of the employees and communities.

During the quarter, our profits were muted due to one off in US operations caused by Polar Vortex leading to sharp rise in gas prices.

There was one off in UK operations due to tax asset write off, re-financing cost. We are witnessing strengthening of Spot soda ash prices which will ease margin pressures sequentially in the coming quarters.

Going forward, time bound commissioning of capacities in Mithapur and Dahej coupled with growth of Specialty products are critical steps towards transformation of the company."
Key Financial Indicators
| Rs in bn | 21-Mar | 20-Mar | Change % |
| --- | --- | --- | --- |
| Total Income | 26.40 | 23.8 | 10.9% |
| Operating Profits | 0.9 | 2.3 | -59.7% |
| Net Profit | 0.1 | 64.2 | -99.8% |
| | | | |
| Diluted EPS | 0.5 | 2.5 | |
| Operating Margins | 3.5% | 9.5% | |
| Net Margins | 0.5% | 270% | |
Data Source: Investor Presentation
Equity Dividend
For the year ending 31 March 2021, the company's board of directors has recommended an equity dividend of 100% of face value of Rs 10 each on equity shares.
Tata Chemicals Shareholding Pattern as of 31 March 2021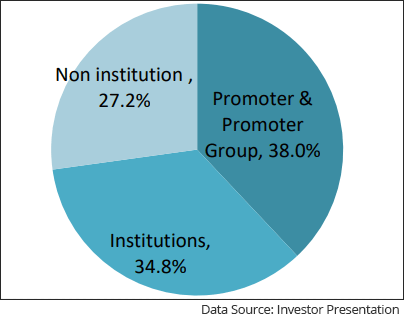 Equitymaster's View on Tata Chemicals Right Now...
We reached out to Tanushree Banerjee, Co-Head of Research at Equitymaster, and Editor of the premium stock recommendation service, StockSelect, for her view on the company.
Here's what she has to say -
"Robust demand in domestic markets, following rebound in economic activities in 2020 had lifted prices of specialty chemicals sharply.

Apart from that soda ash, sodium bicarbonate and edible salts volumes continue to improve steadily. These bode well for the earnings of Tata Chemicals so far.

Investors also remain optimistic on the lithium battery business plan of Tata Chemicals that can add to earnings starting FY23.

However, the second wave of the pandemic will remain an overhang on the near-term earnings potential and valuations of the stock.

The performance of the international business also hurt profits.

During Q4FY21, profits were muted due to US operations being impacted by Polar Vortex leading to sharp rise in gas prices. There was one off in UK operations due to tax asset write off, re-financing cost".
Get Details: We are Bullish on These 3 Little-known Stocks
How the Stock Markets Reacted to Tata Chemicals Q4FY21 Numbers Today...
Shares of Tata Chemicals opened the day at Rs 752 (down 3.4%) on the BSE and Rs 750 (down 4.2%) on the NSE.
At its current price, it's trading at a P/E of 2.8.
The share also touched its 52-week high of Rs 834 and 52-week low of Rs 197 on 8 April 2021 and 23 March 2020.
Over the last 30 days, the Tata Chemicals share price is down 2.9%. Over the last one year, the company's share price is up 158.2%.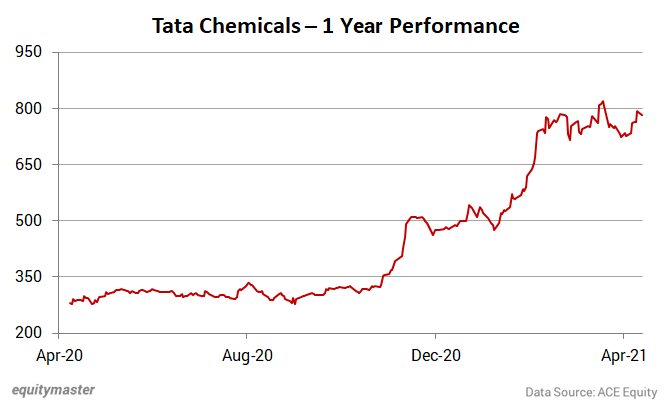 About Tata Chemicals
Tata Chemicals is a global company with interests in businesses that focus on Basic Chemistry Products and Specialty Chemistry Products.
The story of the company is about harnessing the fruits of science for goals that go beyond business.
The company's Basic Chemistry product range provides key ingredients to some of the world's largest manufacturers of glass, detergents, and other industrial products.
Tata Chemicals currently is the world's third largest producer of soda ash with manufacturing facilities in Asia, Europe, Africa, and North America.
The company has a strong position in the crop protection business through its subsidiary company Rallis India.
It has established world class research and development (R&D) capabilities with a dedicated band of research and scientific personnel working at its facilities in Pune and Bangalore in the emerging areas of material sciences, nutritional sciences, nanotechnology, biotechnology, and agriculture sciences.
For more details about the company, you can have a look at Tata Chemicals factsheet and quarterly results on our website.
You can also compare Tata Chemicals with its peers -
Tata Chemicals vs Rallis India
Tata Chemicals vs Gujarat State Fertilizers
Tata Chemicals vs Deepak Fertilisers
And to know what's moving the Indian stock markets today, check out the most recent share market updates here.