Varun Beverages Q1 Review: Net Profit Rises Two-Fold; Board Announces 1:2 Bonus Issue
May 4, 2021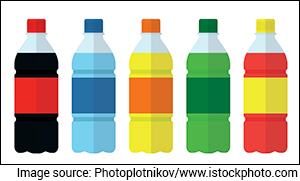 Non-alcoholic beverage company, Varun Beverages on Monday reported a more than two-fold jump in its consolidated net profit to Rs 1.4 bn in the first quarter ended March 2021 (Q1CY21).
PepsiCo's largest franchise bottler had posted a net profit of Rs 0.6 bn in the year-ago period.
Profits were backed by volume growth across domestic and international markets.
Repayment of debt as well as lower average cost of borrowing resulted in reduced finance cost, which further aided profit after tax (PAT) growth.
The company's consolidated revenues for the quarter saw a robust growth of 34% year-on-year (YoY) to Rs 22.4 bn. Revenue growth was driven by 33% increase in volume to 151 m unit cases.
Volume performance was also helped by recovery in business operations plus lower base of last year's quarter owing to lockdown restrictions in the latter part of March 2020.
The company's total income during the quarter stood at Rs 22.8 bn, up 32% from the same period a year ago.
Total expenses were at Rs 20.8 bn in the latest March quarter as against Rs 16.5 bn in the year-ago period.
The company's board of directors also recommended a bonus issue of one equity share for each two shares held.
Here's a table comparing Varun Beverages' quarterly performance on key parameters.
Varun Beverages Financial Performance
| (Rs m) | Q1CY21 | Q1CY20 | YoY (%) |
| --- | --- | --- | --- |
| Revenues | 22,699 | 16,992 | 33.6% |
| Total Expenses | 20,809 | 16,502 | 26.1% |
| Profit before tax | 1,947 | 78 | 2396.2% |
| Tax | 579 | -523 | 210.7% |
| Profit after tax | 1,368 | 601 | 127.6% |
Data Source: Company Presentation
Demand Recovery in Domestic Market; Second Wave Concerns Still Overhang
Varun Beverages Chairman Ravi Jaipuria said from a demand standpoint, it saw a notable recovery in the domestic markets in the first quarter.
"We have started the year 2021 on a healthy note delivering progressive performance across parameters in Q1. The company registered a strong volume growth of 33% YoY.

Notwithstanding short-term non-linearity in business, we remain confident of the medium to longer-term outlook of the business."
About the outlook, he said the environment has evolved now with the onset of the second wave of Covid. The management is witnessing more localised, micro lockdowns and restrictions being imposed rather than a nationwide lockdown witnessed last year.
--- Advertisement ---
These 3 Stocks are the Dark Horses of the Stock Market

The mainstream media mostly ignores them.

Mutual funds and hedge funds can't buy them in bulk.

Stock brokers rarely cover them.

These stocks are the dark horses of the stock market.

They only come in limelight after they have rallied by hundreds or even thousands of percent.

Our head of smallcap research, Richa Agarwal, has a knack for identifying such stocks before they begin their rally.

Over the years, she has spotted such stocks which have gone on to offer triple and even quadruple digit gains for investors. (* Past performance is no guarantee of future results)

Today, when the markets are near all-time high... and some investors are thinking of booking profits... Richa has spotted 3 such stocks which are set for a massive rally.

She will reveal the details of these 3 stocks on 28th June at her free online summit.

Click here to sign-up. It's free.
------------------------------
Highlights from the Management Commentary
The company said it did not face any major supply chain issues in April 2021. Post April 2021, some states are expected to face minor hurdles due to regional lockdowns being imposed.
The closure of hotels and retail shops in certain geographies is affecting volumes in these regions. Rural is performing better compared to urban on account of lenient restrictions in the former.
The company said volumes from the south and the west are gradually picking up and the regions are expected to contribute significantly over the next few years.
Expansion plans were once again affected due to lockdowns being imposed in Maharashtra and certain other states.
However, they managed to add substantial visi-coolers and new vehicles in Q1CY21, leading to sharp volume growth.
Highlights from the Conference Call
Here are some highlights from Varun Beverages' concall:
Realisation: Realisation per case improved marginally by 0.6% to Rs 148 in Q1CY21, led by a change in the product mix.
Lockdown: The company has temporarily closed its offices in light of the new lockdowns and restrictions. However, manufacturing units continue to operate.
Demand Drivers: Sting, an energy drink launched some years ago, is gaining traction and supporting NCB volume growth.
BREAKING: It's Good Time to Invest in Gold, but Just Don't Go Blindfolded
Additionally, a new variant (Mountain Dew - Ice), launched in competition with Limca, is performing extremely well. Tropicana juices are also gaining traction across old and new geographies.
Raw Material Prices: Sugar prices are at similar levels compared to the last year. However, resin prices have escalated over the last few months.
How the Stock Markets Reacted to Varun Beverages' Results...
Varun Beverages share price jumped 5% in intraday trade today after the company reported robust numbers and approved bonus share issue.
However, gains were erased as the session progressed and shares of the company ended down by 0.1%.
Varun Beverages share price has touched a 52-week high of Rs 1,095.85 and a 52-week low of Rs 571.60 on 23 February 2021 and 22 May 2020, respectively.
At its current price, it is trading at a P/E of 105.4.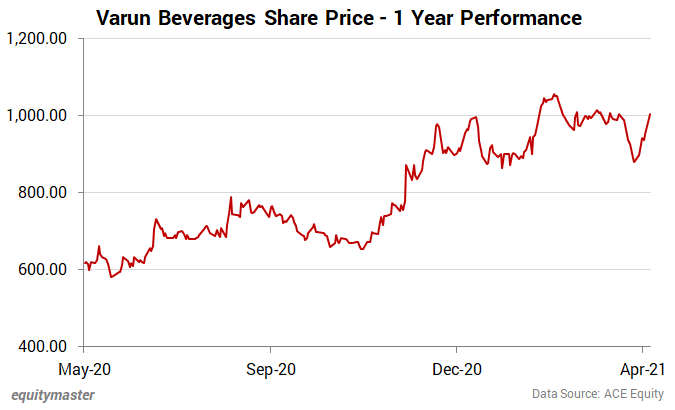 About Varun Beverages
Varun Beverages is the second largest franchisee in the world (outside US) of carbonated soft drinks (CSDs) and non-carbonated beverages (NCBs) sold under trademarks owned by PepsiCo and a key player in the beverage industry.
The company produces and distributes a wide range of CSDs, as well as a large selection of NCBs, including packaged drinking water. PepsiCo CSD brands sold by us include Pepsi, Diet Pepsi, Seven-Up, Mirinda Orange, Mirinda Lemon, Mountain Dew, Seven-Up Nimbooz Masala Soda, Evervess Soda, Duke's Soda, and Sting.
PepsiCo NCB brands sold by us include Tropicana (100%, Essentials & Delight), Tropicana Slice, Tropicana Frutz, Seven-Up Nimbooz, Gatorade, and Quaker Oat Milk as well as packaged drinking water under the brand Aquafina.
The company has been associated with PepsiCo since the 1990s and has over two and half decades of business association.
The company has been granted franchisees for various PepsiCo products spread across 27 states and 7 union territories (except Jammu & Kashmir and Andhra Pradesh) in India.
To know what's moving the Indian stock markets today, check out the most recent share market updates here.