L&T Technology Shares Fall After Q4 Results. What Should Investors Do?
May 5, 2021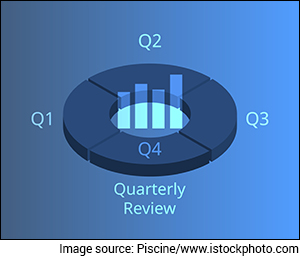 Mid-tier IT company, L&T Technology Services has reported a net profit of Rs 1.9 bn, 5% lower than the corresponding quarter last year.
The company's revenues stood flat at Rs 14.4 bn, while dollar revenue was US$ 197.5 m.
On a sequential basis, its constant currency revenue grew 3.8%, missed analysts' estimates by 130-150 basis points (bps).
Revenues from digital and high-end technologies continued to grow at robust pace and stood at 52% of the total during the quarter.
The company also under-performed its peer Cyient's constant currency revenue growth of 4.7% in the March quarter.
Here's a table comparing L&T Technology's quarterly performance on key parameters.
L&T Technology Financial Performance
| (Rs m) | Q4FY21 | Q4FY20 | Q3FY21 | YoY (%) | QoQ (%) |
| --- | --- | --- | --- | --- | --- |
| Revenue | 14,405 | 14,466 | 14,007 | -0.4% | 2.8% |
| Total expenses | 12,139 | 12,362 | 11,989 | -1.8% | 1.3% |
| Profit before tax | 2,612 | 2,718 | 2,506 | -3.9% | 4.2% |
| Tax | 659 | 655 | 637 | 0.6% | 3.5% |
| Profit after tax | 1,953 | 2,063 | 1,869 | -5.3% | 4.5% |
Data Source: Company Presentation
Strong Deal Wins and Low Base in FY21
During the quarter, L&T Technology won six deals with a total contract value of over US$ 10 m, including two deals of over US$ 25 m.
In a post-earnings conference call, the company's management said that going forward, its pipeline remains strong, however, deal closures are uncertain.
The company's management has attributed modest guidance to their increased caution due to the recent surge in Covid cases in India.
Financial Year 2021 Highlights
For the financial year 2021, the company reported a 19% decline in net profit at Rs 6.6 bn and 3% decline in revenues at Rs 54.5 bn.
US revenues were down 6.3% at US$ 737 m and EBIT margin was at 14.5%.
The company's board recommended a final dividend of Rs 14.50 per share.
Commenting on the performance, Amit Chadha, CEO and MD said the company is exiting FY21 on an optimistic note post three consecutive quarters of strong deal wins, as well as sequential revenue and operating margin improvement.
"The annual free cash flow generation at Rs 12.5 bn was at a record high. I am happy to note that in Q4, our revenue is back on the positive year-over-year growth path.

We are seeing healthy deal win closures and pipeline build up as customers look for innovation and digital led transformation to strengthen their market positioning. Across all our five segments, we are investing in disruptive technologies and design labs to further the growth."
The company has given a revenue guidance of 13-15% for FY22.
Chadha said that the company will be able to maintain EBIT margin target of 17%. He added that attrition at 12% is the lowest in the industry.
But he is expecting attrition to pick up in Q1 due to seasonality.
The company will be hiring 1,200 freshers in FY22 and has given increments to junior and mid-level employees effective 1 April 2021.
--- Advertisement ---
These 3 Stocks are the Dark Horses of the Stock Market

The mainstream media mostly ignores them.

Mutual funds and hedge funds can't buy them in bulk.

Stock brokers rarely cover them.

These stocks are the dark horses of the stock market.

They only come in limelight after they have rallied by hundreds or even thousands of percent.

Our head of smallcap research, Richa Agarwal, has a knack for identifying such stocks before they begin their rally.

Over the years, she has spotted such stocks which have gone on to offer triple and even quadruple digit gains for investors. (* Past performance is no guarantee of future results)

Today, when the markets are near all-time high... and some investors are thinking of booking profits... Richa has spotted 3 such stocks which are set for a massive rally.

She will reveal the details of these 3 stocks on 28th June at her free online summit.

Click here to sign-up. It's free.
------------------------------
At the end of the fourth quarter, the patents portfolio of L&T Technology Services stood at 650, out of which 485 are co-authored with its customers and the remaining 165 have been filed by the company.
Re-Appointment of Narayan Kumar as Independent Director
L&T Technology today announced that the firm's board has re-appointed Mr. Narayanan Kumar as the Independent Director of the company for a further period of three years and seven months with effect from 15 July 2021, up to and including 14 January 2025.
This decision is subject to the approval of the shareholders.
Equitymaster's View on Investing in the IT Sector Right Now...
We reached out to Richa Agarwal, senior research analyst and editor of the smallcap stock recommendation service, Hidden Treasure, for her view on the IT sector.
Here's what she has to say about investing in companies in the IT sector right now -
"Post pandemic, amid liquidity in the global markets and broad-based growth momentum, the IT sector and the stocks listed in it have had a dream run.

The BSE IT index is at a ten year high, up 63% from the pre-Covid highs.

While picking stocks in the industry, one should be mindful of relative growth and valuation of companies in the sector."
How Stock Markets Reacted to L&T Technology's Q4 Numbers...
Reacting to its earnings, the stock tanked 8% on Tuesday.
The company's March quarter results failed to set Dalal-Street on fire even as shares of the company have gained over 115% in the past one year.
BREAKING: It's Good Time to Invest in Gold, but Just Don't Go Blindfolded
Presently, shares of L&T Technology are trading down by 0.2%.
IT stocks are trading on a positive note today with shares of NIIT and Oracle Financial Services witnessing most of the buying interest.
L&T Technology share price has touched a 52-week high of Rs 3,062 and a 52-week low of Rs 1,066.
Have a look at the chart below which compares the share price performance of L&T technology with the benchmark BSE Sensex over the last one year.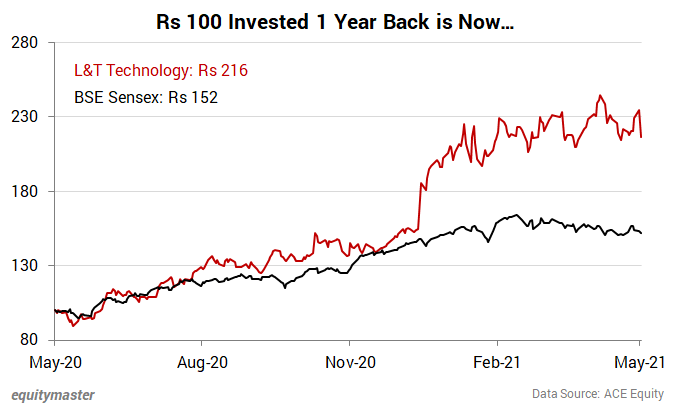 While Rs 100 invested in BSE Sensex a year back has turned out to be Rs 152, the same has turned out to be Rs 216 in L&T Technology.
The company currently trades at a P/E of 42, at a premium to TCS (37 times), Infosys (31 times) and Cyient (27 times).
About L&T Technology Services
L&T Technology Services (LTTS) is a listed subsidiary of Larsen & Toubro Limited focused on engineering and R&D (ER&D) services.
The company offer consultancy, design, development and testing services across the product and process development life cycle.
the company's customer base includes 69 Fortune 500 companies and 53 of the world's top ER&D companies, across industrial products, medical devices, transportation, telecom & hi-tech, and process industries.
L&T Technology Services has over 16,400 employees spread across 17 global design centers, 28 global sales offices, and 69 innovation labs as of 31 March 2021.
For a sector overview, you can read our IT sector report.
To know what's moving the Indian stock markets today, check out the most recent share market updates here.