Why Did Alembic Pharma Shares Fall Today?
May 5, 2021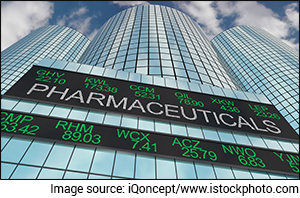 Shares of Alembic Pharma fell 6% on the BSE in intra-day trade today following a weaker than estimated operational performance in the March quarter of the financial year 2020-21 (Q4FY21).
The company's consolidated profit after tax (PAT) grew 12% year-on-year (YoY) to Rs 2.5 bn, mainly on account of robust sales.
It had posted a net profit of Rs 2.2 bn in the corresponding period of the previous fiscal.
Revenues grew 6.1% YoY to Rs 12.8 bn with strong growth in RoW formulations and the API segment. This was partly offset by a 17.7% decline in US sales to Rs 4.8 bn.
Alembic Pharma's Q4FY21 operational performance was marginally below estimates, largely due to lower traction in US and domestic formulation sales.
Segment Revenues Surge
The Active Pharmaceutical Ingredients (API) revenues of the Indian drug major during fiscal 2020-21 jumped by 35% following international buyers' preference for 'China-plus-one' strategy to secure key medical inputs.
For the fourth quarter, Alembic's API business grew by 38% to Rs 2.1 bn, while for the full year, it was reported at Rs 9.6 bn, up 35% from previous year.
API is a key raw material for drug manufacturing.
API shortage after Chinese supply disruptions in early 2020 had triggered concerns across the markets for a possible shortage of the raw materials.
Commenting on the results, managing director Pranav Amin said the fiscal was an "outstanding year", with the company recording its highest-ever sales and profit.
He said the API supply disruptions from China gave an impetus to Alembic's API business globally.
"After second half of the year, Chinese were back in the market and there was competition again. But we had secured some markets with existing customers, who adopted a China-plus-one strategy to reduce their dependence on China. They were looking for pharmaceuticals suppliers from India.

We'd like to compete with better pricing and for more FDA approved facilities. There is still opportunity for good Indian suppliers in the global market."
He added that even as the company opened a parallel front to China, it isn't worried about what may become a price-war.
During the fiscal, the company's international formulations business grew by 19% to Rs 29.4 bn while US generics business grew by 9% to Rs 21.6 bn.
There was a sharp surge in the non-US International formulations business in Australia, Canada, and Europe besides some parts of Brazil, by growing 57% to Rs 7.8 bn during the fiscal.
--- Advertisement ---
These 3 Stocks are the Dark Horses of the Stock Market

The mainstream media mostly ignores them.

Mutual funds and hedge funds can't buy them in bulk.

Stock brokers rarely cover them.

These stocks are the dark horses of the stock market.

They only come in limelight after they have rallied by hundreds or even thousands of percent.

Our head of smallcap research, Richa Agarwal, has a knack for identifying such stocks before they begin their rally.

Over the years, she has spotted such stocks which have gone on to offer triple and even quadruple digit gains for investors. (* Past performance is no guarantee of future results)

Today, when the markets are near all-time high... and some investors are thinking of booking profits... Richa has spotted 3 such stocks which are set for a massive rally.

She will reveal the details of these 3 stocks on 28th June at her free online summit.

Click here to sign-up. It's free.
------------------------------
Company Eyes New Product Development in US Market
US revenues were below expectation at US$ 63 m due to competitive pressure in sartans and the management indicated the US revenue quarterly base would be between US$ 55-60 m.
The company said it will continue to focus on its R&D for new product development with its main focus on the US market.
About 80% of the company's R&D spend is targeted to the US market. The products include ophthalmic, oncology, oral solids, injectibles, etc.
Alembic's R&D spend stood at 12% of revenue at Rs 6.7 bn for the year.
Highlights from the Conference Call
Domestic branded formulation business reported a subdued growth of 4.7% YoY to Rs 3.6 bn with declining sales of the acute division.
Acute segment declined 28.8% with cough and cold segments along with the pediatric segments underperforming for the company. Specialty segment revenues grew 21% YoY.
Growth for the company was largely driven by traction in the cardio-diabetic segment where new product launches ramped up.
International formulation sales stood flat at Rs 7.1 bn. Sequentially, it grew 3.7%.
US market contributed 67.1% to international formulations business and witnessed 17.8% YoY and 7.2% QoQ decline to US$ 63 m.
Capex for FY21 was Rs 6.7 bn. The company is expecting to spend Rs 5-7 bn in FY22 largely towards maintenance and some capacity augmentation at existing plants.
BREAKING: It's Good Time to Invest in Gold, but Just Don't Go Blindfolded
The company filed 13 abbreviated new drug applications (ANDAs) during the fourth quarter and total 29 during the full fiscal year 2020-21.
The company is currently awaiting feedback from the USFDA on the resolution of observations at the recently inspected injectables Unit (F3).
Alembic Pharma's Shareholding Pattern as on 31 March 2021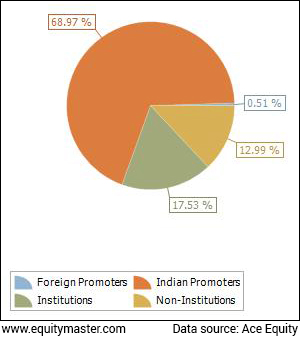 Equitymaster's View on the Pharma Sector...
We reached out to Tanushree Banerjee, Co-Head of Research at Equitymaster, and editor of the premium stock recommendation service StockSelect, for her view on the pharma sector.
Here's what she has to say...
The second Covid wave has given a new lease of life to pharma stocks.

As the sector continues to invest in capacities for new drugs, the profitability will depend on the companies' ability to seek USFDA approval for the plants.

Or their ability to tie up with MNC pharma for producing variants of their vaccine.
How the Stock Markets Reacted to Alembic Pharma's Q4FY21 Numbers Today...
Shares of Alembic Pharma opened 6% lower today. Presently, Alembic Pharma shares are trading down by 4.4%.
Most of the pharma stocks are trading on a positive note today with shares of Sun Pharma and Indoco Remedies among the top gainers.
Alembic Pharma share price touched a 52-week high of Rs 1,150 and a 52-week low of Rs 732.
Over the last 30 days, Alembic Pharma share price is down 1.5%. Over the last one year, the company's share price is up 34%.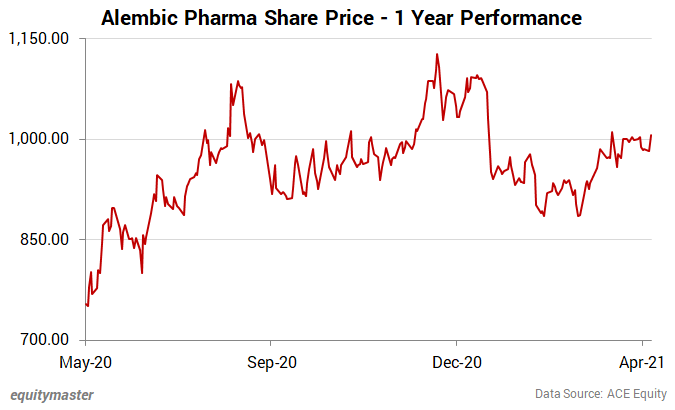 At the current price of Rs 961, the P/E ratio for Alembic Pharma stands at 16.8 times.
About Alembic Pharma
Established in 1907, Alembic Pharma is one of India's leading pharmaceutical companies.
The company is vertically integrated with the ability to develop, manufacture, and market pharmaceutical products, pharmaceutical substances, and intermediates.
The company is the market leader in the Macrolides segment of anti-infective drugs in India.
Alembic's manufacturing facilities are located in Vadodara and Baddi in Himachal Pradesh.
The plant at Vadodara has the largest fermentation capacity in India. The Panelav facility houses the API and formulation manufacturing (both USFDA approved) plants. The plant at Baddi, Himachal Pradesh manufactures formulations for the domestic and non-regulated export market.
The company also has a state of the art research centre at Vadodara.
For more details about the company, you can have a look at Alembic Pharma's fact sheet and Alembic Pharma's quarterly results on our website.
For a sector overview, you can read our pharma sector report.
You can also compare Alembic Pharma with its peers on our website:
Alembic Pharma vs Aurobindo Pharma
Alembic Pharma vs Abbott India
Alembic Pharma vs Ajanta Pharma
Alembic Pharma vs Dr Reddy's Lab
To know what's moving the Indian stock markets today, check out the most recent share market updates here.