Multibagger Alert: Fastest Growing Stocks of 2022
Sep 8, 2022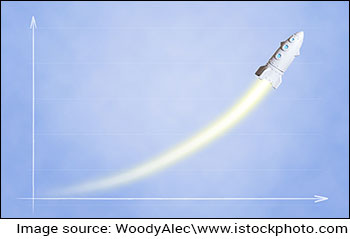 Editor's note: Of all things in a company, an average investor seems the most enamored with its ability to grow during turbulent times.
Investors love these companies as they manage to tide over uncertainty and register growth.
These companies constantly adapt themselves according to the changing market dynamics and stay on top.
And as a result, the market rewards them handsomely and they turn out to be the best multibagger stocks.
In May 2022, we wrote to you about five such companies which were the biggest gainers in 2022 so far.
The same is relevant today as these five companies continue to be among the fastest growing companies of 2022.
Continue reading to know more.
Fastest Growing Stocks of 2022
The year 2022 started off on a dull note after a market rally for two straight years.
This was due to several factors including inflation, new wave of Covid-19 and the Russia-Ukraine war.
Markets were volatile from the start of this year and most likely to remain the same in the near term.
However, even in these volatile market conditions, several stocks have given good returns.
Here are five stocks that have grown the fastest this year.
#1 Adani Green Energy
This year, the fastest-growing stock is Adani Green Energy, one of the largest the largest renewable energy companies in India.
The company's shares have given a return of 113% in 2022.
This was mainly driven by stellar results for the December 2021 quarter during which the company registered a 50% year on year jump in operational capacity and an 84% YoY increase in energy sales.
Besides this, Adani Green raised around US$ 500 m from an Abu Dhabi Based company in the form of primary capital. This is expected to help the company deleverage its balance, lower its capital cost, and improve its credit rating.
Moreover, the company raised a green loan from seven international banks to fast-track its hybrid solar and wind project in Rajasthan.
While these bode well for the company and show an improvement in the company's overall performance, an increase in leverage and delay in completing projects can affect Adani Green Energy's performance.
In the financial year 2021, the company's debt to equity ratio stood at 9x, and it is expected to remain high in the medium term as the company is funding its capex through debt.
Moreover, the promoter holding has decreased by over 25% in the last three years.
Update: Since we last wrote to you, Adani Green Energy share price has come under pressure, but it continues to be the fastest growing stock of 2022.
As all Adani group stocks fell recently, and Adani Green was no exception.
However, after falling in June 2022, the stock has regained its mojo and has seen an uptrend in recent weeks.
This is amid speculations of the company entering benchmark BSE Sensex index to replace Dr Reddy's Laboratories.
If Adani Green does makes it to Sensex, it will be the first Adani group company to feature in the index.
#2 Adani Transmission
Second on our list is Adani Transmission, the power transmission and distribution company of the Adani Group.
The company's shares have given close to a 62% return in 2022.
The growth in the share price came at the back of the recent operationalisation of new projects. It added a transmission network of 18,567 circuit km, a growth of 20% year-on-year (YoY).
Due to the addition of new substations, the company's power transformation capacity also jumped by 42% YoY.
As a result, it saw a 14% YoY growth in sales in December 2021 quarter.
While the company's operational performance has improved over the years, its long term debt has grown at a CAGR of 10.6% in the last three years, mainly due to its expansion plans.
Though the company said it would fund the capex through internal sources, it might depend on temporary arrangements such as unsecured loans increasing its leverage.
It is also exposed to forex risks due to high dollar-denominated debt. Moreover, the promoters have pledged 7% shares.
Going forward, a strong revenue profile and growth of the transmission business will drive revenue and profit. However, this will be offset by an increase in interest payments.
Update: Since we last wrote to you in May 2022, the share price of Adani Transmission has seen a sharp uptrend, similar to a block of rising stairs.
The company is riding high on growth prospects as India's energy requirement is set to quadruple in coming years. This makes Adani Transmission a key beneficiary as it's already has a strong and reliable power transmission network.
#3 Adani Total Gas
Next on our list is Adani Total Gas, another Adani company.
The shares of the company have zoomed 40% this year.
The share price increased after the company won 14 new locations in the 11th round of the city gas distributors network in the December 2021 quarter. It also won 29 new locations in three different rounds of bidding earlier.
During the December 2021 quarter, the company's sales volume grew by 25%, driven by a jump in both compressed natural gas (CNG) and piped natural gas (PNG) sales.
Adani Total Gas also recently entered the electric vehicle space by launching its first electric vehicle charging station in Ahmedabad, which further drove the stock price.
Besides this, the company, along with Indian Oil Corporation, has announced a plan to set up compressed biogas (CBG) plants in Uttar Pradesh to produce biogas from cattle dung and crop residue.
Adani Total Gas has heavy expansion plans, which can be supported through debt as the company has enough scope to raise funds through leverage.
Though the funding is secured for these expansion plans, there is a high execution risk. Any delay in the execution of the projects will attract penalties.
Despite having a healthy sales mix from compressed and piped natural gas, it has only adequate gas tie-ups for the medium term. Adani Total Gas's ability to secure long term contracts for gas requirements will determine its future revenue.
Update: Adani Total Gas has seen a sharp up move since we last wrote to you in May 2022.
Take a look at the chart below to see the 1-year performance of Adani Total Gas.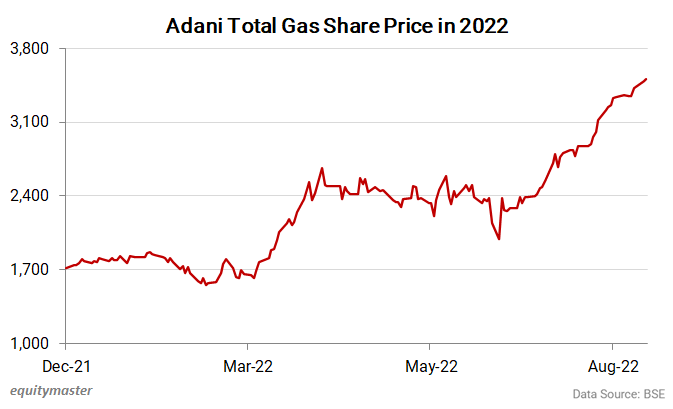 Despite reporting flat earnings for the June 2022 quarter, due to significant increase in domestic gas prices, shares of the company are on a roll.
Going forward, the company is planning to grow its geographical footprint rapidly. It has bid aggressively for city gas distribution authorisation and has won 29 new locations in three different bidding rounds.
To know more, check out Adani Total Gas 2021-22 annual report analysis.
#4 AU Small Finance Bank
Fourth on our list is AU Small Finance Bank, a recent entrant into the banking business.
The company shares have given a 26% return since January 2022.
This came after the bank's operational performance improved due to higher loan disbursements and good asset quality in December 2021 quarter.
AU Small Finance Bank continued to show operational excellence in the March 2022 quarter. Its net non-performing assets (NPA) improved to 0.5% from 2.2% a year ago.
The pent-up demand from the lockdown has helped the bank grow its business.
Despite inflation, geopolitical crisis, and possible interest rate increase, the company is positive about its growth in the next year.
However, the bank has a moderate scale of geographically concentrated operations. Currently, the bank is concentrating on increasing its penetration in the existing states and has no plans to expand aggressively in the country.
Also, the promoter holding has decreased by almost 4% in the last three years.
Going forward, the bank is set to benefit from the Reserve Bank of India's (RBI) support of Rs 100 m to the small finance banks announced during the pandemic.
Update: The best banking stocks in India have outperformed recently on the back of higher business growth, and rising rates that are aiding margins.
AU Small Finance Bank is no exception to this.
The bank recently raised around Rs 20 bn from a qualified institutional placement (QIP).
#5 Cholamandalam Investment and Finance Company
Last on our list is Cholamandalam Investments, a diversified NBFC.
The company's shares have zoomed 32% in 2022.
This is mainly due to the improvement in economic conditions post the second wave that led to higher disbursements for the company.
Healthy demand during the festive season and improved customer sentiments led to higher demand for mortgage loans.
The company continued to perform well during the March 2022 quarter. Its disbursements grew 58% YoY. The cost of lending was reduced and collection efficiency improved during the quarter.
Cholamandalam Investment also has the best asset quality among its peers and is well diversified across product segments.
However, due to the pandemic, the collections in the medium term could be under pressure worsening the asset quality.
Going forward, despite the good operational performance, the pandemic's effect on the business has to be monitored carefully.
Should you invest in the fastest-growing stocks?
A market rally or a crash can happen due to multiple reasons. A major economic reform or a business' performance can take the stock price in either direction.
Another major reason that contributes to a market rally or crash is panic. Panic buying or panic selling can affect the stock price in no time.
No wonder a stock market is compared to a roller coaster ride.
While returns can look lucrative, markets are very volatile in the short term. One needs to have a very high-risk appetite to digest such volatility.
It's always better to check a company's fundamentals than to get attracted to the short-term price rallies. This way, one can minimise the risk of the investment portfolio.
Remember investing should make you money while you sleep and not become a reason for you to lose sleep.
Disclaimer: This article is for information purposes only. It is not a stock recommendation and should not be treated as such. Learn more about our recommendation services here...
FAQs on Growth Stocks
1) Which are the fastest growing stocks to invest in?
Fastest growing companies are the ones that grow at a faster rate than the average business in an industry or economy as a whole. These companies are usually lucrative bets and attractive because businesses that can grow faster than the average business for long periods tend to be rewarded by the market.
You'll come across names of new-age tech companies, Zomato, Adani Green Energy, and Tata Elxsi, among other names, if you search for the fastest growing stocks in India. But there again you need to be sure that growth is going to be profitable.
Check out Equitymaster's Indian stock screener for screening the fastest growing companies in India.
2) Which are the best growth stocks for next 10 years?
If you're looking for the best growth stocks for 10 years, you can use the following criteria to filter stocks:
Strong growth sales in past
Continuous compounding profits over years
High ROE
Debt to equity ratio equal to 0
You can start your search by using the Equitymaster Indian stock screener to filter the best growth stocks in India.
3) Which stocks can be high growth stocks for next 10 years?
No one can say for sure which stock will be the best growth stock for the future. However, if you follow the basic stock picking principle, you could end up with high growth stocks that become the x-factor for your portfolio.
You can check out Equitymaster's Indian stock screener to find the best growth stocks in India.
It includes stocks like Bajaj Finance, Adani Green Energy, Deepak Nitrite, etc.