Tata Motors Faces Antitrust Probe: What Should Investors Do?
May 6, 2021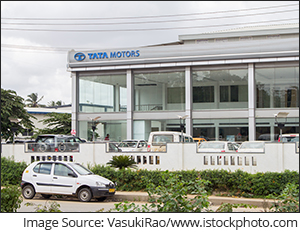 The Competition Commission of India (CCI) has ordered a probe against Tata Motors for alleged abuse of its dominant position with respect to dealership agreements.
The order has come on two complaints filed against Tata Motors, Tata Capital Financial Services, and Tata Motors Finance.
CCI observed that the complainants are primarily aggrieved that Tata Motors has imposed unfair terms and conditions in the dealership agreement for commercial vehicles.
In other words, it has abused its dominant position in the market.
The competition regulator has directed its Director General (DG), the investigation arm, to probe the matter in detail.
In a statement, the regulator said, "In this backdrop, having considered the dominance of Tata Motors in the relevant market, the commission deems it appropriate to confine the investigation with respect to the clauses of the dealership agreements and conduct in respect of commercial vehicles executed between the dealers and Tata Motors".
Further, CCI made it clear that it was not examining the conduct of Tata Capital and Tata Motors Finance or the agreements executed by them with the dealers for channel financing.
These firms do not appear to command any significant market power in the verticals where they are operating.
Regarding the allegation that the dealership agreement provides the dealer shall not start, acquire, or indulge in any new business (of product or services) even if it's not related to the automobile industry, CCI said the same appears to be unduly restrictive and expansive in its coverage and interferes with the freedom of trade.
Tata Motors Registers 41% Decline in Domestic Vehicle Sales
The auto maker registered a massive 41% year-on-year (YoY) decline in domestic sales at 39,530 vehicles for the month of April, impacted by Covid-led lockdown restrictions imposed by several states.
The company had sold 66,609 vehicles in the domestic market in March 2021.
The total sales in April stood at 41,739 vehicles, declining 40.6% compared to 70,263 vehicles sold in previous month, which included commercial vehicle exports at 2,209 units, down 40% month-on-month (MoM).
In the domestic market, Tata Motors said it sold 14,435 commercial vehicles in April, down 61% compared to 36,955 vehicles sold in March.
The company reported significant decline in every segment under the commercial vehicle division in the domestic market.
Medium and heavy commercial vehicle sales dropped 55% over last month to 4,942 units. Small commercial vehicle (SCV) cargo and pickup segment registered 60% fall in sales over last month at 6,930 units.
Total passenger vehicle sales for the month of April at 25,095 units fell 15% against 29,654 units sold in the previous month.
--- Advertisement ---
WATCH: FULL Replay of Our Urgent Broadcast

The full replay of our urgent broadcast on India's Revival is available for a limited time now.

In case you missed watching our broadcast LIVE...

You can see all the important highlights from our broadcast in this replay.

Please note that we may take this replay off the internet any minute.

So it is highly recommended you watch it immediately.

Click Here to Watch the Replay NOW
------------------------------
Market Size and Share of Commercial Vehicles Across India
India is one of the leading manufacturers and exporters of commercial vehicles.
Commercial vehicles account for 4.5% of India's total domestic automotive production volume.
Favorable government policies like the Make in India campaign, the Automotive Mission Plan (AMP), and National Electric Mobility Mission Plan (NEMMP) have enabled the country to develop into one of the most important commercial vehicles manufacturing hubs in the world.
The sale of commercial vehicles in the country is expected to reach a volume of 2 m units by FY 2024, expanding at a compound annual growth rate (CAGR) of 15.2% during the FY 2020 - FY 2024 period.
As of December 2020, Tata Motors dominated the domestic commercial vehicle market across India with a share of over 37%.
The second spot is held by Mahindra & Mahindra with a market share of 29.4%.
Ashok Leyland is in the third place with a market share of 12.8%.
Tata Motors Shareholding Pattern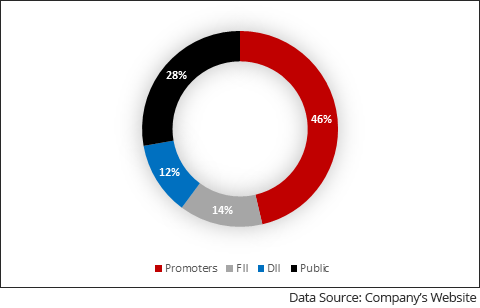 How the Stock Markets Reacted to Tata Motors News Today...
Shares of Tata Motors opened the day at Rs 290.6 on the BSE and Rs 291.5 on the NSE.
At the time of writing, shares of Tata Motors were trading up by 2.3% on the BSE.
BREAKING: It's Good Time to Invest in Gold, but Just Don't Go Blindfolded
The share also touched its 52-week high of Rs 357 and 52-week low of Rs 79.6 on 3 March 2021 and 18 May 2020.
Over the last 30 days, the Tata Motors share price is down 3.1%. Over the last one year, the company's share price is up 252%.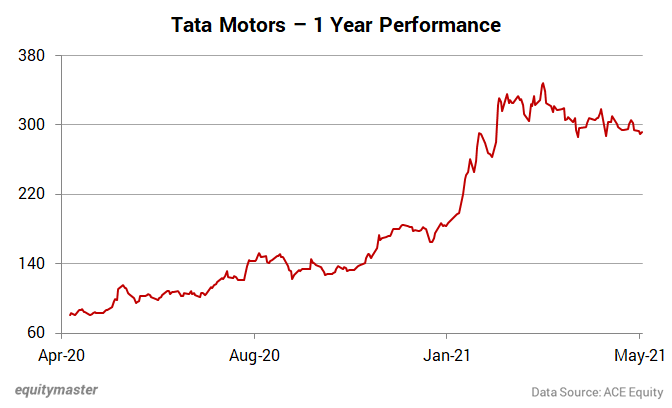 About Tata Motors
Tata Motors is an Indian multinational automotive manufacturing company headquartered in Mumbai, Maharashtra, India.
It's a part of Tata Group, an Indian conglomerate. Formerly it was known as Tata Engineering and Locomotive Company (TELCO).
The company is a US$ 35 bn organisation. It's a leading global automobile manufacturing company.
Its diverse portfolio includes an extensive range of cars, sports utility vehicles, trucks, buses, and defence vehicles.
Tata Motors is one of India's largest original equipment manufacturers (OEMs) offering an extensive range of integrated, smart and e-mobility solutions.
The company has auto manufacturing and vehicle plants in Jamshedpur, Pantnagar, Lucknow, Sanand, Dharwad, and Pune in India, as well as in Argentina, South Africa, Great Britain, and Thailand.
For more details about the company, you can have a look at Tata Motors factsheet and quarterly results on our website.
You can also compare Tata Motors with its peers.
Tata Motors vs Mahindra & Mahindra
And to know what's moving the Indian stock markets today, check out the most recent share market updates here.