Adani Green Energy in Focus as Q4 Net Profit Rises 86%
May 6, 2021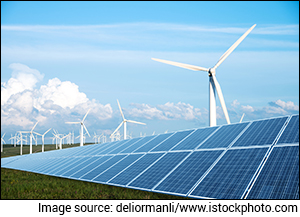 In its latest quarterly results, Adani Green Energy (AGEL) posted an 86% year-on-year (YoY) rise in consolidated net profit at Rs 1 bn for the quarter ended March 2021, driven by an increase in revenue.
The company had posted a consolidated net profit of Rs 560 m in the corresponding period last year.
Capacity Addition Drives Revenue in Q4
The company's consolidated revenue grew 50.5% YoY to Rs 10.8 bn for the quarter compared to Rs 7.2 bn in the same period a year ago. This was on account of new operational capacities.
The company sold 1,482 m units of solar power, up 24% YoY. Its sale of electricity from wind energy projects increased 20% YoY to 132 m units.
The increase in the sale of solar power units was backed by a capacity increase from 2,148 megawatts (MW) to 2,973 MW, while the increase in wind energy sales was backed by a capacity increase from 397 MW to 497 MW.
Both solar and wind power plant availability improved by 40bps and 90bps, respectively.
However, the capacity utilisation factor (CUF), which is the ratio of the actual electricity output from the plant to the maximum possible output during the year, was lower for solar power plants.
This was account of a decrease in grid availability and was also lower for wind energy plants due to wind speeds being lower by 11% YoY.
FY21 Highlights
For the year FY21, the company posted a consolidated net profit of Rs 1.8 bn, as against a loss of Rs 680 m in FY20.
Total income of the company during the year also rose 33.8% YoY to Rs 35.2 bn from Rs 26.3 bn in the previous year.
The company's sale of energy was up by 19% YoY at 4,886 m units.
The solar portfolio of the company continued to see strong CUF at 22.5% while the wind portfolio saw a consistent CUF at 26.8%.
Commenting on the company's performance in FY21, AGEL MD and CEO Vneet S Jaain said,
"FY21 has been an eventful year for Adani Green Energy witnessing robust operational performance and rapid capacity build-up despite the pandemic, new strategic alliances and tie-up of a revolving project finance facility."

"On the ESG front, we had zero loss time and recordable injury in FY21. AGEL's data analytics-driven operations and management, advance de-risking-based development approach and disciplined yet transformational capital management will continue to ensure steady progress towards the target of having 25 GW operational capacity by 2025."
AGEL also closed a US$ 1.4 bn senior debt facility in FY21 with participation from 12 international banks to finance its under-construction renewable portfolio.
--- Advertisement ---
These 3 Stocks are the Dark Horses of the Stock Market

The mainstream media mostly ignores them.

Mutual funds and hedge funds can't buy them in bulk.

Stock brokers rarely cover them.

These stocks are the dark horses of the stock market.

They only come in limelight after they have rallied by hundreds or even thousands of percent.

Our head of smallcap research, Richa Agarwal, has a knack for identifying such stocks before they begin their rally.

Over the years, she has spotted such stocks which have gone on to offer triple and even quadruple digit gains for investors. (* Past performance is no guarantee of future results)

Today, when the markets are near all-time high... and some investors are thinking of booking profits... Richa has spotted 3 such stocks which are set for a massive rally.

She will reveal the details of these 3 stocks on 28th June at her free online summit.

Click here to sign-up. It's free.
------------------------------
Adani Green Energy Plans Rs 150 Bn in Capex in FY22
Adani Green Energy will scale up its capital expenditure in FY22 to Rs 150 bn from Rs 85 bn that it invested in FY21, to expand capacity.
The renewable energy company added 925 MW of operational capacity in FY21, despite the disruption caused due to the Covid-19 pandemic.
The company said that the capacity of its new projects, the ones which have been awarded and those where it has emerged as best bidder, stand at 13,550 MW.
With this, the company will have a portfolio of around 20,000 MW.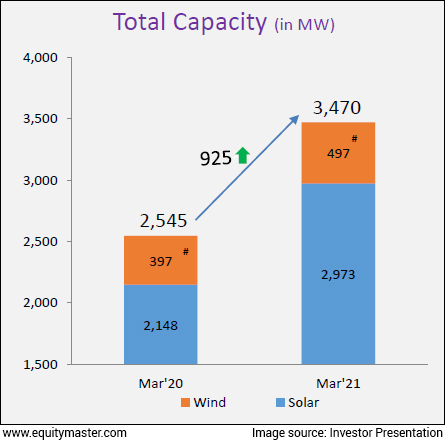 Equitymaster's View on Adani Green Energy...
We reached out to Tanushree Banerjee, Co-Head of Research at Equitymaster, and Editor of the premium stock recommendation service, StockSelect, for her view on the company.
Here's what she has to say...
"Power projects are backed by long-term purchase agreements which helps companies raise substantial debt. But even then, with a debt-to-equity ratio of 9.2 times as of March 2021, Adani Green's balance sheet is amply bloated.

At the same time, profitability remains poor. Adani Green has shown some profits during the fourth quarter of FY21. However, its bottom line remains extremely vulnerable.

With return ratios in low single digits, Adani Green's valuations are certainly in the bubble space."
BREAKING: It's Good Time to Invest in Gold, but Just Don't Go Blindfolded
How the Stock Markets Reacted to Adani Green Energy's Results
Shares of Adani Green Energy opened at Rs 1,089.9 on the BSE and at Rs 1,083.9 on the NSE and rose 3.6% today.
It touched its 52-week high of Rs 1,341.6 on 24 March 2021, and its 52-week low of Rs 202.7 on 6 May 2020.
The stock has gained more than 400% in the last year and more than 3,500% since the company got listed on the exchanges.
At its current price, it is trading at a P/E ratio of 456.5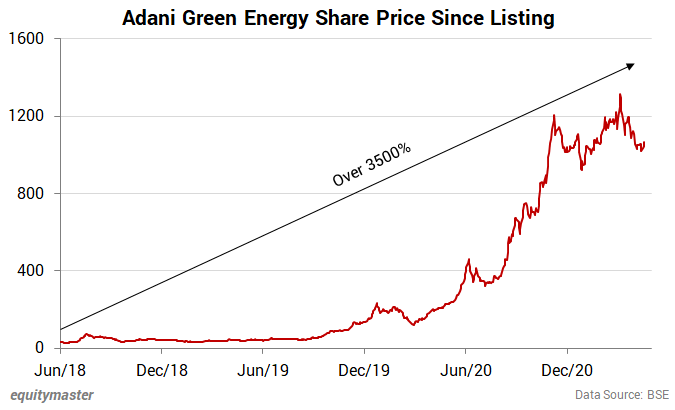 About Adani Green Energy
Adani Green Energy Limited (AGEL) is an Indian renewable energy company headquartered in Ahmedabad, Gujarat. It is owned by the Indian conglomerate Adani Group.
The company operates the Kamuthi Solar Power Project, one of the largest solar photovoltaic plants in the world.
Currently, the company manages wind energy and solar energy power plants in 11 states of India.
In May 2020, AGEL won the world's largest solar bid worth US$ 6 bn by the Solar Energy Corporation of India (SECI). The bid entails AGEL building an 8 GW photovoltaic power plant
For more details about the power sector, you can have a look at the power sector report on our website.
And to know what's moving the Indian stock markets today, check out the most recent share market updates here.
Ayesha Shetty is a financial writer with the StockSelect team at Equitymaster. An engineer by qualification, she uses her analytical skills to decode the latest developments in financial markets. This reflects in her well-researched and insightful articles. When she is not busy separating financial fact from fiction, she can be found reading about new trends in technology and international politics.