Sunil Singhania's New Bet is this Infra Stock
May 6, 2022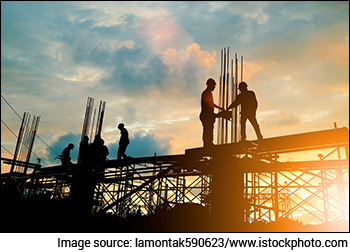 Many were curious to know what sparked a rally of 9% in J Kumar Infraprojects shares on Wednesday this week, while the markets were absorbing the shock of an untimely repo rate hike by the central bank.
It was only revealed later that Sunil Singhania-owned Abakkus Asset Manager LLP bought 2 m equity shares in the company.
This accounted for 2.6% stake of the total paid up equity.
Abakkus bought the stock via open market transaction at an average price of Rs 225.1 per share on the NSE as per the bulk deal data.
There were multiple sellers in the transaction. Balgopal Commercial sold 0.58 m shares, Intellect Stock Broking offloaded 0.57 m shares, and Allied Commodities sold 0.85 m shares at the same price.
March 2022 shareholding data showed Allied Commodities held 0.91 m shares translating to 1.2% stake in total prior to the sale.
A word about Abakkus Asset Manager LLP
Abakkus Asset Manager is an investment management company founded by Sunil Singhania, who was the CIO of Equity Investments at Reliance Mutual Funds.
Sunil Singhania has a track record of over two decades in equity markets and he played an important role in building Reliance-Nippon MF into one of India's largest asset management companies (AMCs).
Currently, Abakkus manages over Rs 80 bn of assets. To point out one of Abakkus' good investment, it has a substantial stake of 4.2% in IT company Mastek. In the last three years, Mastek shares have given multibagger returns of over 500%.
Why did Abakkus Invest in J Kumar Infraprojects?
While we can't know for sure why the star investor bought into it, there are some reasons that we can guess...
Primarily, the infrastructure industry received a boost with the Union budget unleashing a massive capital outlay for fiscal 2023.
The government plans to incur capital expenditure of Rs 7.5 tn in 2023 fiscal which is 24% more than the previous fiscal year. The outlay for financial assistance to states for capex has also been raised manifold.
So one reason could be because of the growth prospects of the industry.
Second, the company continues to receive orders and has a good order book. In March 2022, the company bagged two major orders worth Rs 20.3 bn from Pune Municipal Corporation and Delhi Metro Rail Corporation.
The company is strong on the financials front reporting sturdy results in previous quarters.
After a substandard performance in the financial year 2021, the company has posted increasing revenues and net profits in the quarterly results of fiscal 2022.
For the December 2021 quarter, net sales were up 18% year-on-year at Rs 9.7 bn from Rs 8.2 bn posted in the same quarter previous year.
The quarterly net profit came in at Rs 587 m up 30.7% year-on-year as compared to Rs 449 m reported in the same quarter previous year.
The company is yet to announce the March 2022 quarter results. Historically, the company has performed the best in the fourth quarter of the year.
These are clear indications of growth in the company. For more details, check out the latest quarterly results of J Kumar Infraprojects.
While all these reasons are compelling enough, do your research before buying any stock, even the ones the so-called 'market gurus' buy.
Do remember everyone has a different risk appetite, and copycat investing seldom works!
How the stock of J Kumar Infraprojects has performed recently
J Kumar Infraprojects share price closed 9% higher on 4 May 2022 as a sharp rally was witnessed during the last trading hour.
Investors added over Rs 1.5 bn to the company's market cap in the past week alone.
Yesterday, shares ended nearly 3% lower as broader markets came under pressure.
In the last one month, the stock has outperformed the benchmark indices and is up 22.8% whereas the BSE Sensex is down by 8.2%.
The year-to-date (YTD) return stands at 45%.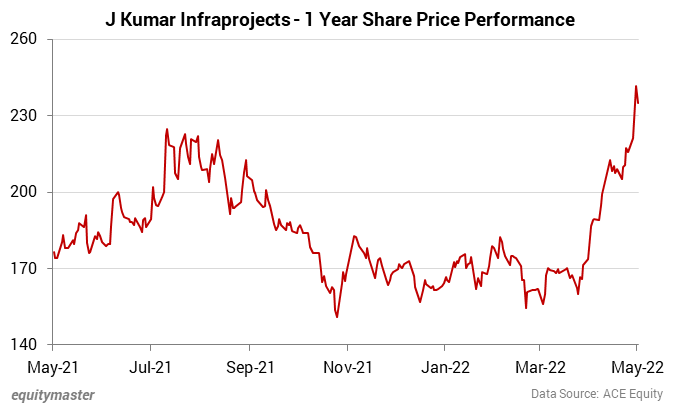 Over the past one year, shares of the company have surged 34%.
About the company
J. Kumar Infraprojects operates in the construction industry.
The company is engaged in the execution of contracts of various infrastructure projects including transportation engineering, irrigation projects, civil construction, and piling work.
Its transportation engineering business includes roads, flyovers, bridges, monorail, metrorail, and skywalks. The company's irrigation projects are spread across Maharashtra, mainly in Vidarbha Region.
The civil construction segment includes the construction of corporate offices, buildings, and transport terminals like airports and railways.
To know more about the company, check out J Kumar Infraprojects' financial fact sheet.
For a sector overview, read our engineering sector report.
You can also compare J Kumar with its peers:
J Kumar Infra vs Ashoka Buildcon
To know what's moving the Indian stock markets today, check out the most recent share market updates here.
Disclaimer: This article is for information purposes only. It is not a stock recommendation and should not be treated as such. Learn more about our recommendation services here...