Tata Consumer Shares Slump. What Should Investors Do?
May 7, 2021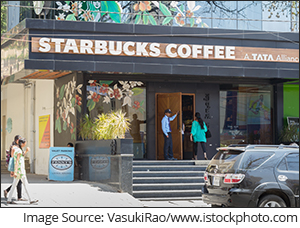 Consumer goods major Tata Consumer Products on Thursday reported a consolidated net profit of Rs 539 m for the March 2021 quarter. It recovered from a net loss of Rs 765 m in the same period last year.
The profit came in much below estimates as many analysts had expected the company to report a consolidated profit of Rs 1.9 bn.
The Tata Group company posted a weak set of numbers with tea inflation and losses at Starbucks being the main reasons. This was offset by positives like strong growth and margins in plantations as well as the India foods businesses.
The company's consolidated revenue from operations for the quarter surged 26% year-on-year (YoY) to Rs 30.4 bn. This was higher than analysts' estimates. It was aided by a low base of the year-ago quarter.
While the consumer goods sector continued to recover from the pandemic-driven disruptions, Tata Consumer's peers Hindustan Unilever (HUL), Britannia Industries, and Nestle India had flagged raw material price pressures in the reported quarter.
Double Digit Volume Growth in India Business
Tata Consumer's India beverages business reported a 60% growth on a YoY basis to Rs 12 bn. Sales of the domestic food business grew 22% YoY to Rs 6.4 bn.
However, the international beverage business revenue declined versus the December quarter.
In it's earnings presentation, the company said:
"Consolidated EBITDA growth for the quarter was impacted by tea inflation in India and increased A&P investments, that more than offset the strong EBITDA growth in India food and International business.

International business will be lapping Covid-induced high base in next quarter - our focus will be to continue expansion beyond black tea."
Key Businesses Snapshot - Q4FY21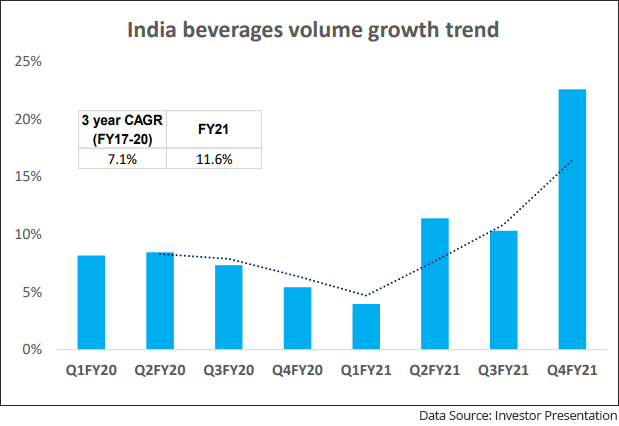 Commenting on the quarterly performance, Sunil D'Souza, Managing Director & CEO of Tata Consumer, said they delivered yet another quarter of strong revenue growth, driven by double-digit volume growth in the India business.
He said the integration of food and beverage businesses in India is complete as committed and the company has started seeing synergy benefits.
During the year, the company stepped up its distribution reach, invested in brands, and focused on premiumisation in its core portfolio.
According to the company's projections, the second wave of Covid-19 in India is creating uncertainty in the near term, but the outlook for consumer staples remains stable.
--- Advertisement ---
These 3 Stocks are the Dark Horses of the Stock Market

The mainstream media mostly ignores them.

Mutual funds and hedge funds can't buy them in bulk.

Stock brokers rarely cover them.

These stocks are the dark horses of the stock market.

They only come in limelight after they have rallied by hundreds or even thousands of percent.

Our head of smallcap research, Richa Agarwal, has a knack for identifying such stocks before they begin their rally.

Over the years, she has spotted such stocks which have gone on to offer triple and even quadruple digit gains for investors. (* Past performance is no guarantee of future results)

Today, when the markets are near all-time high... and some investors are thinking of booking profits... Richa has spotted 3 such stocks which are set for a massive rally.

She will reveal the details of these 3 stocks on 28th June at her free online summit.

Click here to sign-up. It's free.
------------------------------
Increase in Market Share; Company Adds 5 New Products
During the year, the company gained market share in both the core categories of tea and salt.
Tata Salt gained market share with its value-added salts portfolio growing faster.
The company added five new products to its ready-to-cook category under the "Tata Sampann" brand. They include "haldi doodh" mix, "masala daliya khichdi" mix, dhokla mix, supergrain ragi idli and supergrain ragi dosa mixes.
The company's subsidiary NourishCo sustained growth momentum during the quarter with 86% revenue growth, albeit on a low base impacted by Covid in March 2020.
In an exchange filing, the company said the health and wellness focused foods portfolio was further enhanced through acquisition of Kottaram Agro Foods (Soulfull brand) - which is now renamed as Tata Consumer Soulfull.
This opened significant opportunities in the fast growing 'on the table' and 'on the go' segments.
The company's board also recommended a final dividend of Rs 4.05 per equity for the financial year 2020-21.
Tata Consumer Shareholding Pattern as on 31 March 2021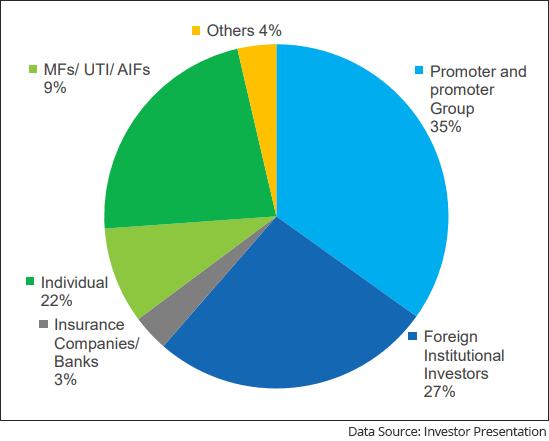 Equitymaster on FMCG Stocks
Here's an excerpt of what Aditya Vora, Research Analyst at Equitymaster, wrote about FMCG stocks in one of the editions of Profit Hunter...
'When the markets bottomed out in less than a month and started rising, the pundits who experienced the 2008 crash, said it was a 'temporary rise' or a 'dead cat bounce'. They said the fall would accelerate.

In hindsight, they were wrong.

We saw the fastest recovery in the history of financial markets.

The talk of the town during the crash was portfolio rebalancing to defensive plays. Stocks like HUL, Marico, Dabur, Britannia, etc.

And rightly so.

After all, while sitting at home, it was natural to consume more biscuits and chyawanprash.

These resilient FMCG stocks fell the least and rallied the most till the lockdown was lifted in June when life started to crawl back to normalcy.'
You can read Aditya's entire article on this topic here: Is History Repeating Itself in the Stock Market?
BREAKING: It's Good Time to Invest in Gold, but Just Don't Go Blindfolded
How the Stock Markets Reacted to Tata Consumer Results
Despite strong market sentiments, Tata Consumer Products share price fell over 5% in early trade today, a day after the company declared its Q4 results.
Shares of the company had ended flat yesterday, before the results were announced.
Tata Consumer had replaced Gail (India) in the benchmark NSE Nifty in its latest semi-annual rejig, effective March.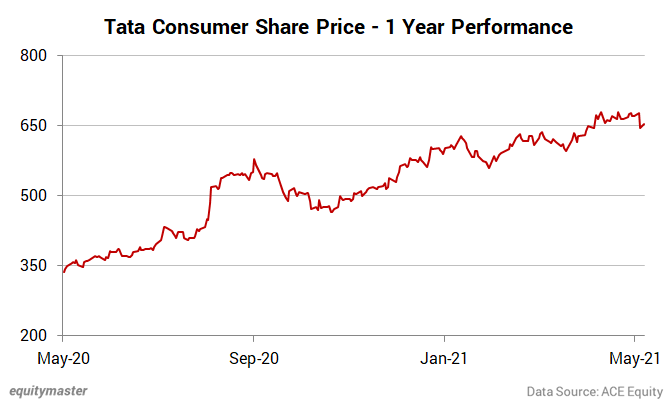 At its current price, it is trading at a P/BV ratio of 7.8.
About Tata Consumer Products
Tata Consumer Products was incorporated on October 1962, as a private limited company and was converted into a public limited company on 8 May 1963.
The company cultivates tea, coffee, cardamom, etc, plantations and manufacturing, selling, and exporting instant tea as well as blended and packeted teas.
The company (owner of the UK's Tetley Tea, supplier to Queen Elizabeth II) is one of India's largest tea growers and marketers, selling its coffee and tea in India (where it is #1 in tea sales), as well as in more than 40 other countries.
The company also owns Tata Coffee, which manufactures instant and ground coffee. In addition to Tata and Tetley, the company's brands include Chakra Gold, Gemini, and Kanan Devan.
Tata Consumer is part of the Indian conglomerate, the Tata Group, which owns 35% of its shares.
For more details about the company, you can have a look at Tata Consumer's fact sheet and Tata Consumer's quarterly results on our website.
For a sector overview, you can read our FMCG sector report.
You can also compare Tata Consumer with its peers on our website:
Tata Consumer vs Agro Tech Foods
To know what's moving the Indian stock markets today, check out the most recent share market updates here.