Adani Transmission Q4 Update: Net Profit Jumps Four-Fold Despite Dip in Revenue
May 7, 2021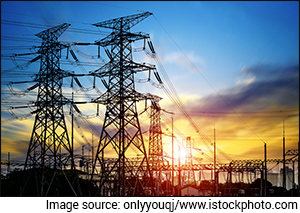 In its latest quarterly results, Adani Transmission (ADAT), India's largest electricity transmission company in the private sector, announced a cash profit of Rs 29.3 bn in the fiscal 2021, up 45% year-on-year (YoY).
For the fourth quarter, the company's cash profit was at Rs 6.4 bn, a rise of 51%.
The company reports 82% YoY rise in consolidated net profit at Rs 12.9 bn for the fiscal year ended March 2021.
It had posted a consolidated net profit of Rs 7.1 bn in the corresponding period last year.
Adani Transmission's consolidated net profit grew 333% YoY to Rs 2.6 bn for the fourth quarter compared to Rs 590 m in the same period a year ago.
Power Distribution Business Impacts Revenue from Operations
The company's revenue for the fiscal year 2021 was down by 14% to Rs 88.4 bn on a consolidated basis.
This was mainly due to lower revenue contribution from distribution business which was impacted by lower electricity consumption in the commercial and industrial segment in the first half of FY21, when India announced a nationwide lockdown to control Covid-19 pandemic.
However, operational revenue from power transmission business was unaffected in FY21.
Meanwhile, Adani Transmission's consolidated revenue grew 3% YoY to Rs 22.8 bn for the quarter compared to Rs 22.2 bn in the same period a year ago.
On a consolidated basis, the company's earnings before interest, tax, depreciation, and amortisation (EBITDA) came in at Rs 42.3 bn for the financial year 2021, up 4% YoY from Rs 40.6 bn reported last year.
The consolidated EBITDA for the fourth quarter stood at Rs 10.3 bn, up 18%, compared to Rs 8.8 bn reported in the previous fiscal year.
Key Financial Indicators
| Particular (Rs in bn) | FY21 | FY20 | YoY % | Q4FY21 | Q4FY20 | YoY % |
| --- | --- | --- | --- | --- | --- | --- |
| Revenue | 88.4 | 102.4 | -14% | 22.8 | 22.2 | 3% |
| Operating EBITDA | 42.3 | 40.6 | 4% | 10.3 | 8.8 | 18% |
| Profit Before Tax (PBT) | 16.2 | 11.1 | 46% | 3.7 | 2.2 | 71% |
| Profit After Tax (PAT) | 12.9 | 7.1 | 82% | 2.6 | 0.6 | 333% |
| EPS (Rs) | 9 | 2.9 | 207% | 1.7 | -0.2 | |
Data Source: Investor Presentation
Operational and Financial Highlights - Transmission and Distribution
Power Transmission: Added 2,536 circuit kilometer (ckt kms) to transmission network in FY21 on account of organic and inorganic growth taking total network to 17,276 ckt kms.
The company also reported strong transmission system availability at more than 99.9%.
Stable power transmission business delivered operational revenue of Rs 27.9 bn and operational EBITDA of Rs 25.7 bn in FY21 translating into strong margin of 92%.
Power Distribution: Distribution business ensured more than 99.9% supply reliability despite challenges on ground, while distribution losses were at 7.8% vs 7.4% in FY20.
The company also achieved more than 100% collection efficiency at AEM (Adani Electricity Mumbai) in FY21.
--- Advertisement ---
These 3 Stocks are the Dark Horses of the Stock Market

The mainstream media mostly ignores them.

Mutual funds and hedge funds can't buy them in bulk.

Stock brokers rarely cover them.

These stocks are the dark horses of the stock market.

They only come in limelight after they have rallied by hundreds or even thousands of percent.

Our head of smallcap research, Richa Agarwal, has a knack for identifying such stocks before they begin their rally.

Over the years, she has spotted such stocks which have gone on to offer triple and even quadruple digit gains for investors. (* Past performance is no guarantee of future results)

Today, when the markets are near all-time high... and some investors are thinking of booking profits... Richa has spotted 3 such stocks which are set for a massive rally.

She will reveal the details of these 3 stocks on 28th June at her free online summit.

Click here to sign-up. It's free.
------------------------------
Power distribution business operational EBITDA grew by 5% in FY21, in spite of 20% decline in operational revenue.
Commenting on the performance of the company, Mr Gautam Adani, Chairman of Adani group, said, "The Power & Transmission sector has seen tremendous progress over the last two decades. Today, Government initiatives such as Saubhagya and the emphasis on renewables have significantly expanded electricity access.
The next two decades promises to usher in new opportunities for the sector based on the resurgence of the economy post the pandemic and a positive investor outlook.
Adani Transmission is fully equipped to co-create a future in line with the needs of a nation at the cusp of global renewable energy leadership".
Major Investments and Developments in the Indian Power Sector
In December 2020, the Asian Development Bank (ADB) and government of India signed a US$ 132.8 m loan to strengthen and modernise the distribution network and improve quality of power supplied to households, industries, and businesses in Meghalaya.
In March 2020, the Central Government signed virtual agreement to conclude strategic sales in Kamarajar Port, Tehri Hydro Development Corporation (THDC) India, and North Eastern Electric Power Corporation (NEEPCO). It will receive Rs 135 bn from these deals.
In December 2019, NTPC announced investment of Rs 500 bn to add 10 gigawatt (GW) solar energy capacity by 2022.
In September 2019, Adani Transmission acquired the entire stake in Bikaner Khetri Transmission.
In FY21, Adani Transmission also acquired Warora-Kurnool Transmission (WKTL) owned by Essel InfraProjects adding 1,750 ckt kms to its total transmission network of 17,276 ckt kms.
ReNew Power and Shapoorji Pallonji will invest nearly Rs 7.5 bn in a 150 MW floating solar power project in Uttar Pradesh.
BREAKING: It's Good Time to Invest in Gold, but Just Don't Go Blindfolded
Back in 2019, the government of India expected to offer nearly 20 power transmission projects worth Rs 160 bn for bidding.
Note that Indian power sector is undergoing a significant change that has redefined the industry outlook. Sustained economic growth continues to drive electricity demand in India.
Speaking of the power sector, it's interesting to note the power exchanged in India is about 4.5% of the overall power production, as can be seen in the chart below.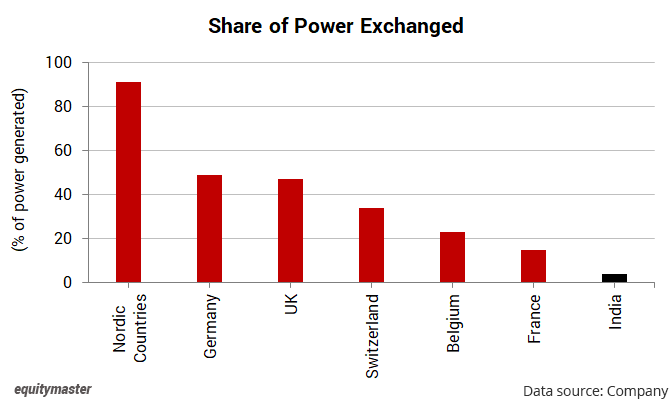 As per Tanushree Banerjee, Co-Head of Research at Equitymaster, India's power sector is currently in transition. It's driven by increasing reliance on short-term contracts and electricity spot markets.
This transition to the short-term market is happening due to quickly evolving industry dynamics.
Tanushree believes the Indian power sector will see a surge in spot power volumes due to certain factors.
In August 2020, Tanushree recommended a high-quality stock from this space. Subscribers can read the report here (requires subscription).
And if you are not a StockSelect subscriber, here's where you can sign up.
How the Stock Markets Reacted to Adani Transmission Q4FY21 Numbers Today
Shares of Adani Transmission opened the day at Rs 1,160 on the BSE and Rs 1,163 on the NSE.
At the time of writing, shares of Adani Transmission were trading up by 4.3% on the BSE.
At its current price, it is trading at a P/E of 119.8.
The share also touched its 52-week high of Rs 1,187.6 and 52-week low of Rs 167.2 on 7 May 2021 and 1 June 2020.
Over the last 30 days, the Adani Transmission share price is up 7.3%. Over the last one year, the company's share price is up 496.8%.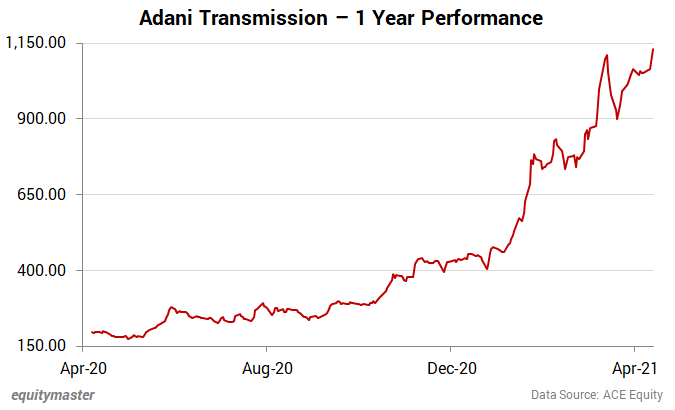 About Adani Transmission
Adani Transmission (ADAT) is the transmission and distribution business arm of the Adani group, one of India's largest business conglomerates.
ADAT is the country's largest private transmission company with a cumulative transmission network of 17,200 ckt km, out of which 12,350 ckt km is operational and 4,850 ckt km is at various stages of construction.
The company also operates a distribution business serving about 3 m plus customers in Mumbai.
With India's energy requirement set to quadruple in coming years, ADAT is fully geared to create a strong and reliable power transmission network and work actively towards serving retail customers and achieving 'Power for All' by 2022.
For more details about the power sector, you can have a look at the power sector report on our website.
And to know what's moving the Indian stock markets today, check out the most recent share market updates here.