May 8, 2023 - Defence Stocks: All Your Questions Answered
Defence Stocks: All Your Questions Answered
May 8, 2023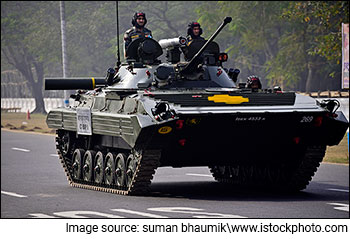 Defence stocks in India have been the talk of the town for some time now. They have garnered significant attention from investors as the country is focused on strengthening its defence capabilities.
The government has a big role to play in this. Along with the 'Make in India' initiative, the country is boosting its defence budget and developing its indigenous defence manufacturing capabilities.
On the back of this, the defence sector has been expanding and is well-poised to grow in the near term. This offers a compelling investing opportunity for investors.
However, before you invest in defence stocks, it is essential to understand the industry's dynamics and the risks that comes with it.
Here's what you need to know...
#1 What are defence stocks?
Defence stocks in India represent companies that produce, sell and distribute defence-related products and services. These include land, naval, and aerial platforms including drones, ammunition, electronic systems, cyber security solutions, and logistics support, etc.
They cater primarily to the Indian armed forces and other government agencies involved in defence and security.
These companies belong to the public and the private sectors. Some prominent firms are Hindustan Aeronautics, Mazagon Dock Shipyards, Bharat Forge etc.
#2 Why is there so much hype around defence stocks?
India is one of the strongest military forces in the world.
However, the country had been importing most of its defence requirements and had become the world's largest arms importer.
The need for self-reliance in the defence sector had long been felt. But it received fresh impetus only a few years ago.
The government introduced a set of substantial changes to the defence policy framework, such as raising the levels of indigenous content to a minimum of 50% and introducing new categories under the Defence Acquisition Procedure.
These concrete steps towards indigenisation helped the country emerge as a defence manufacturing hub. It's fulfilling a large chunk of its defence requirements and also exporting it to the world.
Many countries have increased their defence spending in the past decade. According to the Stockholm International Peace Research Institute (SIPRI), world military spending grew for the eighth consecutive year in 2022 to an all-time high of US$ 2.24 tn (Rs 183 tn) and is likely to grow further.
India aims to bite off a large chunk of the growing defence needs by evolving into a net defence exporter.
The country has been aggressive in its defence targets. It aims to increase the defence manufacturing sector's turnover to US$ 25 bn (Rs 2.1 tn), including US$ 5 bn (Rs 410 bn) from exports, by 2025.
As per an estimate by the civil aviation ministry, India's drone sector should achieve a turnover of Rs 150 bn by 2030, from about Rs 3.1 bn now, implying a growth of 48 times.
And over the next 5-7 years, the government plans to spend US$ 130 bn (Rs 10.6 tn) for the modernisation of all the armed services.
Apart from this India also recognises the importance of modern weaponry, especially in the light of the 2020 China border tensions and the need for self-sufficiency due to the Russian-Ukraine conflict. As a result, it's actively modernising its arms and ammunition and pursuing greater self-reliance in defence production.
These outsised growth prospects, in tandem with the government's unwavering support towards indigenisation, are the reasons defence stocks have been in the limelight and on the radar of every investor.
#3 How has the defence sector performed so far?
The Indian defence sector has come a long way, from being a net importer for decades to exporting defence equipment to over 75 countries.
It has evolved from making old-school ammunition like guns and missiles to new-age tech such as drones.
This transition comes from the government's drive towards self-reliance, which is finally paying off.
The private and the public sector have both contributed to the growth of the sector. However, the private sector has contributed more (70%) to the exports of defence products.
The Indian private sector has grown well since the opening of the defence sector. It has evolved from producing components and sub-systems to developing complete equipment and offering platform-level solutions.
It contributed around 24% to the total production value in the financial year 2022, with the public sector accounting for the balance.
The value of orders received by some of the companies is testament to this.
In September 2022, the Ministry of Defence's acquisitions wing signed an agreement worth Rs 17 billion with M/s BrahMos Aerospace Pvt Ltd to supply additional BrahMos missiles, which are supersonic cruise missiles produced domestically.
With this agreement, the total worth of contracts signed so far for these missiles has crossed Rs 380 billion, a big boost to the private entity.
Defence stocks have also done well as a result. Since 2018, the stocks of Hindustan Aeronautics and Bharat Dynamics have yielded a return of 161%, and 160%, respectively.
While Cochin Shipyard hasn't reported strong growth, Mazagon Dock Shipbuilder's stock is up 3 times in value since its listing in October 2020.
#4 What steps has the Indian government taken towards the growth in the defence sector?
The government is leaving no stone unturned to expedite the indigenisation of the defence sector. From imposing restrictions on imports to incentivising domestic production, they have announced a slew of category defining initiatives.
In August 2022, the Ministry of Defence also imposed a fresh ban on the import of 780 components and sub-systems that will be phased out between December 2023 and December 2028.
The country has also prohibited the import of any drones as well as the parts that can be put together to make drones from February 2022 onwards.
Since the past few years, the Ministry of Defence has been actively expanding its annual defence budget. For the financial year 2023, it allocated a total budget of US$ 72.2 bn (Rs. 5.9 tn) an increase of over 12% compared to the last year.
Apart from this, the government has undertaken concrete steps such as announcing dedicated Defence Industrial Corridors in the States of Tamil Nadu and Uttar Pradesh to act as clusters of defence manufacturing. These corridors will help leverage existing infrastructure and human capital to expedite growth.
The production-linked incentive (PLI) scheme worth Rs 1.2 bn and the Make in India initiative have incentivised domestic production.
And recently, the Defence Acquisition Council (DAC) accorded Acceptance of Necessity to projects worth Rs 705 bn, 90% of which will be procured domestically.
But it doesn't end here. Even now, the Ministry of Defence continues to forge ahead, constantly formulating defence production and export promotion policies.
#5 Should you include defence stocks in your portfolio?
The defence stock investing megatrend is probably one of the biggest investment megatrend for this decade, as it undergoes a shift from being a net importer to an indigenous manufacturer and exporter.
The Indian defence sector is one of the world's largest and most profitable industries, with a 10-year pipeline of over US$ 223 bn (Rs 18 tn) in aerospace and defence capital expenditure and a projected medium-term investment of US$ 130 bn (Rs 10.6 tn).
The Ministry of Defence has set a target of doubling defence production to US$ 2 tn (around Rs 164 tn) by 2025. This push for self-reliance is acting as a massive tailwind. And the onus of this lies entirely upon the public and private companies operating in the country.
Companies in the public and private space such as like Hindustan Aeronautics Limited, Bharat Electronics, Cochin Shipyard, Bharat Forge etc., are well-poised to bite off a substantial chunk of this massive opportunity in sector.
But before diving into this opportunity, keep in mind that defence companies tend to incur large capital outlays. Such capital-intensive businesses often run on borrowings and suffer the most in times of distress.
Besides this, defence companies also have to incur high amounts of working capital. So watch out for defence stocks with large working capital and large debt on their books.
Apart from investing in manufacturing stocks, another way is to invest in companies working on defence technologies and intellectual property. These include companies involved in communications, sensors, radars, imaging systems, advanced materials, drones, etc.
#6 Which Indian companies are leading the defence revolution in the country?
Indian investors are in a sweet spot as the Indian defence sector boasts an array of well-established companies expanding their capacities to meet the growing demand.
A strong defence monopoly business such as Hindustan Aeronautics foresees its revenue doubling from fiscal 2024 onwards on the back of a healthy order book and robust export opportunities.
Cochin Shipyard, another PSU, is building the first indigenous hydrogen-fuelled electric vessel in the country.
Bharat Electronics manufactures electronic equipment for the Indian defence forces and has a reputed customer base that includes the DRDO, ISRO, Railways, and All India Radio.
Private sector companies like L&T and Bharat Forge specialise in technical innovation and are the crucial spokes in the wheel of India's defence evolution.
Other strong players that should be on your radar include Bharat Dynamics, Avantel, and Mazagaon Dock Shipbuilders.
Besides, the defence space is packed with several startups in defence tech and drone space that could get listed over a period of time.
Tonbo Imaging designs, constructs and deploys cutting-edge imaging and sensor systems.
IdeaForge partners with DRDO to produce drones for paramilitary and security forces, including the National Disaster Response Force and the Delhi Police.
Meanwhile, Aadyah Aerospace specialises in the development of electronic optic systems for missiles and launch vehicles.
While the opportunities are ripe and massive, choosing the right stocks in your watchlist to capitalise on India's new age defence ecosystem is crucial.
#7 What are the challenges for Indian companies to manufacture defence products?
Despite the bright outlook, the defence sector has its share of misgivings and challenges.
Dealing with the government, the key client for defence companies in most cases, can be a daunting task. It usually comes with long receivable days and orders that heavily rely on budgetary allocations towards defence.
The capital outlays are not easy on the pocket either, sometimes forcing most companies to opt for external funding. All of which can take a toll on the balance sheet of the company.
When it comes to technical know-how, Indian companies face restrictions in accessing advanced technology, which is crucial for the development and production of modern defence equipment. And obtaining such expertise at a competitive price continues to be a significant challenge.
In conclusion
As India cuts dependence on imports for military equipment and domestic manufacturers obtain advanced orders, the stage is set for defence stocks to deliver.
It is a compelling investment opportunity for those who are willing to undertake the necessary research and analysis to make informed investment decisions.
However, before investing in defence stocks, it is essential to understand the industry's dynamics and the associated risks.
Investment in securities market are subject to market risks. Read all the related documents carefully before investing
Want to Grow Your Wealth With Safe Stocks?
If you want a simple, safe, and hassle-free approach to long term wealth building...
Without having to worry about negative news or every little downswing in the market...
And without having to worry whether your investments will actually "deliver"...
You must read our note on Blue Chip Stocks now.
Details of our SEBI Research Analyst registration are mentioned on our website - www.equitymaster.com
Disclaimer: This article is for information purposes only. It is not a stock recommendation and should not be treated as such. Learn more about our recommendation services here...