FMCG Index is Giving Bullish Signals. Time to Buy?
May 9, 2022
The Nifty 50 index has beaten the Nifty FMCG index by a huge margin in the last 24 months from the pandemic lows.
Since the lows of March 2020, the Nifty 50 index is up 115% whereas the FMCG index is up 64%.
The charts suggest that this underperformance may come to an end.
Nifty FMCG Index Daily Chart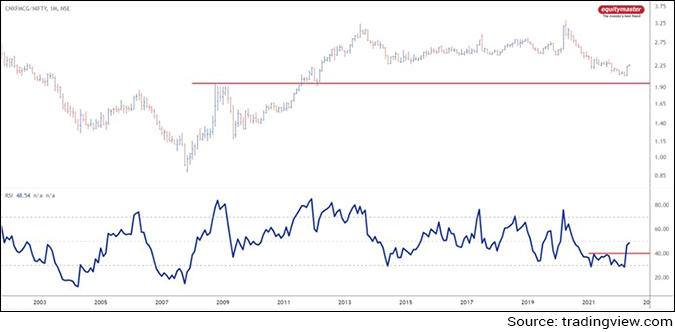 The chart above is the ratio chart of FMCG index to Nifty. Ratio charts are used to identify the performance of one security over another. If the ratio goes higher, the FMCG index will likely outperform Nifty and vice versa.
The recent fall halted just above the 2008 levels indicating the strong support zone.
On the monthly chart, the bullish range shift on the RSI (Relative Strength Index) signals an end to an underperformance of the FMCG index over the Nifty.
As the monthly bar of April engulfs the previous five months range, it marks a crucial low on the ratio chart. The FMCG index will remain strong till the ratio of 2 is not taken out on the ratio chart.
I think FMCG can be the sector of the 2022 and 2023. Investors should focus on the best outperforming stocks in the FMCG basket.
At present, the Nifty 50 index is trading at 16,360 levels while the Nifty FMCG index is down 0.9% at 36,950 levels.
From the index, Emami and Colgate are the top gainers while Marico and HUL are the top losers.
If you're interested in being part of my charting journey as I share how to create wealth from the profitable trade setup, join my telegram channel - Fast Profits Daily. You'll get access to the best trading ideas in the stock market.
Disclaimer: This article is for information purposes only. It is not a stock recommendation and should not be treated as such.
Brijesh Bhatia Research Analyst and expert chartist, is the editor of Alpha Wave Profits. Fully committed to his craft, Brijesh has mastered the art of making money by trading using technical analysis. Brijesh has an MBA from ICFAI and 16 years of experience in India's financial markets. He began his career on Dalal Street as commodities dealer and it wasn't long before he developed his own unique trading system. Brijesh worked on his trading system until it could be expected to deliver 5 units of return for every unit of risk.