UltraTech Cement Q4 Results: 45% Fall in Net Profit
May 10, 2021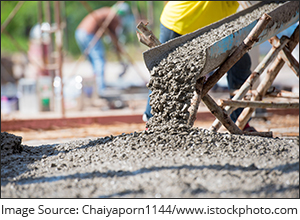 Aditya Birla group company UltraTech Cement on Friday reported a 45.2% decline in consolidated net profit to Rs 17.7 bn for the fourth quarter ended March 2021 on account of reversal of deferred tax liabilities.
Tax expenses worth Rs 8.7 bn ate into the company earnings in the period under review, in turn dragging the bottomline.
The leading cement producer had posted a net profit of Rs 32.4 bn in the January-March quarter a year ago.
For the fiscal year 2020-21, UltraTech Cement's net profit slipped 5% to Rs 54.6 bn as against Rs 57.5 bn in the previous fiscal.
Operational Performance
According to a regulatory filing by the company to the stock exchanges, UltraTech Cement's revenue from operations stood at Rs 144.1 bn in the March quarter.
The company's revenue registered a growth of 32% year-on-year (YoY), as the revenue from operations reported in the same quarter previous fiscal year was Rs 108.5 bn.
However, revenue from operations rose 5.4% to Rs 447.3 bn for the financial year 2020-21. It was Rs 424.3 bn in 2019-20.
UltraTech Cement's earnings before interest, tax, depreciation, and amortisation (EBITDA) stood at Rs 37.5 bn for the quarter ended March 2021, compared to Rs 26.5 bn in the corresponding period of the previous fiscal year.
The consolidated EBITDA for the whole year 2021 stood at Rs 123 bn, up 24% compared to Rs 99 bn in the previous fiscal year.
Total expenses were Rs 117.9 bn, up 22.9 % from Rs 95.9 bn.
UltraTech Cement said the recovery from Covid-19 led disruptions to the economy during the fiscal year 2020-21 was rapid.
The 'overheads control program', prudent working capital management, and control on cash flows were the main drivers. These were aided by a quick revival of demand and supply side restoration.
All of these have resulted in the company's superlative performance, even during such trying times. It achieved an effective capacity utilisation of 93% during the quarter.
UltraTech Cement's Debt Profile
UltraTech, during the quarter, reduced net debt/EBITDA ratio to 0.6x from 1.7x as on 31 March 2020. This is in line with its endeavour to maintain optimal capital structure.
The loan repayments have been made through free cash flows that the company has generated during the year, despite the challenging circumstances and severe business interruptions during Q1FY21.
--- Advertisement ---
These 3 Stocks are the Dark Horses of the Stock Market

The mainstream media mostly ignores them.

Mutual funds and hedge funds can't buy them in bulk.

Stock brokers rarely cover them.

These stocks are the dark horses of the stock market.

They only come in limelight after they have rallied by hundreds or even thousands of percent.

Our head of smallcap research, Richa Agarwal, has a knack for identifying such stocks before they begin their rally.

Over the years, she has spotted such stocks which have gone on to offer triple and even quadruple digit gains for investors. (* Past performance is no guarantee of future results)

Today, when the markets are near all-time high... and some investors are thinking of booking profits... Richa has spotted 3 such stocks which are set for a massive rally.

She will reveal the details of these 3 stocks on 28th June at her free online summit.

Click here to sign-up. It's free.
------------------------------
Ultratech Cement Raised Funds Via US Dollar Denominated Bond
The company successfully raised US$ 400 m. This corresponds to approximately Rs 29 bn by way of issuance of unconditional, unsubordinated, and unsecured USD denominated notes.
These are due 16 February 2031 at 2.8% per annum, payable semi-annually on 16 August and 16 February of each year, commencing from 16 August 2021. The bonds are listed on the Singapore Exchange Securities Trading.
The cement maker's board had earlier sanctioned capacity expansion plans of 19.5 m tons through a mix of brown field and green field expansion covering 5 integrated cement plants and 12 grinding units.
The additional capacity is being created in the fast-growing markets of the east, central, and northern regions of the country.
Most of the orders for equipment have been placed and civil work has also commenced at these locations.
Commercial production from these capacities is expected to go on stream in a phased manner, during FY22 and FY23.
Upon completion of the latest round of expansion, the company's capacity will grow to 136.3 million tons per annum (MTPA), reinforcing its position as the third largest cement company in the world, outside of China.
Going forward, UltraTech's capital and financial resources remain fully protected and its liquidity position is adequately covered. It remains committed to all its business associates.
While rural and semi-urban housing continue to drive growth, pick-up in government led infrastructure aided incremental cement demand. Pent-up urban demand is also expected to improve.
The company is closely monitoring the impact of the second wave of the pandemic on its operations with its focus on operational efficiencies and cost control.
BREAKING: It's Good Time to Invest in Gold, but Just Don't Go Blindfolded
Equity Dividend
For the year ending 31 March 2021, the company's board of directors has recommended an equity dividend of Rs 37 per share.
Market Size of India's Cement Sector
Cement production reached 329 million tons (MT) in FY20 and is projected to reach 381 MT by FY22.
However, the consumption stood at 327 MT in FY20 and will reach 379 MT by FY22.
As India has a high quantity and quality of limestone deposits through-out the country, the cement industry promises huge potential for growth.
How the Stock Markets Reacted to UltraTech Cement Q4FY21 Numbers Today...
Shares of UltraTech Cement opened the day at Rs 6,580 on the BSE and Rs 6,590 on the NSE
At the time of writing, shares of UltraTech Cement were trading down by 1.4% on the BSE.
At its current price, it is trading at a P/E of 26.9.
The share also touched its 52-week high of Rs 6,826 and 52-week low of Rs 3,278 on 9 April 2021 and 12 May 2020.
Over the last 30 days, the UltraTech Cement share price is down 5.1%. Over the last one year, the company's share price is up 92.1%.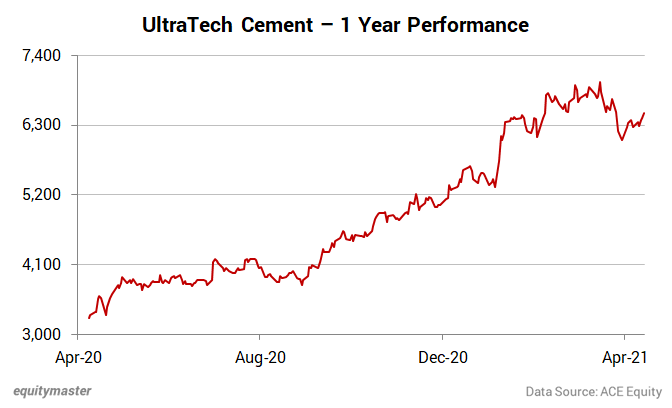 About UltraTech Cement
UltraTech Cement is an Indian cement company based in Mumbai. It's a subsidiary of the Indian multinational conglomerate, Aditya Birla group.
It's the largest manufacturer of grey cement, ready mix concrete (RMC), and white cement in India with an installed capacity of 116.8 MTPA.
It's the only company in the world to have a capacity of over 100 MT in a single country, outside of China.
UltraTech Cement has 23 integrated plants, 1 clinkerisation plant, 26 grinding units, and 7 bulk terminals. Its operations span across India, UAE, Bahrain, and Sri Lanka.
In the white cement segment, UltraTech Cement goes to market under the brand name of Birla White.
It has a white cement plant with a capacity of 0.7 MTPA and two wall-care putty plants with a combined capacity of 0.9 MTPA.
With 100 plus Ready Mix Concrete (RMC) plants in 39 cities, UltraTech is the largest manufacturer of concrete in India.
For more details about the company, you can have a look at UltraTech Cement factsheet and quarterly results on our website.
You can also compare UltraTech Cement with its peers.
UltraTech Cement vs Ambuja Cement
UltraTech Cement vs Dalmia Bharat
To know what's moving the Indian stock markets today, check out the most recent share market updates here.