IDFC First Bank Profitable Again; Posts Rs 4.5 Bn Net Profit
May 10, 2021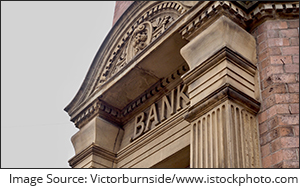 IDFC First Bank swung into the black and reported a net profit for the year FY21, on the back of a strong rise in interest income.
The bank posted a net profit of Rs 4.5 bn for FY21 compared to a loss of Rs. 28.6 bn in FY20.
For the full year, the bank's net interest income increased by 21% YoY to Rs 73.8 bn. Its net interest margin improved to 4.9% compared to 3.9% in FY20.
Due to the increase in income, the pre-provision operating profit of the bank rose by 11% YoY for the year.
Q4 Review - Net Profit Jumps 79% On Tax Credit
For the quarter ended March, the bank reported a 79% year-on-year (YoY) growth in net profit at Rs 1.3 bn. The bank had reported a net profit of Rs 720 m in the corresponding period last year.
The jump in net profit was due to a tax credit of Rs 847 m.
The bank's net interest income (NII) grew by 15% YoY to Rs 19.6 bn while its net interest margin rose to 5.1% from 4.6% in the year ago period.
This accounts for an interest on interest provision of Rs 550 m in Q4FY21, excluding which the net interest margin for Q4FY21 would have been higher by about 15 bps.
Asset Quality Risk Looms
On the asset quality front, the gross non-performing assets (NPAs) of the bank increased to 4.15% during the March quarter from 2.6% in the year ago period. However, it reduced by 3 bps compared to the proforma GNPA of 4.18% for the December quarter.At the same time, net NPAs too rose to 1.86% as against 0.94% in March 2020 but declined by 18 bps compared to the proforma net NPA of 2.04% for the December quarter.
IDFC First Bank Asset Quality

As a result, provision (other than tax) and contingencies rose to Rs 6 bn as compared to Rs 4 bn in the same quarter a year ago.
The bank also released Rs 3.2 bn from provisions made for one telecom account based on the mark to market value of the instruments and made additional provisions of Rs 3.8 bn for the Covid-19 second wave.
Moreover, it made 100% provision on loans amounting to Rs 890 m which were a part of the loan portfolio of Capital First.
Including the additional pandemic related provisions of Rs 3.8 bn, the Provision Coverage Ratio (PCR) of the bank stood at 64.95%.
Liabilities See a Strong and Steady Growth
The bank's CASA (current and savings account) deposits posted strong growth during the year, rising 122% YoY with its CASA Ratio improving to 51.8% in FY21 compared to 31.8% in FY20.
The total customer deposits increased by 43% YoY and customer deposits as a percentage of the overall deposits and borrowings improved to 61.5% in FY21 compared to 47.2% in FY20.

The bank also increased customer deposits with an outstanding balance of Rs 50 m and below to 82% of the overall customer deposits in FY21 compared to 59% in FY20. This has significantly strengthened the deposit base.
Bank Reduces Exposure to Infrastructure Sector, Focus Now on Prime Home Loans
The bank's loan book grew by 9.5% YoY to Rs 1.2 trillion with its retail book growing by 28.5% YoY. Retail loans now constitute 67% of the overall loan assets.
With respect to the wholesale segment, the bank's loan book reduced by 14% YoY to Rs 360 bn with its infrastructure loan book reducing by 27% to Rs. 108.1 bn.
The infrastructure financing book as a percentage of overall funded assets has now reduced to just 9.2% of funded assets compared to 13.9% in FY20.
The bank has also reduced its savings rates to as low as 4% and peak savings rates to 5%, effective 1 May 2021.
This reduction of savings rates to market benchmarks will allow the bank to participate in the prime home loans market, which is largely to employees of top corporates.
The bank has started offering prime home loans at as low as 6.9%. This will set the bank up for perennial growth with even better asset quality going forward.
QIP Raises Capital Adequacy Ratio of the Bank
The bank's Capital Adequacy Ratio (CAR) stood at 13.77% as of 31 March 2021 with common equity tier 1 (CET-1) at 13.27%, as compared to a regulatory requirement of 12% and CET-1 ratio of 7.375%.
However, through a QIP (Qualified Institutional Placement) on 6 April 2021, the bank raised Rs 30 bn. Including this capital, the bank's CAR now stands strong at 16.32% and CET-1 at 15.62%.
It also maintains high levels of liquidity with a liquidity coverage ratio (LCR) of 153%.
How the Stock Markets Reacted to IDFC First Bank...
IDFC First Bank shares opened up by 2.9% from the previous close at Rs 55.1 on the BSE and down by 1.3% at Rs 56 on the NSE today.
The scrip touched its 52-week high of Rs 69.3 on 4 March 2021, and its 52-week low of Rs 18.5 on 22 May 2020.
At its current price, it is trading at a P/BV ratio of 0.93.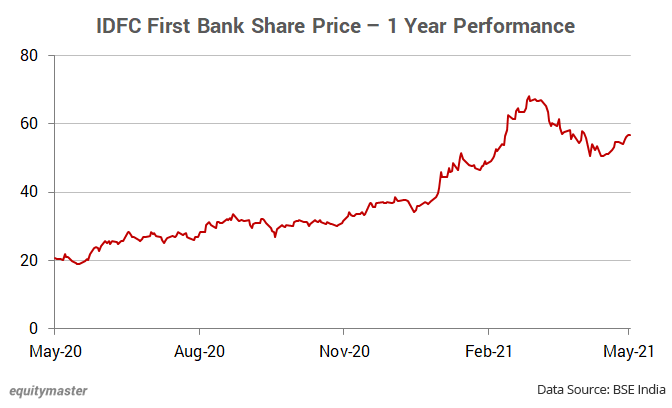 About IDFC FIRST Bank
IDFC FIRST Bank was founded by the merger of IDFC Bank and Capital First in December 2018. The bank provides a range of financial solutions to individuals, small businesses. and corporates.
It offers savings and current accounts, demat accounts, fixed and recurring deposits, loans, forex products, payment solutions, and wealth management services.
The bank serves corporate and private customers in India including the infrastructure sector that IDFC specialised in from its founding in 1997. The bank also aims to provide services to people in rural areas and to the self-employed.
For more details about the bank, you can have a look at IDFC First Bank's factsheet and IDFC First Bank's quarterly results on our website.
You can also compare IDFC First Bank with its peers.
IDFC First Bank vs IndusInd Bank
And to know what's moving the Indian stock markets today, check out the most recent share market updates here.
Ayesha Shetty is a financial writer with the StockSelect team at Equitymaster. An engineer by qualification, she uses her analytical skills to decode the latest developments in financial markets. This reflects in her well-researched and insightful articles. When she is not busy separating financial fact from fiction, she can be found reading about new trends in technology and international politics.