Amid Metal Rally, Hindustan Copper Shares Hit 8-Year High
May 10, 2021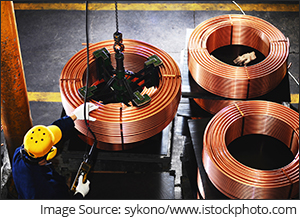 Shares of Hindustan Copper (HCL) hit an over eight-year high and were locked in the upper circuit of 10% on the BSE today, on account of rising copper prices.
The stock of the state-owned copper company rallied 25% in the past three trading days. It was quoting at its highest level since November 2012.
Why Is Copper Surging Now?
The copper market was one of the first to react as the coronavirus emerged in Wuhan, with prices slumping by more than a quarter between January and March last year.
Then as China's unprecedented steps to control the domestic spread of the virus started to yield results, copper rapidly rebounded.
But it's not just China driving the rally.
While the country accounts for half of the world's copper consumption and has played an integral part in copper's surge, demand there has actually softened this year.
Yet prices continue to drive higher.
The rally in copper prices is partly due to evidence of recoveries in other major industrial economies, with manufacturing output surging in places like the US, Germany, and Japan.
But investors have also been piling into copper on a bet that global efforts to cut carbon emissions are going to mean the world needs a lot more of the metal, putting a strain on supply.
New mine production may be slow to arrive, as mines are hard to find and expensive to develop.
Is there a Demand for Copper in India?
Copper demand is expected to grow at 7-8% in India.
Growing demand from the power sector in view of the government laying thrust on renewable energy and increasing demand from the households for consumer durables is expected to improve sales of the metal.
The manufacturing of electric vehicles (EV) will also augment the consumption of copper as EVs use four times more copper than traditional internal combustion engines.
Copper is essential to EV technology and its supporting infrastructure and the evolving market will have a substantial impact on copper demand.
The government initiatives will further increase the growth of copper consuming industries.
--- Advertisement ---
These 3 Stocks are the Dark Horses of the Stock Market

The mainstream media mostly ignores them.

Mutual funds and hedge funds can't buy them in bulk.

Stock brokers rarely cover them.

These stocks are the dark horses of the stock market.

They only come in limelight after they have rallied by hundreds or even thousands of percent.

Our head of smallcap research, Richa Agarwal, has a knack for identifying such stocks before they begin their rally.

Over the years, she has spotted such stocks which have gone on to offer triple and even quadruple digit gains for investors. (* Past performance is no guarantee of future results)

Today, when the markets are near all-time high... and some investors are thinking of booking profits... Richa has spotted 3 such stocks which are set for a massive rally.

She will reveal the details of these 3 stocks on 28th June at her free online summit.

Click here to sign-up. It's free.
------------------------------
What are the Growth Prospects for Hindustan Copper?
Hindustan Copper expects copper concentrate, not refined copper products, to be its primary product in the future.
The company is in the process of expanding its mining capacities from approximately 3.9 million tonnes per annum (MTPA) as of 31 March 2020, to 12.2 MTPA in Phase-I and subsequently to 20.2 MTPA in Phase-II.
This expansion plan includes the development of an underground mine under the existing open cast mine at Malanjkhand, expanding existing mines, reopening some of the mines that were closed in the past, and establishing new mines or mining blocks.
In addition, to ensure long-term growth, the company has applied for area reservation under Section 17A of MMDR Act 2015 in the States of Jharkhand, Madhya Pradesh, and Rajasthan.
This will allow it to reserve any area not already held under any prospecting licence or mining lease with a view to conserving the metal.
BREAKING: It's Good Time to Invest in Gold, but Just Don't Go Blindfolded
How the Stock Has Performed Recently...
With the past three days' rally, the stock price has appreciated by 58% over its qualified institutional placement (QIP) issue price of Rs 119.6 per share.
The stock is up over 40% in the last month and over 600% in the last year.
Shares of Hindustan Copper opened at Rs 185, both on the BSE and the NSE today.
At its current price, it is trading at a P/E ratio of 45.2.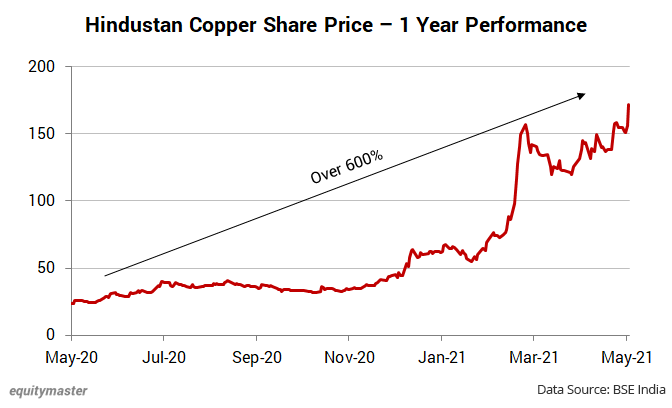 About Hindustan Copper
Hindustan Copper is a government-owned corporation in the Central Public Sector Enterprise under the Ministry of Mines (India), Government of India.
It's the only vertically integrated copper producer in India engaged in a wide spectrum of activities ranging from mining, beneficiation, smelting, refining, and continuous cast rod manufacturing.
The company also produces gold silver, nickel sulphate, selenium, tellurium, and fertiliser as by products.
Back in July 2015, the Government of India announced a 15% stake sale in Hindustan Copper, reducing its stake from 89.5% to 74.5%.
For more details about the company, you can have a look at Hindustan Copper's factsheet and Hindustan Copper's quarterly results on our website.
You can also compare Hindustan Copper with its peers.
Hindustan Copper vs Tata Steel
To know what's moving the Indian stock markets today, check out the most recent share market updates here.
Ayesha Shetty is a financial writer with the StockSelect team at Equitymaster. An engineer by qualification, she uses her analytical skills to decode the latest developments in financial markets. This reflects in her well-researched and insightful articles. When she is not busy separating financial fact from fiction, she can be found reading about new trends in technology and international politics.