4 Takeaways from Asian Paints' Q4 Results
May 10, 2022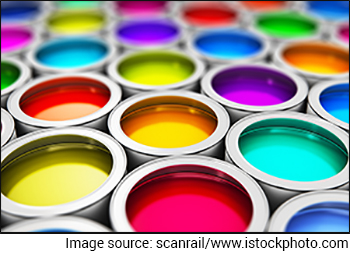 Asian Paints, during market hours today, declared its March quarter results for the year ended 2022.
Shares of the company rose over 3% intraday ahead of its results.
Raw material prices are on the rise and market observers were keen to see what India's largest paint manufacturer has to report in its earnings.
Here are 4 key takeaways from the company's quarterly results.
Asian Paints reported a consolidated net profit at Rs 8.5 bn for the March 2022 quarter on account of a one-time loss witnessed in Sri Lanka business.

The profit for this quarter was lower due to an exceptional loss of Rs 1.2 bn towards Sri Lanka business and expected delay in receivable subsidy from the government.
The paint manufacturer's revenue came in at Rs 78.9 bn, up 20.6% from Rs 65.4 bn that it had reported in the corresponding quarter last year.
The company's domestic decorative business grew strongly, registering 8% volume growth and 20% revenue growth on a high base. Meanwhile, international business managed to deliver double-digit revenue growth for the quarter despite severe challenges in key markets.
The company announced a final dividend of Rs 15.50 per share.

The total dividend for the financial year ended 31 March 2022 aggregates to Rs 19.15, including the interim dividend paid last year.
Asian Paints share price opened the day up by 1% at Rs 3,038.3 on the BSE against its previous close of Rs 3,009.8.
Shares of the company extended gains as the session progressed and touched a high of Rs 3,137.9.
Asian Paints has a 52-week high of Rs 3,588.1 touched on 10 January 2022 and a 52-week low of Rs 2,521.6 touched on 11 May 2021.
Over the past one year, shares of the company are up around 21%. On a YTD basis, Asian Paints is down 10%.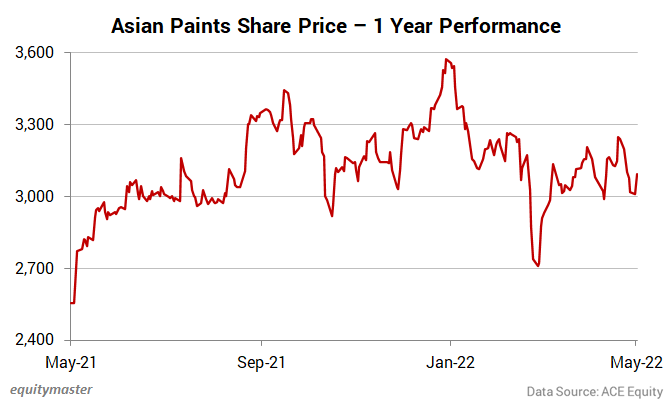 About the company
Asian Paints is one of the most popular and best paint brands in India.
Set up in 1942, the Asian Paints group is the largest paint manufacturer in India also engaged in the business of manufacturing of varnishes, enamels, or lacquers, surfacing preparation, organic composite solvents, and thinners.
The company operates in 15 countries and has 26 paint manufacturing facilities in the world, servicing consumers in over 60 countries. It offers products through its various brands like Apcolite, SCIB, Causeway Paints, etc.
The company is also known for its supply chain strategy. Its supply chain is crucial in keeping the company competitive via delivering impeccable product quality and excellent service while maintaining costs.
Asian Paints brokered its first dealership at Sangli, Maharashtra. Since then, the number of dealers affiliated with Asian Paints has increased multifold. Today it has over 70,000 dealers.
You can also compare Asian Paints with its peers:
Asian Paints vs Shalimar Paints
Asian Paints vs Kansai Nerolac
Disclaimer: This article is for information purposes only. It is not a stock recommendation and should not be treated as such. Learn more about our recommendation services here...