Why Did Angel Broking Shares Zoom 10% Today?
May 11, 2021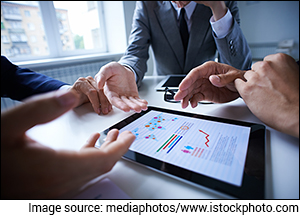 Shares of Angel Broking, on Monday, were locked in 10% upper circuit on the BSE, with only buyers seen on the counter.
In the past one week, the stock has zoomed 61%. In the past one month, the stock of Angel Broking has appreciated by 100%.
Company Reports Healthy Q4 Results
Earlier this month, Angel Broking had reported a 39% quarter-on-quarter (QoQ) jump in its consolidated net profit at Rs 1 bn in the March quarter (Q4FY21) on the back of strong operational income.
It had posted a profit of Rs 732 m in the preceding quarter.
On a year-on-year (YoY) basis, the net profit more-than-doubled from Rs 326 m in Q4FY20.
Total income grew 33% QoQ at Rs 4.2 bn.
EBIDTA margin remained stable at 49% in Q4FY21 as compared to Q3FY21 despite substantially higher client additions, the company said.
Highest Quarterly and Yearly Client Addition
The company registered the highest ever quarterly and yearly gross client addition of approximately 1 m and 2.4 m clients in Q4FY21 and FY21, respectively.
This translated into significant market-share gain in NSE active client base, overall average daily turnover (ADTO) and overall retail equity turnover market share.
In Q4FY21, overall ADTO increased 66% QoQ to Rs 37.5 bn from Rs 22.6 bn in Q3FY21.
The company is one of the largest retail broking houses in India, in terms of active clients on the NSE.
Here's what the company's management had to say about the growth in client base:
"In spite of the substantial clients added by the industry over the last few quarters, India still remains a highly underpenetrated market w.r.t financial inclusion as compared to USA or China, especially in the smaller cities and towns.

Therefore, the ongoing growth shall remain sustainable in the foreseeable future, with Fintech brokers like us garnering a significant share."
Board Approves Setting Up an AMC
Earlier this month, it was reported that the company's board has approved setting up an asset management company (AMC).
The proposal is subject to the necessary statutory approvals required from various regulators including the Indian market regulator.
The company said it expects to capitalise on the growing investible wealth in India. The amount to be invested in the AMC business will be decided and approved by the board.
The mutual fund industry has seen a big jump in investor base and asset growth over the last year. The industry added more than 8.1 m investor accounts in 2020-21, taking the total tally to 97.8 m.
--- Advertisement ---
These 3 Stocks are the Dark Horses of the Stock Market

The mainstream media mostly ignores them.

Mutual funds and hedge funds can't buy them in bulk.

Stock brokers rarely cover them.

These stocks are the dark horses of the stock market.

They only come in limelight after they have rallied by hundreds or even thousands of percent.

Our head of smallcap research, Richa Agarwal, has a knack for identifying such stocks before they begin their rally.

Over the years, she has spotted such stocks which have gone on to offer triple and even quadruple digit gains for investors. (* Past performance is no guarantee of future results)

Today, when the markets are near all-time high... and some investors are thinking of booking profits... Richa has spotted 3 such stocks which are set for a massive rally.

She will reveal the details of these 3 stocks on 28th June at her free online summit.

Click here to sign-up. It's free.
------------------------------
Outlook of Stock Broking Industry
Dinesh Thakkar, CMD of Angel Broking, believes the ongoing momentum in the stock broking industry will last for at least 5-10 years as the market penetration is very low in India.
"The boost that the broking industry has got is because of digitisation and people coming from Tier-II and Tier-III cities. CDSL grew by around 35% this year but 75% of the contribution in incremental clients came from digital players like Angel Broking.

Look at the under penetration of equity market in India. Today our penetration is hardly 4% and China, Korea have around 12-13% while US is around 32%. So I think there is enough headroom to grow for digital players like us."
India Financial Brokerage Market Report 2021
The brokerage market was valued at Rs 135 bn in FY16. In FY20, it reached Rs 210 bn from Rs 195 bn in FY19, expanding at an annual growth rate 7.7%.
The industry gained popularity, owing to a significant increase in trading activities. Financial brokerage firms have generated revenues from stocks, commodities, and currency.
Major players operating in the market include Angel Broking, Geojit Financial Services, ICICI Securities, and Kotak Securities.
In FY20, full-service brokers held the highest market share of the overall broking industry based on NSE active clients.
The pandemic resulted in a significant meltdown in the stock market. Improved financial awareness led to a 130% growth in demat account openings.
Indian stock markets saw an addition of 11 m new demat accounts in the past twelve months. These comprise a fifth of all demat accounts in the country today.
BREAKING: It's Good Time to Invest in Gold, but Just Don't Go Blindfolded
How Shares of Angel Broking Have Performed Recently
Angel Broking share price is presently trading up by 6.5%. The share price touched a new 52-week high of Rs 674 today.
Yesterday, shares of the company were locked in 10% upper circuit on the BSE, with only buyers seen on the counter.
In the past one week, the stock has zoomed 61% and in the past one month, the stock of Angel Broking has appreciated by 100%.
Shares of the company were locked in the upper circuit of 20% on the NSE last week on Thursday after the company reported healthy Q4 results.
Presently, the stock is trading at the highest level since listing on the bourses on 5 October 2020.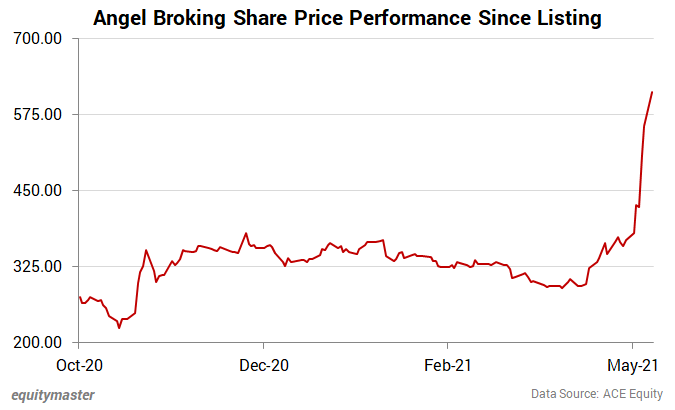 About Angel Broking
Angel Broking is one of the largest retail broking houses in India in terms of active clients on NSE.
It's a technology-led financial services company providing broking and advisory services, margin funding, loans against shares, and financial products distribution to its clients under the brand "Angel Broking".
Broking and allied services are offered through online and digital platforms, and network of over 15,000 authorized persons.
Angel Broking was originally incorporated on 8 August 1996 as a private limited company with the name 'M. BNL. Securities Private Limited'.
Thereafter the company was converted from a private limited company to a deemed public company pursuant to Section 43A of the Companies Act 1956 and consequently the term 'private' was deleted by the RoC from the name of the company with effect from 15 March 1997.
The company offers stock advisory, wealth management, and portfolio management services.
For a sector overview, read our finance sector report.
To know what's moving the Indian stock markets today, check out the most recent share market updates here.