JSW Energy's Green Bonds Puts Stock in Focus
May 11, 2021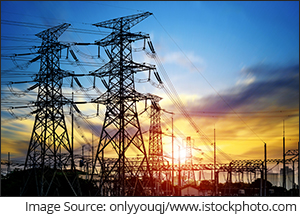 JSW Energy announced that its subsidiary, JSW Hydro Energy will be issuing US dollar denominated senior secured notes aggregating to US$ 707 m.
The notes will be listed on the Singapore Exchange Securities Trading. The deemed date of allotment is 18 May 2021, and the maturity date is 18 May 2031.
The proceeds of the issue will be used for repayment of existing green project-related rupee-denominated indebtedness.
Notes will bear interest from (and including) 18 May 2021 to (but excluding) 18 May 2031 at the rate of 4.1% per annum, payable semi-annually in arear on 18 May and 18 November each year. The first payment will be made on 18 November 2021.
Prashant Jain, Chairman of JSW Hydro, and joint Managing Director and CEO of JSW Energy said,
"We are overwhelmed by the strong response from international bond investors in our debut issuance. We are pleased that global investors have understood and appreciated our unique credit story.

This fundraise will enable us to further strengthen and diversify our sources of funding and we look forward to strengthening our partnership with global investors as we continue to build and grow our renewable energy business.

From a total installed capacity of about 4.6 GW today, where about 30% is from renewable sources, we currently have visibility on a pipeline of about 2.6 GW of renewable projects comprising of wind, solar and hydro which are likely to get commissioned over the next 24 - 30 months. On completion of these projects, the share of renewables in our portfolio will be over 55%."
JSW Hydro Energy is engaged with several investors on a global deal roadshow across Hong Kong, Singapore, London, New York, and Los Angeles.
Backed by extremely strong investor feedback, the transaction was launched with initial price guidance of 4.5% area and tightened by 37.5 basis points (bps) to 4.1% as final pricing.
As per the regulatory filing, the final order book was more than US$ 2.6 bn with an oversubscription of more than 3.7x.
The transaction witnessed 64% participation from Asia, 14% from the US and 22% from Europe, Middle East, and Africa (EMEA) with 82% investment from long haul funds, 17% from financial institutions (including Sovereign Wealth Funds), and 1% from private banks.
There was strong demand from some of the largest marquee fixed income investors globally.
Major Investments and Developments in the Indian Power Sector
In December 2020, the Asian Development Bank (ADB) and government of India signed a US$ 132.8 m loan to strengthen and modernise the distribution network and improve quality of power supplied to households, industries, and businesses in Meghalaya.
In March 2020, the Central Government signed virtual agreement to conclude strategic sales in Kamarajar Port, Tehri Hydro Development Corporation (THDC) India, and North Eastern Electric Power Corporation (NEEPCO). It will receive Rs 135 bn from these deals.
In December 2019, NTPC announced investment of Rs 500 bn to add 10 gigawatt (GW) solar energy capacity by 2022.
In September 2019, Adani Transmission acquired the entire stake in Bikaner Khetri Transmission.
In FY21, Adani Transmission also acquired Warora-Kurnool Transmission (WKTL) owned by Essel InfraProjects adding 1,750 ckt kms to its total transmission network of 17,276 ckt kms.
ReNew Power and Shapoorji Pallonji will invest nearly Rs 7.5 bn in a 150 MW floating solar power project in Uttar Pradesh.
--- Advertisement ---
These 3 Stocks are the Dark Horses of the Stock Market

The mainstream media mostly ignores them.

Mutual funds and hedge funds can't buy them in bulk.

Stock brokers rarely cover them.

These stocks are the dark horses of the stock market.

They only come in limelight after they have rallied by hundreds or even thousands of percent.

Our head of smallcap research, Richa Agarwal, has a knack for identifying such stocks before they begin their rally.

Over the years, she has spotted such stocks which have gone on to offer triple and even quadruple digit gains for investors. (* Past performance is no guarantee of future results)

Today, when the markets are near all-time high... and some investors are thinking of booking profits... Richa has spotted 3 such stocks which are set for a massive rally.

She will reveal the details of these 3 stocks on 28th June at her free online summit.

Click here to sign-up. It's free.
------------------------------
Back in 2019, the government of India expected to offer nearly 20 power transmission projects worth Rs 160 bn for bidding.
Note that Indian power sector is undergoing a significant change that has redefined the industry outlook. Sustained economic growth continues to drive electricity demand in India.
Speaking of the power sector, it's interesting to note the power exchanged in India is about 4.5% of the overall power production, as can be seen in the chart below.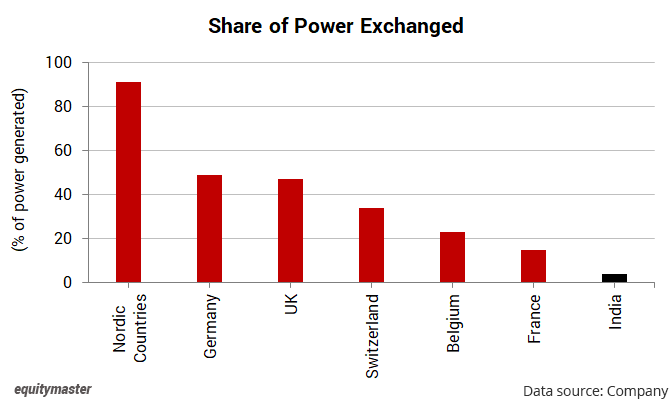 As per Tanushree Banerjee, Co-Head of Research at Equitymaster, India's power sector is currently in transition. It's driven by increasing reliance on short-term contracts and electricity spot markets.
This transition to the short-term market is happening due to quickly evolving industry dynamics.
Tanushree believes the Indian power sector will see a surge in spot power volumes due to certain factors.
In August 2020, Tanushree recommended a high-quality stock from this space. Subscribers can read the report here (requires subscription).
And if you are not a StockSelect subscriber, here's where you can sign up.
BREAKING: It's Good Time to Invest in Gold, but Just Don't Go Blindfolded
How the Stock Markets Reacted to JSW Energy News Today...
Shares of JSW Energy opened the day at Rs 118.5 on the BSE and Rs 117.8 on the NSE
At the time of writing, shares of JSW Energy were trading up by 2% on the BSE.
At its current price, it is trading at a P/E of 24.9.
The share also touched its 52-week high of Rs 139 and 52-week low of Rs 38.7 on 7 May 2021 and 18 May 2020.
Over the last 30 days, the JSW Energy share price is up 36.3%. Over the last one year, the company's share price is up 201.5%.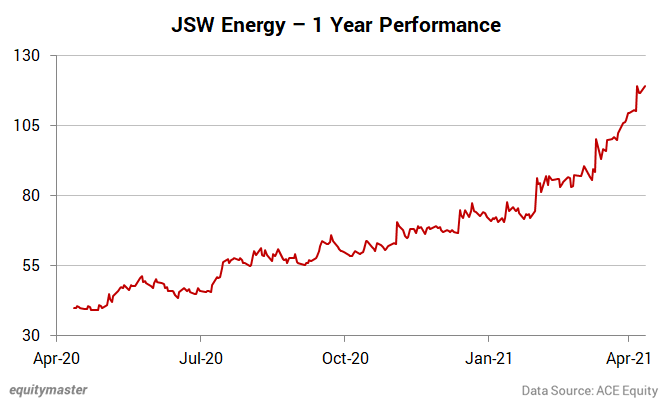 About JSW Energy
JSW Energy is one of the leading power generation companies in India.
It operates 4,531 megawatt (MW) of power generation capacity. Of the 4,531 MW power generation capacity JSW Energy operates, thermal power accounts for 3,140 MW and hydel 1,391 MW.
Besides power generation, JSW Energy is also engaged in power trading since June 2006. The company also has two 400 kilovolt (KV) operational transmission lines in joint venture with Maharashtra State Electricity Transmission Company Limited, a wholly owned corporate entity under the Maharashtra Government.
JSW Energy also has lignite mines in two contiguous blocks - Kapurdi and Jalipa - in the district of Barmer, Rajasthan with combined capacity of 9 million tons per annum (MTPA).
The company also has stake in a coal mining company in South Africa. JSW Energy also has a joint venture with Toshiba Corp for manufacturing of supercritical steam turbine generators.
JSW Energy was incorporated on 10 March 1994 as a joint venture between JSW Steel and Tractebel S.A. Belgium with the name Jindal Tractebel Power Company.
In January 2000, the company started commercial operations of Unit-II of 2x130 MW Power Plant at Toranagullu and in August 2000, they started commercial operation of Unit-I of 2x130 MW Power Plant at Toranagullu.
For more details about the company, you can have a look at JSW Energy factsheet and quarterly results on our website.
You can also compare JSW Energy with its peers.
To know what's moving the Indian stock markets today, check out the most recent share market updates here.