Zydus Wellness Q4 Net Profit Up 92.7%
May 11, 2021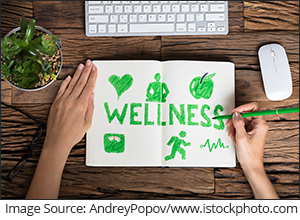 Zydus Wellness reported a 92.7% rise in its consolidated net profit to Rs 1.3 bn for the fourth quarter ended March 2021 on account of robust sales.
The company had posted a net profit of Rs 691 m for the corresponding period of the previous fiscal year.
For the fiscal year ended March 2021, the company posted a net profit of Rs 1.2 bn as against Rs 1.4 bn for the previous fiscal year.
The company reported 23.9% growth in consolidated net sales which stood at Rs 6 bn for the quarter under consideration. It was Rs 4.8 bn a year ago.
Consolidated sales of the company for 2020-21 stood at Rs 18.5 bn. It was Rs 17.3 bn in the year-ago period.
During FY21, Zydus Wellness incurred an exceptional expenditure of Rs 1.3 bn.
On a consolidated basis, the company's earnings before interest, tax, depreciation, and amortisation (EBITDA) came in at Rs 1.5 bn for the quarter under review, up 39% year-on-year (YoY).
Equity Dividend
The company's board of directors, at the meeting held on Monday, recommended a final dividend of Rs 5 per equity share on the face value of Rs 10 each, for the financial year 2020-21.
It will be paid subject to the approval of the shareholders, at the Annual General Meeting of the company.
Market Share of the Respective Brands Under Zydus Wellness
Zydus Wellness said that five of its brands, Glucon-D, Sugar Free, EverYuth Scrub, Peel Off Face Mask and Nycil maintained their leadership positions in-their respective categories as on March 2021.
Glucon-D: It has maintained its number one position with a market share of 58.4% in the Glucose powder category.
Complan: The brand fared well with a market share of 5.5% in the milk food drink (MFD) category.
Nycil: It maintained its number one position with a market share of 35.8% in the prickly heat powder category, which is an increase of 225 basis points (bps) over the same period last year.
During the quarter, Nycil 'soothing body mist' was launched to address prickly heat and skin rash problems that usually occur in summer.
Everyuth Scrub: The facial scrub brand has maintained its number one position with a market share of 35.8% in the facial scrub category, which is an increase of 174 bps over the same period last year.
Everyuth Peel off: It has maintained its number one position with a market share of 77.9% in the peel off face mask category.
Note that during the quarter, making a foray in the dairy segment under the Nutralite banner, two new products, 'Nutralite DoodhShakti' probiotic butter spread and 'Nutralite DoodhShakti' pure ghee were launched.
--- Advertisement ---
These 3 Stocks are the Dark Horses of the Stock Market

The mainstream media mostly ignores them.

Mutual funds and hedge funds can't buy them in bulk.

Stock brokers rarely cover them.

These stocks are the dark horses of the stock market.

They only come in limelight after they have rallied by hundreds or even thousands of percent.

Our head of smallcap research, Richa Agarwal, has a knack for identifying such stocks before they begin their rally.

Over the years, she has spotted such stocks which have gone on to offer triple and even quadruple digit gains for investors. (* Past performance is no guarantee of future results)

Today, when the markets are near all-time high... and some investors are thinking of booking profits... Richa has spotted 3 such stocks which are set for a massive rally.

She will reveal the details of these 3 stocks on 28th June at her free online summit.

Click here to sign-up. It's free.
------------------------------
An Overview on Company's Expansion Program - FY21
Expanding its market reach under Project Vistaar, the company increased its direct distribution by more than 50% and is now directly servicing 5.5 lakh retail outlets.
E-commerce grew by more than 250% for the financial year accounting for almost 3.6% of the domestic revenue.
International business, which accounts for more than 3% of the consolidated revenues, also grew by 200% during the year with the company making entry in countries like Nigeria and Taiwan.
Update on Non-Convertible Debentures Issued by Zydus Wellness
The secured non-convertible debentures (NCDs) that were previously issued by the company has been purchased by its subsidiary company from the market aggregating to Rs 11.1 bn and Rs 3.9 bn in the respective quarter ended 30 September 2020 and 31 December 2020.
The company has redeemed all the NCDs of Rs 15 bn and the premium amount paid towards purchase of the above NCDs are expensed off as an exceptional item in the aforesaid results for the year ended 31 March 2021.
BREAKING: It's Good Time to Invest in Gold, but Just Don't Go Blindfolded
How the Stock Markets Reacted to Zydus Wellness Q4FY21 Numbers Today
Shares of Zydus Wellness opened the day at Rs 2,110 on the BSE and the NSE.
At the time of writing, shares of Zydus Wellness were trading up by 0.8% on the BSE.
At its current price, it is trading at a P/E of 246.3.
The share also touched its 52-week high of Rs 2,325 and 52-week low of Rs 1,185 on 26 April 2021 and 18 May 2020.
Over the last 30 days, the Zydus Wellness share price is up 2.1%. Over the last one year, the company's share price is up 63.1%.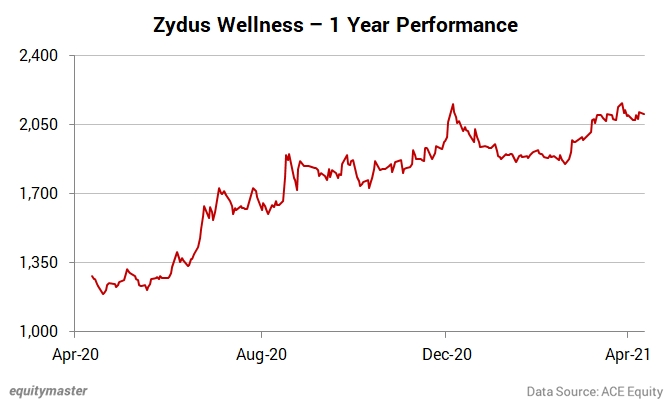 About Zydus Wellness
Zydus Wellness (previously known as Carnation Nutra-Analogue Foods) is an Indian consumer goods company headquartered in Ahmedabad, Gujarat.
It produces nutrition and skincare products, and is a subsidiary of the pharmaceutical company Cadila Healthcare.
Zydus Wellness operates as an integrated consumer group with business encompassing the entire value chain in the development production marketing and distribution of health and wellness products.
The company sells its products in India and has a plant located in Gujarat and two in Sikkim.
They have five manufacturing facilities across 4 locations - Aligarh, Sitarganj, Ahmedabad, and Sikkim. It also has 8 co-packing facilities in India, Oman and New Zealand.
With over 30 years of operational excellence, they have seven leading brands in their portfolio, namely Complan, Sugar Free, Glucon-D, Everyuth, Nycil, Sugarlite, and Nutralite.
Today the Zydus Wellness business spans over 20 countries and 3 continents.
For more details about the company, you can have a look at Zydus Wellness factsheet and quarterly results on our website.
You can also compare Zydus Wellness with its peers.
Zydus Wellness vs GSK Consumer
Zydus Wellness vs Nestle India
To know what's moving the Indian stock markets today, check out the most recent share market updates here.