Siemens Soars 8% amid Strong Margin Growth. Can the Stock See More Gains?
May 12, 2021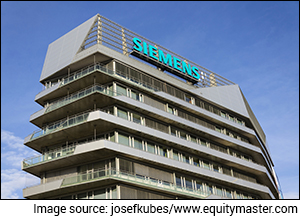 Electrical equipment major, Siemens on Tuesday posted an over 90% rise in its consolidated net profit at Rs 3.3 bn for the March quarter, mainly on the back of higher revenues.
The profit stood at Rs 1.8 bn in the year ago quarter, the company said in a BSE filing.
Total income rose to Rs 35.4 bn in the March quarter from Rs 27.2 bn in the same period a year ago.
For the quarter under review, operating profits were up 151.6%. Operating profit growth came as a result of a lower spike in raw material costs compared to the growth in sales.
Earnings before interest, tax, depreciation, and amortization (EBITDA) was reported at Rs 4.6 bn versus Rs 2.2 bn. This was led by decline in employee cost and other expenses.
The company follows the October to September financial year. Here's a table comparing Siemens' quarterly performance on key parameters.
Siemens Financial Performance
| (Rs m) | Q4FY21 | Q4FY20 | Q3FY21 | YoY (%) | QoQ (%) |
| --- | --- | --- | --- | --- | --- |
| Revenue | 34,837 | 26,402 | 29,252 | 31.9% | 19.1% |
| Total expenses | 30,973 | 24,953 | 26,230 | 24.1% | 18.1% |
| Profit before tax | 4,427 | 2,268 | 3,603 | 95.2% | 22.9% |
| Tax | 1,208 | 585 | 926 | 106.5% | 30.5% |
| Profit after tax | 3,219 | 1,683 | 2,677 | 91.3% | 20.2% |
Data Source: Company Presentation
Robust Order Growth Across all Businesses
The company's managing director and CEO Sunil Mathur said the company's order growth has been robust across all its businesses.
There has been increased demand in the company's power transmission, digital grid and distribution systems businesses.
Digital industries segment also saw growth in the machine tool and process automation businesses.
"The March-end quarter demonstrated a steady revival in the economy with both private and public sectors beginning to invest in anticipation of future growth."
The company registered new orders from continuing operations of Rs 33.1 bn during the quarter, registering a 16.9% increase over the same period last year.
The strongest growth in the quarter came from the smart infrastructure vertical, with sales growing 48% at Rs 11.5 bn.
The other verticals that showed positive growth in the quarter were energy, mobility, and digital revenue verticals.
At the end of the March quarter, its order book stood at Rs 127 bn.
--- Advertisement ---
These 3 Stocks are the Dark Horses of the Stock Market

The mainstream media mostly ignores them.

Mutual funds and hedge funds can't buy them in bulk.

Stock brokers rarely cover them.

These stocks are the dark horses of the stock market.

They only come in limelight after they have rallied by hundreds or even thousands of percent.

Our head of smallcap research, Richa Agarwal, has a knack for identifying such stocks before they begin their rally.

Over the years, she has spotted such stocks which have gone on to offer triple and even quadruple digit gains for investors. (* Past performance is no guarantee of future results)

Today, when the markets are near all-time high... and some investors are thinking of booking profits... Richa has spotted 3 such stocks which are set for a massive rally.

She will reveal the details of these 3 stocks on 28th June at her free online summit.

Click here to sign-up. It's free.
------------------------------
How Siemens is Dealing with Covid Second Wave
Stating that the second surge of the coronavirus pandemic has impacted human lives in an unprecedented manner, Mathur said a cross-functional Siemens India Task Force Team has been working since March 2020 to coordinate the implementation of concrete measures to support employees at this difficult time.
"In addition, the company is providing testing kits, oxygen concentrators, oxygen generators etc to hospitals around the country as our small contribution to society."
Siemens Shareholding Pattern as on 31 March 2021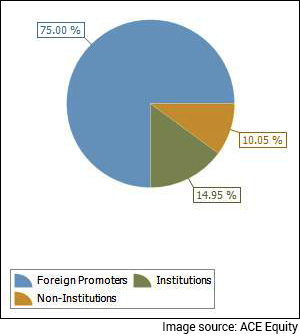 As of 31 March 2021, FII and mutual funds ownership in Siemens stood at 4.37% and 1.64%, respectively.
Equitymaster on Capital Goods Stocks
Here's what Aditya Vora, Financial Writer at Equitymaster, wrote about the capital goods sector in one of the editions of Profit Hunter:
I'm a firm proponent of the economic revival theme in the stock market. I'm bullish on capital goods and infrastructure stocks.

These sectors have emerged stronger from an elongated down cycle. There is also a strong momentum in economic indicators which is in favour of these stocks.

Indicators like rising construction equipment sales, record highway construction run rate, capacity expansion by private players in the cement, metals, and consumer durables gives us confidence of a strong capex cycle ahead.

There may be a near term speed bump to the economic recovery due to the rising covid cases and lockdowns. However, I believe we are at an inflection point with regards to the capex cycle.

The cycle has turned up.
BREAKING: It's Good Time to Invest in Gold, but Just Don't Go Blindfolded
The recent Hidden Treasure recommendation is a fundamentally strong business in the capital goods space that is 'essential' to the infrastructure revival.
You can read the report here. (requires subscription)
If you're not a subscriber, here's where you can sign up.
How the Stock Markets Reacted to Siemens' Results
Siemens share price is presently trading at Rs 2,052 on the BSE, up 5%.
Shares of the company touched a fresh 52-week high of Rs 2,143 today, up over 8%. They had hit a 52-week low of Rs 990.30 on 18 May 2020.
Earlier in the day, the stock saw a gap down opening.
The stock commands a market cap of Rs 730,740 m and is part of the Capital Goods - Diversified industry.
Over the past one year, stock of the company has outperformed the benchmark BSE Sensex. Siemens is up 89% in the past one year in comparison with 56% gains in Sensex.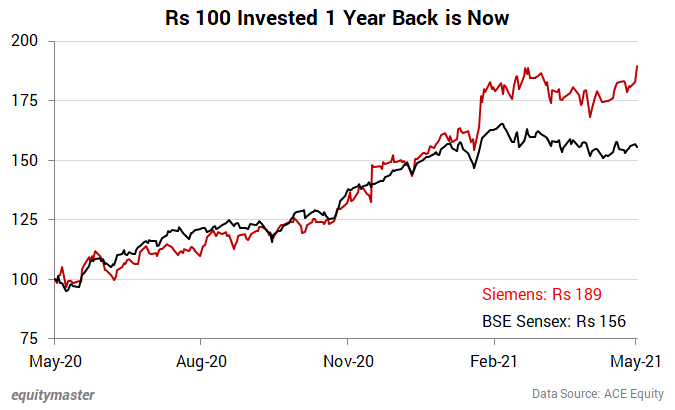 At its current price, it is trading at a P/E ratio of 96 and a P/BV ratio of 7.7.
About Siemens
Siemens focuses on the areas of electrification automation and digitalization. It is one of the leading producers of technologies for combined cycle turbines for power generation; power transmission, and distribution solutions; infrastructure solutions for smart cities and transportation; automation and software solutions for industry and is also supplier of healthcare equipment.
Siemens has 21 factories located across India and a nation-wide sales and service network.
Siemens in which Siemens AG Germany holds 75% of the capital is the flagship listed company of Siemens AG in India.
The company was incorporated in the year 1957 as Siemens Engineering and Manufacturing Company of India Pvt Ltd.
For more details about the company, you can have a look at Siemens fact sheet and Siemens quarterly results on our website.
For a sector overview, you can read our engineering sector report.
You can also compare Siemens with its peers on our website.
To know what's moving the Indian stock markets today, check out the most recent share market updates here.