Why Did Godrej Consumer Products Shares Zoom 20% Today?
May 12, 2021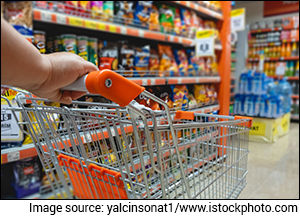 Shares of Godrej Consumer Products surged over 20% and hits upper circuit in intra-day trade today after the company reported a strong set of numbers for the quarter ended March 2021.
The stock of the company rallied 26% in the past five trading days and touched its 52-week high of Rs 894 per share.
Key Financial Highlights
FMCG major Godrej Consumer Products (GCPL) reported a 59.1% increase in its consolidated net profit to Rs 3.7 bn for the fourth quarter ended March 2021.
The company had posted a net profit of Rs 2.3 bn in the January-March quarter a year ago.
Godrej Consumer reports 14% year-on-year (YoY) rise in consolidated net profit at Rs 1.7 bn for the fiscal year ended March 2021.
It had posted a consolidated net profit of Rs 1.5 bn in the corresponding period last year.
The company has reported total income of Rs 27.5 bn during the period ended 31 March 2021 as compared to Rs 22 bn during the period ended 31 March 2020.
For the full financial year 2021, the company has reported total income of Rs 110.9 bn, up 10.7% as compared to Rs 100.2 bn during the 12 months' period ended 31 March 2020.
Godrej Consumer delivered a third consecutive quarter of double-digit sales growth.
The company's consolidated sales grew 27% and earnings before interest, tax, depreciation and amortisation (EBITDA) grew by 21%.
Its total expenses were at Rs 22.6 bn, up 26.1% in the March 2021 quarter as against Rs 17.9 bn a year ago.
On a standalone basis, GCPL's net sales was at Rs 15 bn in March 2021 up 34.6% from Rs 11.1 bn in March 2020.
Its standalone net profit stood at Rs 2.5 bn in March 2021 up 4.3% from Rs 2.4 bn in March 2020.
EBITDA stands at Rs 3.5 bn in March 2021 up 6.8% from Rs 3.3 bn in March 2020.
Godrej Consumer earnings per share (EPS) has increased to Rs 2.5 in March 2021 from Rs 2.4 in March 2020.
Growth in Sales Volume Increased Across All Categories
The company witnessed double-digit growth in household insecticides, hygiene, and value for money products.
Household Insecticides Products: The brands included under this category are Goodknight, 4-hour revolutionary paper-based mosquito repellent and HIT. It recently launched a new product 'HIT Expert Piramida' in Indonesia.
The company delivered 34% growth in India and 28% globally.
Hygiene Products: Products offered under this segment - Protekt Magic, Saniter Ecosense, Bidex Magic, Villeneuve Magic.
Back in December 2020, FMCG maker Godrej Consumer Products forayed into home cleaning products, a segment which is witnessing fast growth due to ongoing pandemic.
It launched a new brand 'Godrej ProClean' which will provide surface cleaning and disinfecting solution.
Hygiene Products continued to show strong growth momentum throughout the fourth quarter and increased by 38%.
Value for Money Products: This particular category includes brands like Godrej Expert Rich Creme (India) and Darling Empress range (Nigeria).
For the quarter ended 31 March 2021, the company delivered 27% growth. Value for Money Products grew by 14% in FY21.
In a statement, the company said that they will continue to focus their efforts where the demand is in 'household insecticides', 'hygiene', and 'value for money'.
"We are investing behind consumer-centric innovations and serving our consumers across all price points.

To enable this, we are strengthening our supply chain operations and distribution networks. We are also building up our digitisation capabilities and channels like e-commerce and chemists."
Godrej Consumer Products remains confident of leveraging growth opportunities to drive sustainable and profitable sales growth across its portfolio in FY22.
International Markets Outperformed
Revenue from the Indonesian market was up 4.8% to Rs 4.7 bn, compared with Rs 4.5 bn a year ago.
While Godrej Consumer's revenue from the Africa market, including that of strength of nature, was up 30.2% at Rs 6.3 bn as against Rs 4.8 bn a year ago.
The company's revenue from other markets was also up 31.5% to Rs 1.8 bn in January-March 2021, against Rs 1.4 bn.
Godrej Consumer Products Chairperson and Managing Director Nisaba Godrej said,
'Our Africa, USA and Middle East business continued its robust growth trajectory, growing at 30% in the Indian rupee and 36% in constant currency terms.

Our Indonesian business delivered growth of 5% in the Indian rupee and 4% in constant currency terms, on a positive growth base'.
Change of Command
Godrej Consumer Products said on Tuesday that Sudhir Sitapati will join the company as managing director and chief executive officer effective 18 October.
Nisaba Godrej, currently the chairperson and managing director, will continue to serve as an executive chairperson.
Mr Sitapati comes to GCPL after a tenure of 22 years at Hindustan Unilever (HUL), where he led teams across categories and functions in India, Europe, South East Asia, and Africa.
Under his leadership, HUL built up its foods and refreshments business as one of the largest in India.
This included the US$ 5 bn merger and integration of GlaxoSmithKline Consumer Healthcare with HUL, the largest deal of its kind in the FMCG sector in India.
Sudhir Sitapati is currently the co-chairperson of the CII National Committee of Food Processing and was also a co-chairperson of the FMCG Committee.
How the Stock Markets Reacted to Godrej Consumer Products Q4FY21 Numbers Today
Shares of Godrej Consumer Products opened the day at Rs 750.2 on the BSE and Rs 775 on the NSE.
The stock closed at Rs 869.7 (up 21.5%) on the BSE and Rs 872.9 (up 21.9%) on the NSE, respectively.
At its current price, it is trading at a P/E of 55.9.
The share also touched its 52-week high of Rs 894 and 52-week low of Rs 425 on 12 May 2021 and 23 March 2020.
Over the last 30 days, the Godrej Consumer share price is up 20.8%. Over the last one year, the company's share price is up 67.7%.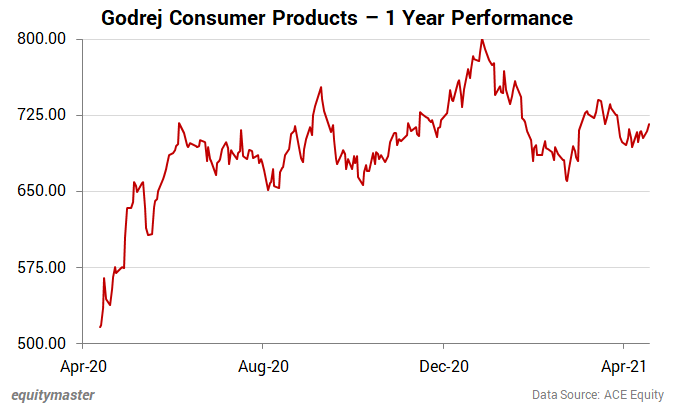 About Godrej Consumer
Godrej Consumer Products is one of the leading Fast Moving Consumer Goods (FMCG) companies in India.
The company has five product segments namely household insecticides, soaps, hair colours, liquid detergents and air fresheners.
It has manufacturing facilities at Malanpur in Madhya Pradesh Baddi in Himachal Pradesh Guwahati in Assam and Namchi in Sikkim.
The company has established a strong international presence through a slew of acquisitions over the years.
GCPL is among the largest household insecticide and hair care players in emerging markets. In household insecticides it is the leader in India and the second largest player in Indonesia.
The FMCG maker is the leader in serving the hair care needs of women of African descent the number one player in hair colour in India and Sub-Saharan Africa and among the leading players in Latin America.
Godrej Consumer Products also ranks number two in soaps in India.
For more details about the company, you can have a look at Godrej Consumer factsheet and quarterly results on our website.
You can also compare Godrej Consumer with its peers.
Godrej Consumer vs Bajaj Consumer Care
Godrej Consumer vs Hindustan Unilever
To know what's moving the Indian stock markets today, check out the most recent share market updates here.