May 12, 2023 - Why Dr Reddy's Lab Share Price is Falling
Why Dr Reddy's Lab Share Price is Falling
May 12, 2023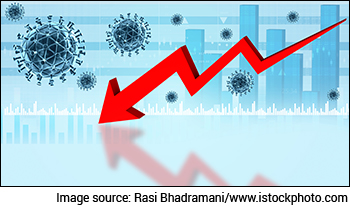 On 5 May 2023, Dr Reddy's Laboratories, one of the best pharma companies in India, saw its shares hit a 52-week high of Rs 4,989, signaling positive investor sentiment.
However, the company's fortunes changed quickly, as just days later, shares plummeted by 6.6% in a single day.
This decline not only impacted Dr Reddy's Laboratories but also contributed to a drop of over 1% in the Nifty Pharma index, with the company's stock emerging as the top loser among the Nifty 50 companies.
This sudden turn of events has caught investors off guard, as the company's shares delivered a strong positive return of 17% between 1 January 2023 and 9 May 2023, outperforming benchmark indices that generated a return of just 1%.
Let's find out what triggered the selloff.
#1 Q4 results miss estimates
Dr Reddy's Laboratories, on 10 May 2023, reported a 15.8% YoY rise in revenue at Rs 62.9 billion (bn). This was against revenue of Rs 54.4 bn reported by the company in the same quarter last year.
This growth was due to exceptional income from the sale of nine dermatology brands to Eris Lifesciences. The company also recorded record sales, profits and cash flow driven by its performance in the US generics market.
The company reported a ten-fold increase in net profit for the quarter under review. Net profit came in at Rs 9.5 bn, compared to Rs 875 million (m) in the same period last year. However, the company's net profit fell short of market expectations.
The company's positive financial performance was driven by a favourable base, as impairment charges had negatively impacted net profit in the base quarter.
On the operating front, EBITDA (earnings before interest, taxes, depreciation and amortisation) rose 33% YoY to Rs 15.8 bn. The EBITDA margin for the quarter came in at 25.1% against 21.8% a year back.
This was also below street estimates due to higher operating expenditure.
Further, the company's revenue from the emerging market declined 7% YoY for the March 2023 quarter, making up 18% of the total revenue for the quarter. This decline was due to Russia's year-on-year sales decline of 24%, mainly attributable to divestment income and higher channel inventory.
#2 Waning generic drug sales
Sales from the generic gRevlimid have been the key contributors to revenue in the US market. This segment took a hit in the quarter under review, declining by half at 17% compared to Q3 and Q2 sales.
The EBITDA margin (including gRevlimid and excluding Eris sales) was at 21.7% for the March 2023 quarter, which declined around 8% from the last quarter. It indicates gRevlimid's disproportionately high contribution.
This waning of gRevlimid's disproportionately high contribution due to lower demand going forward indicates pain for the company, according to industry experts.
What next?
Going forward, the company plans to launch 25-30 molecules in the financial year 2024 that includes peptides along with gPentasa, gCopaxone and gVenofer. It also plans to ramp up in gAmitiza, gNuvaring, gRemodulin, and gLexiscan.
Also, with supply constraints from China, and the world adopting the 'China plus one' strategy, Dr Reddy is set to benefit from this long term megatrend.
To add to this, the government's initiatives, such as the product-linked incentive (PLI) scheme and the development of bulk drug parks, gives a further boost to Indian pharma companies.
How Dr Reddy's Lab shares have performed recently
In the past month, shares of Dr Reddy's Lab have plunged 8% while the shares have declined 9% in the past five days.
Dr Reddy's Lab has a 52-week high of Rs 4,989 touched on 5 May 2023 and a 52-week low of Rs 3,789 touched on 12 May 2022.
It is currently trading at a PE (Price to Earnings) multiple of 28.9x, while PB (Price to Book) ratio stands at 3.7x.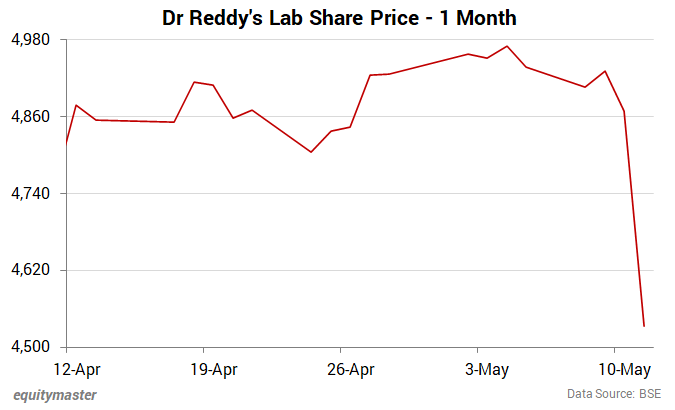 About Dr Reddy's Lab
Dr Reddy's Lab is a leading India-based pharmaceutical company headquartered and having its registered office in Hyderabad, Telangana, India.
The company has key presence is in India, North America, Russia and CIS countries, Europe, and other emerging markets. The company has a wide portfolio in several markets and has made several niche and Para IV launches.
For more details about the company, you can have a look at Dr Reddy's fact sheet and Dr Reddy's quarterly results on our website.
For a sector overview, you can read our pharma sector report.
You can also compare Dr Reddy's Lab with its peers on our website.
Dr Reddy's Lab vs Aurobindo Pharma
To know what's moving the Indian stock markets today, check out the most recent share market updates here.
Investment in securities market are subject to market risks. Read all the related documents carefully before investing
Want to Grow Your Wealth With Safe Stocks?
If you want a simple, safe, and hassle-free approach to long term wealth building...
Without having to worry about negative news or every little downswing in the market...
And without having to worry whether your investments will actually "deliver"...
You must read our note on Blue Chip Stocks now.
Details of our SEBI Research Analyst registration are mentioned on our website - www.equitymaster.com
Disclaimer: This article is for information purposes only. It is not a stock recommendation and should not be treated as such. Learn more about our recommendation services here...
FAQs
Which are the top pharma companies in India?
What are the top gainers and top losers within the pharma sector today?
How should you value pharma companies?
Investing in stocks requires careful analysis of financial data to find out a company's true worth. However, an easier way to find out about a company's performance is to look at its financial ratios.
Two commonly used financial ratios used in the valuation of stocks are -
Price to Earnings Ratio (P/E) - It compares the company's stock price with its earnings per share. The higher the P/E ratio, the more expensive the stock.
Price to Book Value Ratio (P/BV) - It compares a firm's market capitalization to its book value. A high P/BV indicates markets believe the company's assets to be undervalued and vice versa.
To know more about the healthcare sector's past and ongoing performance, have a look at the performance of the BSE Healthcare Index.