Asian Paints Q4 Profit Zooms 81% Led by Demand Recovery
May 13, 2021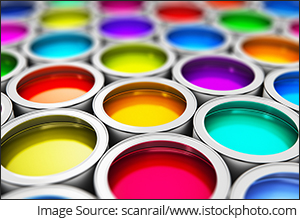 The largest paint maker in the country, Asian Paints on Wednesday reported an 81% year-on-year (YoY) growth in profit for the January-March quarter (Q4FY21) as demand recovery continued across urban and rural areas.
Consolidated net profit was reported at Rs 8.7 bn for the quarter, up from Rs 4.8 bn during the same period last year.
Revenue improved to Rs 66.5 bn, a 43% growth YoY even though sales were impacted for the last two weeks in March 2020 due to the Covid-19 pandemic.
EBITDA grew by 53% to Rs 13.2 bn while EBITDA margin improved by 127 basis points to 19.8%.
On a sequential basis, the company's net profit fell 31% as the preceding third quarter coincided with the festival season, which is usually a period of strong demand for paint-makers.
Here's a table comparing Asian Paints' quarterly performance on key parameters.
Asian Paints Financial Performance
| (Rs m) | Q4FY21 | Q4FY20 | Q3FY21 | YoY (%) | QoQ (%) |
| --- | --- | --- | --- | --- | --- |
| Revenue | 66,514 | 46,356 | 67,885 | 43.50% | -2.00% |
| Total expenses | 55,764 | 39,961 | 52,149 | 39.50% | 6.90% |
| Profit before tax | 11,563 | 6,992 | 16,968 | 65.40% | -31.90% |
| Tax | 2,864 | 2,190 | 4,314 | 30.80% | -33.60% |
| Profit after tax | 8,699 | 4,802 | 12,654 | 81.20% | -31.30% |
Data Source: Company Presentation
Growth Across Business and Consumer Segments
The company's domestic decorative business delivered a stellar performance registering a 48% volume growth in the quarter, led by a robust growth in the premium and luxury product range.
That was also aided by a lower base as several states had started announcing restrictions in March last year before a complete lockdown.
The home improvement business also, registering record sales for the quarter aided by the foray into the home decor business.
Similarly, the industrial coatings business delivered a robust performance, particularly in protective coatings, and refinish segments supported by the uptick in the industrial activity.
The international business recorded double-digit volume growth, led by good growth in Asia and the Middle East.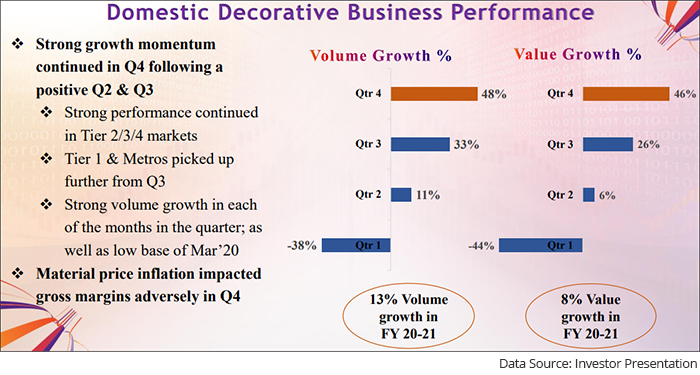 Commenting on the Q4 performance, Amit Syngle, managing director and chief executive officer of Asian Paints said:
''The huge inflationary trend in raw material prices has been worrying, however, its impact on profitability has been negated with some path-breaking work on sourcing and cost optimization.

The current business environment is unprecedented, and we would continue to strongly engage with all our stakeholders taking all necessary measures to tackle this uncertainty.

This quarter the performance has been outstanding, discounting even the slightly lower base last year same quarter.''
Asian Paints strong Q4 was aided by good demand across rural and urban areas at the country level.
FY21 Highlights
For the complete financial year, Asian Paints reported a consolidated profit of Rs 32.1 bn, up 15% over the preceding year.
Revenue grew marginally by 7% to Rs 217.1 bn, despite the impact of the pandemic.
The company announced a final dividend of Rs 14.5 per share bringing the total dividend for FY21 to Rs 17.85.
Asian Paints has a consistent track record of rewarding shareholders via dividends as can be seen from the image below.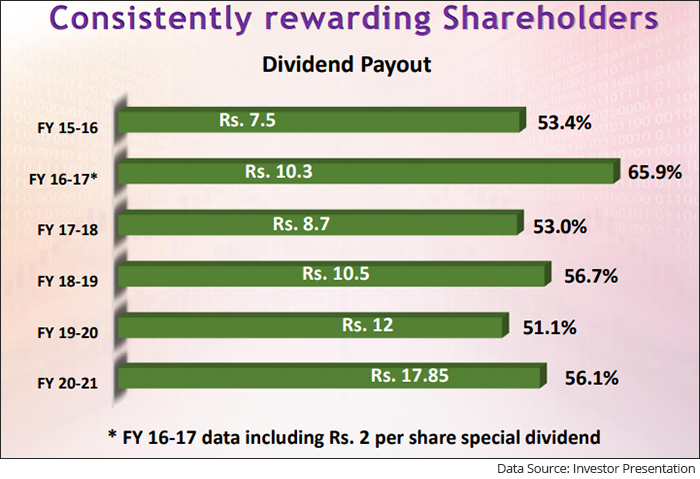 Outlook
The company said that uncertainty is again on the rise with the second wave seemingly far more wide-spread in India as well as some in international markets, especially in South Asia.
The company said it might face elevated inflationary pressures on the raw material front, which is still posing a challenge.
There was a significant increases in input prices since December 2020 and the uptrend continues.
How the Stock Markets Reacted to Asian Paints' Numbers
Asian Paints share price ended the day on a flat note yesterday after declaring its Q4 results.
Shares of the company pared gains of as much as 1.3% to close flat at Rs 2,556 apiece compared with a 1% decline in benchmarks Sensex and Nifty.
Shares of the company have touched a 52-week high of Rs 2,873 and a 52-week low of Rs 1,483.
The stock commands a market cap of Rs 2,451,811 m.
Over the past one year, stock of the company has outperformed the benchmark BSE Sensex. Asian Paints is up 68% in the past one year in comparison with 55% gains in Sensex.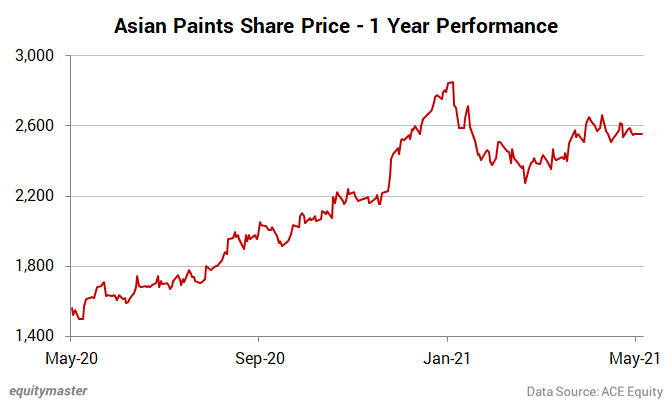 At its current price, it is trading at a P/E ratio of 88 and a P/BV ratio of 24.2.
About Asian Paints
Set up in 1942, the Asian Paints group is the largest paint manufacturer in India also engaged in the business of manufacturing of varnishes, enamels, or lacquers, surfacing preparation, organic composite solvents, and thinners.
It operates in 15 countries and has 26 paint manufacturing facilities in the world serving consumers in over 60 countries.
Besides Asian Paints, the group operates around the world through its various brands viz. Asian Paints Berger, Apco Coatings, SCIB Paints, Taubmans, Causeway Paints, and Kadisco Asian Paints.
It also manufactures metal sanitary ware such as bath, sinks, washbasins and similar articles. Recently introduced lightings, furnishings, and furniture thus adding more products in the home decor and interior design category.
For more details about the company, you can have a look at Asian Paints fact sheet and Asian Paints quarterly results on our website.
For a sector overview, you can read our paints sector report.
You can also compare Asian Paints with its peers on our website.
Asian Paints vs Kansai Nerolac
To know what's moving the Indian stock markets today, check out the most recent share market updates here.