Jindal Steel & Power Back in Action; Posts Rs 19 bn Profit in Q4
May 13, 2021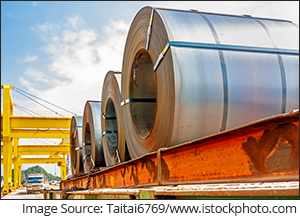 Riding on the current upcycle in global as well as domestic steel prices, Jindal Steel and Power (JSPL) clocked a net profit of Rs 55.3 bn for the financial year 2020-21.
In the previous financial year, the company had reported Rs 5.7 bn net loss.
For the fourth quarter ended March 2021, the company reported a 23 times jump in its consolidated profit after tax (PAT) to Rs 19 bn. Its net profit in the year-ago quarter was at Rs 821.3 m.
The company reported total income of Rs 119 bn during the period ended 31 March 2021 as compared to Rs 68.2 bn during the period ended 31 March 2020, a rise of 74.6% year-on-year (YoY).
The Delhi-based primary steel producer also reported highest consolidated earnings before, interest, taxes, depreciation and amortisation (EBITDA) of Rs 52.9 bn in the March quarter of FY21.
Also for FY21, the company reported highest-ever consolidated EBITDA of Rs 144.4 bn.
The company's total expenses stood at Rs 80.8 bn in the March 2021 quarter as compared to Rs 66 bn in the corresponding period of the preceding fiscal.
On a standalone basis, Jindal Steel has reported a PAT of Rs 34.3 bn during the January-March quarter.
It had clocked Rs 2.8 bn standalone PAT in the year-ago period. Its total income increased to Rs 110.2 bn from Rs 59.3 bn a year ago.
Earnings per share (EPS) stood at Rs 19.3 for the period ended 31 March 2021, as compared to Rs 4 for the period ended 31 March 2020.
Company's Overall Production in FY21
During the March quarter, the company produced 2.1 million tons (MT) of steel, while it sold 1.9 MT. In the entire fiscal, it produced 7.5 MT of the metal and sold 7.3 MT.
In Mozambique, the company's Chirodzi mine produced 811 KT ROM (kilo tonne run of mine), up 37% YoY (Q4FY21).
In FY21, it produced 3.2 MT, up 29% compared to FY20. In South Africa, during January-March 2021, Kiepersol mine produced 135 KT ROM, registering a YoY rise of 41%.
Jindal Steel said its Wongawilli and Russell Vale mines in Australia continue to remain under care and maintenance.
Going ahead, the company will be embarking on a journey to expand its profitability and volumes via the expansion of the Angul plant from 6 million tons per annum (MTPA) to 12 MTPA, taking JSPL's overall steel capacity to 16 MTPA in India.
Note that like other steel players, the company is supplying oxygen to hospital during the covid-19 crisis which is expected to bring down steel production by at least 8-9%.
--- Advertisement ---
These 3 Stocks are the Dark Horses of the Stock Market

The mainstream media mostly ignores them.

Mutual funds and hedge funds can't buy them in bulk.

Stock brokers rarely cover them.

These stocks are the dark horses of the stock market.

They only come in limelight after they have rallied by hundreds or even thousands of percent.

Our head of smallcap research, Richa Agarwal, has a knack for identifying such stocks before they begin their rally.

Over the years, she has spotted such stocks which have gone on to offer triple and even quadruple digit gains for investors. (* Past performance is no guarantee of future results)

Today, when the markets are near all-time high... and some investors are thinking of booking profits... Richa has spotted 3 such stocks which are set for a massive rally.

She will reveal the details of these 3 stocks on 28th June at her free online summit.

Click here to sign-up. It's free.
------------------------------
Jindal Steel Opens Capex Window Amid Continued Deleveraging Plans
Having reduced its debt considerably over the last few quarters, Naveen Jindal-led Jindal Steel & Power plans to deploy its cash generated for doubling of capex-an option it had shut itself to on account of strong deleveraging focus.
In a statement, VR Sharma, managing director at Jindal Steel said,
"With company's consolidated net debt having come down to a comfortable position at Rs 197 bn after the recent pre-payment, we are now looking to double capacity mainly via internal accruals.

Our deleveraging strategy will continue and, in fact, another pre-payment is being planned for October. Our aim is to bring the debt level below Rs 150 bn for FY22. For this, we are very much on track".
The company earlier this week announced that it has made a prepayment of Rs 24.6 bn to its term lenders, which was over and above the annual committed debt reduction in FY21.
Jindal Steel, over the last few quarters, has lowered its debt by over Rs 200 bn from a debt level of Rs 459 bn as on 31 March 2017.
The steel producer said that its balance sheet is now the strongest in the sector as good operational performance, divestment of non-core assets, and lower capex have all contributed to its deleveraging exercise with net debt declining by 38% YoY to Rs 221.5 bn at the end of the financial year 2020-21.
BREAKING: It's Good Time to Invest in Gold, but Just Don't Go Blindfolded
An Overview on Jindal Power's Q4 Performance
The annual net loss of the company's subsidiary Jindal Power shot up to 449% to Rs 12.6 bn, compared to Rs 1.3 bn net loss reported in the previous fiscal year.
The company's EBITDA came in at Rs 3.5 bn for the quarter under review, up 16.5% year-on-year (YoY).
Jindal Steel recently announced that it will sell its 96.4% stake in the power subsidiary to Worldone Private Limited (a private company owned by JSPL chairman Naveen Jindal) for an all-cash equity value consideration of Rs 30.2 bn.
How the Stock Has Performed Recently
In the past five days, the stock price has appreciated by 3.6%.
The stock is up over 17.5% in the last month and over 409.7% in the last year.
Yesterday, Shares of Jindal Steel and Power closed at Rs 456.7 (down 4.2%) on the BSE and Rs 456.6 (down 4.1%) on the NSE.
At its current price, it is trading at a P/E of 22.5.
The share has touched its 52-week high of Rs 501.7 and 52-week low of Rs 86.8 on 10 May 2021 and 18 May 2020, respectively.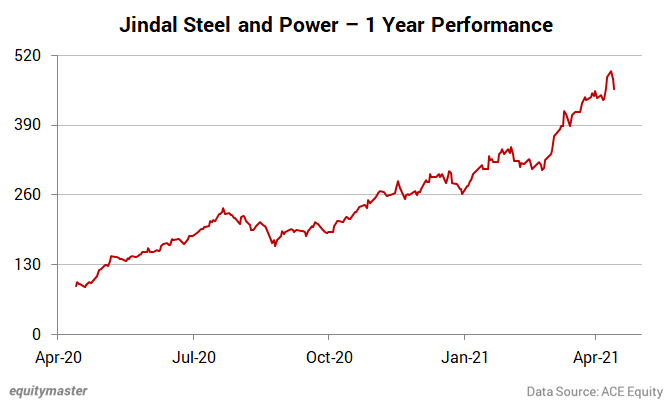 About Jindal Steel and Power
Jindal Steel and Power is one of India's major steel producers with a significant presence in sectors like Mining Power Generation and Infrastructure.
JSPL is a part of the US$ 18 bn diversified O.P. Jindal Group and is consistently tapping new opportunities by increasing production capacity diversifying investments and leveraging its core capabilities to venture into new businesses.
The company produces economical and efficient steel and power through backward integration from its captive coal and iron-ore mines.
From the widest flat products to a whole range of long products JSPL today sports a product portfolio that caters to varied needs in the steel market.
It also has the distinction of producing the world's longest 121 meter rails and introducing large size parallel flange beams in India. The company's segments include iron and steel; power and others.
For more details about the company, you can have a look at Jindal Steel and Power factsheet and quarterly results on our website.
You can also compare Jindal Steel and Power with its peers.
Jindal Steel and Power vs JSW Steel
Jindal Steel and Power vs Tata Steel
Jindal Steel and Power vs SAIL
And to know what's moving the Indian stock markets today, check out the most recent share market updates here.