UPL Q4 Net Profit Up 74%: What Does It Mean for Investors?
May 13, 2021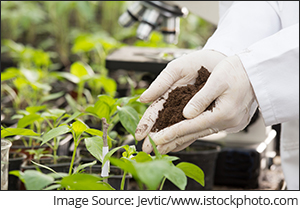 Agro-chemical company UPL reported 73.6% growth in consolidated net profit at Rs 13.6 bn for March quarter 2020-21.
The company's net profit stood at Rs 7.8 bn in the year-ago period.
The profit was also higher due to lower exceptional cost at Rs 800 m in Q4FY21 against Rs 1.7 bn in the corresponding period of the previous fiscal.
Exceptional cost of Rs 800 m reported for the quarter mainly included the cost related to restructuring in Europe, provisions related to litigation costs in North America, and a fire incident in India.
In 2020-21, the company's consolidated net profit witnessed 60.5% growth at Rs 35 bn compared to Rs 21.8 bn in the previous year.
Operational Highlights
The company's consolidated revenue from operations grew by 14.8% to Rs 128 bn compared to Rs 111.4 bn in the year-ago quarter.
The Q4FY21 revenues rose on the back of 18% year-on-year (YoY) volume growth and price increase of 1%.
UPL's revenue from operations grew 8% during 2020-21 to Rs 386.9 bn as against Rs 357.6 bn in the previous fiscal year.
Its earnings before interest, tax, depreciation and amortisation (EBITDA) spurted 31% to Rs 28.4 bn in Q4FY21 as against Rs 21.7 bn in Q4 FY20.
EBITDA margin improved to 22.2% in Q4FY21 compared with 19.5% in Q4FY20 due to strong margins and cost synergies.
For the full year 2021, UPL's EBITDA surged over 20% to Rs 85.6 bn and margin expanded 230 basis points (bps) to 22.1%.
In the Covid-marred FY21, UPL achieved its guidance for revenue growth of 6-8% and surpassed EBITDA guidance of 10-12% growth.
Commenting on the Q4 results, Jai Shroff, the chief executive officer (CEO) of UPL, said,
"2020 was certainly a challenging year for each one of us, and the world as a whole. Despite being an incredibly tough year, UPL delivered growth through continuously innovating and transforming, and adapting to the constantly changing situation as best it can.

Our financial performance in FY2021 has demonstrated the resilience of our model in COVID times. Despite the situation, we have delivered on our stated commitments of Revenue and EBITDA.

UPL is focused on driving sustainable agriculture and achieving transformational growth through innovative technology, as we tap new growth markets and opportunities. We aim to lead the agri-solutions space through differentiated products, bio-solutions, digitization and collaborations across the food value chain."
Equity Dividend
The company's board of directors, at the meeting held on Wednesday, recommended a final dividend of Rs 10 per equity share on the face value of Rs 2 each, for the financial year 2020-21 to the equity shareholders.
--- Advertisement ---
WATCH: FULL Replay of Our Urgent Broadcast

The full replay of our urgent broadcast on India's Revival is available for a limited time now.

In case you missed watching our broadcast LIVE...

You can see all the important highlights from our broadcast in this replay.

Please note that we may take this replay off the internet any minute.

So it is highly recommended you watch it immediately.

Click Here to Watch the Replay NOW
------------------------------
FY2021 Regional Highlights
UPL is a global provider of sustainable agriculture products & solutions. The company has its presence in Latin America, North America, Europe, and Rest of World (South-East Asia, Africa).
Latin America: Most Latin America countries have delivered close to double digit growth vs FY20.
Revenue growth in Latin America jumped 40%, supported by the catch-up of a delayed season in Brazil.
However, the depreciation in the Brazilian Real more than off-set the volume and price increases.
Sucking pest platform (patented sperto and perito) and soybean resistance management platform (unizeb gold, tridium and patented unizeb glory), grew significantly in Brazil and other South American countries.
North America: North America growth subdued on account of open orders due to supply constraints. Strong growth in sustainable solutions drove improved margins.
The demand for Interline (Glufosinate) Increased due to robust ramp up of resistant-traits acres.
Europe: Europe continued to maintain strong volume growth. Revenue in the region grew 17% YoY in Q4 FY21.
Improved mix and profitability, driven by accelerated sales of differentiated & sustainable solutions. Strong growth witnesses in Benelux, Germany, Poland, Italy, and Iberia.
The sales from France was impacted due to declining market.
Rest of World: The Rest of World grew by 11% to Rs 20.6 bn in Q4 and 3% to Rs 70.4 bn in FY21, YoY.
Double digit growth in South-East Asia, supported by continued expansion of Glufosinate solutions. Accelerated growth in China, driven by volume gains in UPL's branded sales and the Yoloo acquisition.
Covid related challenges impacts sales in Africa, the country registered flat growth in FY21.
India: In India, the company registered a 23% YoY revenue growth in Q4 at Rs 8.5 bn and a 22% increase in FY21 revenue at Rs 46.8.
Favorable weather with normal monsoons drove higher acreages in both seasons. Continued volume expansion of ferio, sweep power, and accelerated growth of sustainable solutions.
Note that through OpenAg (open agriculture), UPL is focused on facilitating progress for the entire agricultural value chain.
BREAKING: It's Good Time to Invest in Gold, but Just Don't Go Blindfolded
Debt Profile of UPL
During the year, UPL continued to deliver on its commitment to deleverage the company's balance sheet and reduced the gross debt by Rs 50.4 bn and net debt by Rs 31.4 bn.
The gross debt and net debt as on 31 March 2021 was Rs 237.7 bn and Rs 189.2 bn, respectively.
How the Stock Has Performed Recently
In the past five days, the stock price has appreciated by 10%.
The stock is up over 17.2% in the last month and over 88% in the last year.
Yesterday, Shares of UPL closed at Rs 691 (up 1.1%) on the BSE and Rs 692 (up 1.1%) on the NSE.
The share also touched its 52-week high of Rs 703 and 52-week low of Rs 336 on 12 May 2021 and 20 May 2020.
At its current price, it is trading at a P/E ratio of 29.8.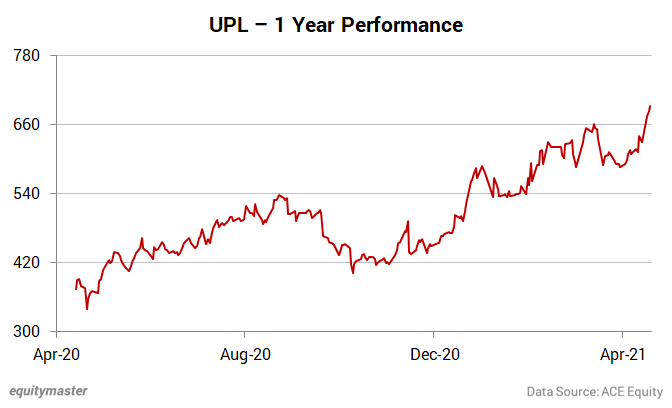 About UPL
UPL Company was incorporated on 2 January 1985 with the name Vishwanath Commercials.
It's a global generic crop protection chemicals and seeds company. The company is engaged in the business of agrochemicals industrial chemicals and chemical intermediates. They operate in three segments: agro chemical industrial chemicals and others.
The agro chemicals segment consists of agrochemicals technicals and formulations. The industrial chemicals segment consists of industrial chemicals and specialty chemicals. The others segment consists of traded products.
The company has also got a captive power plant in Jhagadia. The company offers a range of products that includes insecticides fungicides herbicides fumigants plant growth and regulators and rodenticides.
They have 23 manufacturing sites which includes nine in India four in France and two in Spain.
UPL operates in every continent and have a customer base in 123 countries with their own subsidiary offices in Argentina, Australia, Bangladesh, Brazil, China, Canada, Denmark, France, Germany, Hong Kong, Indonesia, Japan, Korea, Mauritius, and many more countries.
For more details about the company, you can have a look at UPL factsheet and quarterly results on our website.
You can also compare UPL with its peers.
And to know what's moving the Indian stock markets today, check out the most recent share market updates here.