Why L&T Share Price is Falling
May 13, 2023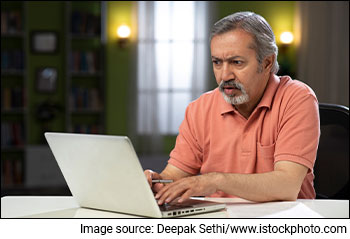 In recent months, the share price of L&T was racing ahead like an F1 race car. The company touched a new 52-week high price multiple times last month.
Just ten days ago, on 2 May 2023, it again touched a 52-week high price of Rs 2,416.
The engineering company was in the limelight on the back of repeat order wins and that too significant ones. Early in April 2023, the company emerged as the lowest bidder for the redevelopment of the New Delhi railway station.
On the same day, it also bagged a significant order for its hydrocarbon business. The business secured an order under its AdVENT (Advanced Value Engineering and Technology) business vertical from Chambal Fertilisers and Chemicals.
In the last three months, L&T's orders have grown substantially boosting investor confidence.
However, L&T's race car hit a bump on 11 May 2023. In just a single day, L&T's share price slipped 5% and 2% on the next day.
Let's find out why...
#1 Profit booking after quarterly results
On Wednesday this week, L&T declared its Q4 results for the year ended March 2023.
The engineering and construction major reported a 10% rise in its Q4 consolidated net profit at Rs 39.9 billion (bn) from Rs 36.2 bn in the same quarter last year.
The company's revenue during the quarter under review also increased 10% to Rs 583.4 bn from Rs 528.5 bn, YoY.
Its earnings before interest, tax, depreciation, and amortisation (EBITDA) during the quarter rose 5% to Rs 68.3 bn from Rs 65.2.
The marginal growth in revenue and profit is lower compared to market expectations. That is why, despite strong prospects, some investors might have thought to book profits on the stock and enter again at a lower level.
Also, L&T's operating margins have come down. Margins contracted to 11.7% in the quarter under review, compared to 12.3% in Q4 of the corresponding quarter of the last year.
The board of directors have recommended a final dividend of Rs 24 per equity share subject to the approval of shareholders.
#2 Change in management
L&T recently announced that its non-executive chairman, AM Naik has decided to step down.
SN Subrahmanyan, L&T's chief executive officer and managing director, will take over as the chairman and managing director with effect from 1 October 2023.
A change in the company's core management raises doubts and concerns in markets. Investors worry if the company will be able to uphold the existing performance of the company.
A company with good and honest management has the ability to outperform its peers. Hence, when management changes investors are a bit wary of the company.
What next?
A robust order book, strong balance sheet, diversified business profile and proven execution capabilities have acted as moats for L&T in the current volatile and challenging economic environment.
Overall, L&T had a healthy financial year in 2023. The key driving force this year was its growing order book.
As on 31 March 2023, L&T's order book stood at record high level of Rs 4 trillion (tn). The company's order book grew by 12%. International orders constituted 28% of the March 2023 order book.
Order inflows have also increased at a steady pace. During the year under consideration, order inflow increased by 19%.
L&T's Order Book and Order Inflow (2022-2023)

The company is expected to benefit significantly from the government's shift to provide a significant thrust to the country's infrastructure development.
The plan was aided by a budgetary allocation of a massive Rs 10 trillion (tn) capital investment plan of the government for the financial year 2023-24.
L&T aims to double revenue and order inflow by 2025-26 through a five-year strategic plan called Lakshya'26 that aims at exiting non-core operations and expanding the services business.
The company has also forayed into the green hydrogen business. This is an emerging theme but L&T has kept itself ahead of its peers by investing big time in this space.
The company's annual report says it's also planning to achieve water and carbon neutrality by 2035 and 2040, respectively.
Although the green hydrogen business is yet to be fully set up, the company has mentioned it should be done by the end of financial year 2022-23.
L&T's huge commitment towards green energy is proof it is leading the race in India.
How shares of L&T have performed recently
L&T is down 1.5% in the past one month. In the past one year, L&T shares are up 45.1%.
In 2023 so far, L&T share price has gained around 6.5%.
L&T touched its 52-week high of Rs 2,416 on 2 May 2023. Its 52-week low was Rs 1,456.8 touched today on 20 June 2022.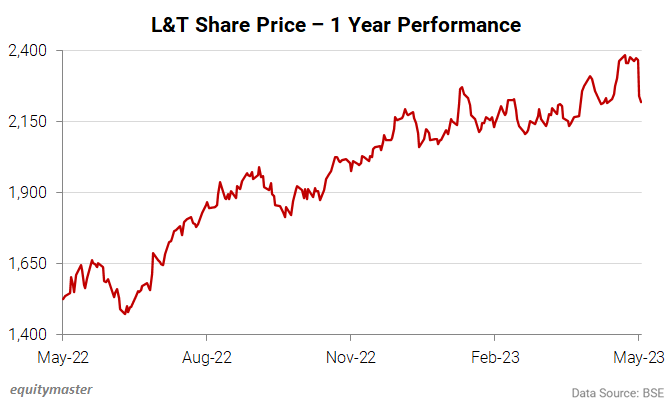 About L&T
Larsen & Toubro Ltd, commonly known as L&T, is an Indian multinational conglomerate company, with business interests in engineering, construction, manufacturing, technology, information technology and financial services, headquartered in Mumbai.
The company is counted among the world's top five construction companies. It was founded by Henning Holck-Larsen and Soren Kristian Toubro, who were two Danish engineers taking refuge in India.
L&T has an international presence, with a global spread of offices. A hrust on international business has seen overseas earnings grow significantly.
To know more about the company, check out L&T fact sheet and quarterly results.
You can also compare L&T with its peers
Investment in securities market are subject to market risks. Read all the related documents carefully before investing
Want to Grow Your Wealth With Safe Stocks?
If you want a simple, safe, and hassle-free approach to long term wealth building...
Without having to worry about negative news or every little downswing in the market...
And without having to worry whether your investments will actually "deliver"...
You must read our note on Blue Chip Stocks now.
Details of our SEBI Research Analyst registration are mentioned on our website - www.equitymaster.com
Disclaimer: This article is for information purposes only. It is not a stock recommendation and should not be treated as such. Learn more about our recommendation services here...