Happiest Minds Q4 Results: Profit Grows Over Six-Fold; Company Eyes 20% Organic Growth in FY22
May 14, 2021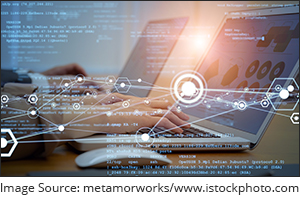 Shares of Happiest Minds plunged over 8% in intra-day trade today even as the company reported a strong set of numbers for the quarter ended March 2021.
The stock of the company rallied 161% in the past three months.
Financial Highlights
IT firm Happiest Minds Technologies has reported a manifold growth in consolidated net profit at Rs 360.5 m in the March 2021 quarter.
The company, which got listed on BSE and NSE last year, had posted a net profit of Rs 53 m in the year-ago period.
During the fourth quarter, the company's total Income stood at Rs 2.2 bn, up 17.6% year-on-year (YoY).
For the financial year 2021, the company has reported total income of Rs 8 bn, up 11.7% as compared to Rs 7.1 bn in FY20.
Its revenue from operations was at Rs 2.2 bn in the quarter under review, up 18.4% from Rs 1.9 bn in the year-ago period.
On a quarter-on-quarter (QoQ) basis the net profit fell 14.5%, from Rs 421.5 m in the December 2020 quarter. Its revenue grew 14.5% from Rs 1.9 bn in the third quarter of FY21.
On a consolidated basis, earnings before interest, tax, depreciation, and amortisation (EBITDA) came in at Rs 588.3 m for the quarter under review (decline of 1.4 % QoQ ; growth of 129.5% YoY).
In dollar terms, the revenue stood at US$ 30.2 m, up 18% (YoY) and 15.4% sequentially.
The company has reported earnings per share (EPS) of Rs 11.5 for the financial year ended 31 March 2021 as compared to Rs 5.4 in the year-ago period.
Commenting on the quarter performance, Ashok Soota, Executive Chairman of Happiest Minds Technologies said,
"The highlight for the year FY21 was our successful IPO. We have been able to fulfil all our promises and are grateful to our customers, our team, and all stakeholders, who helped make this possible.

As we begin FY22, we will look to achieving 20% organic growth as indicated at the time of our IPO".
Equity Dividend
The Board of Directors have recommended a final dividend of 150% of Rs 3 per equity share on the face value of Rs 2 each, for the financial year 2020-21 which is subject to the approval of shareholders at the Annual General Meeting.
--- Advertisement ---
These 3 Stocks are the Dark Horses of the Stock Market

The mainstream media mostly ignores them.

Mutual funds and hedge funds can't buy them in bulk.

Stock brokers rarely cover them.

These stocks are the dark horses of the stock market.

They only come in limelight after they have rallied by hundreds or even thousands of percent.

Our head of smallcap research, Richa Agarwal, has a knack for identifying such stocks before they begin their rally.

Over the years, she has spotted such stocks which have gone on to offer triple and even quadruple digit gains for investors. (* Past performance is no guarantee of future results)

Today, when the markets are near all-time high... and some investors are thinking of booking profits... Richa has spotted 3 such stocks which are set for a massive rally.

She will reveal the details of these 3 stocks on 28th June at her free online summit.

Click here to sign-up. It's free.
------------------------------
Key Project Wins
For a large US financial services company, Happiest Minds was chosen as a partner for implementing a cloud-based loan and leasing solution.
Happiest Minds is building the next generation system to control, configure, and monitor their commercial lighting systems, for a leading US manufacturer of electrical wiring and lighting control systems.
The company is providing onsite and offshore IT security services for identity and access management, for a large US professional services company.
For a large Health care company in USA, Happiest Minds is providing managed security services for governance risk and compliance and security operations.
It has also been selected to deliver multi-year managed vulnerability and penetration testing services, for one of the largest and most successful estate agency groups in the UK.
Happiest Minds is providing high end security services in the space of development, security & operations and big data security, for a large bank in UAE.
Happiest Minds Eyes 20% Organic Growth Led by Its Digital Business
Ashok Soota-led Happiest Minds Technologies is eyeing a 20% organic growth in the medium to long term driven by acceleration in demand for digital services, which accounts for nearly 97% of the firm's total revenues, the highest among its Indian peers.
Happiest Minds classifies 'digital' as service offerings including five emerging technologies - cloud, software-as-a-service, security, analytics/artificial intelligence, and internet of things.
BREAKING: It's Good Time to Invest in Gold, but Just Don't Go Blindfolded
The IT services firm also acquired US-based PGS for US$ 8.25 m, or about Rs 600 m, to create greater 'digital capital' for customers and facilitate onboarding of more strategic customers.
PGS's clientele includes customers across retail, consumer packaged goods, and manufacturing verticals.
Also note that Happiest Minds added 23 clients during the quarter, taking the total number of clients to 173 as of 31 March, out of which 87% is repeat business.
How the Stock Markets Reacted to Happiest Minds Q4FY21 Numbers Today...
Shares of Happiest Minds opened the day at Rs 797 on the BSE and Rs 793 on the NSE.
Happiest Minds share price closed at Rs 728.8 (down 8.2%) on the BSE and Rs 728.5 (down 8.3%) on the NSE.
At its current price, it is trading at a P/E of 70.4.
The share also touched its 52-week high of Rs 868.9 on 10 May 2021.
Over the last 30 days, the Happiest Minds share price is up 17.7%.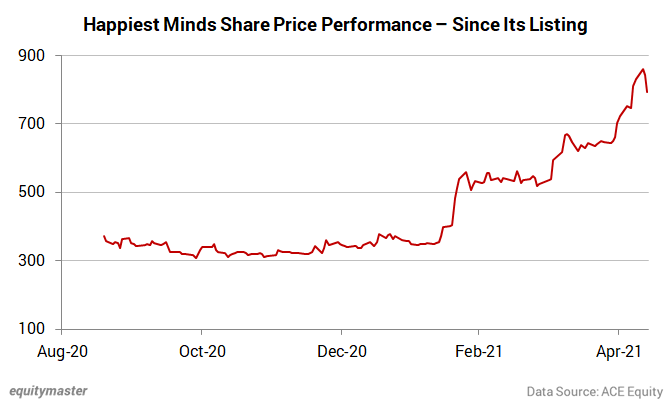 About Happiest Minds Technologies
The company was founded by Ashok Soota in 2011. It is headquartered in Bangalore, India and has its operations in the United States, United Kingdom, Canada, Singapore, and Australia.
Happiest Minds Technologies, a Mindful IT Company, enables digital transformation for enterprises and technology providers by delivering seamless customer experiences, business efficiency and actionable insights.
They do this by leveraging a spectrum of disruptive technologies such as: artificial intelligence, block chain, cloud, digital process automation, internet of things, robotics/drones, security, virtual/augmented reality, etc.
Positioned as 'Born Digital. Born Agile', their capabilities span digital solutions, infrastructure, product engineering and security.
The company delivers these services across industry sectors such as automotive, banking, financial services and insurance (BFSI), consumer packaged goods, e-commerce, edu-Tech, engineering research and development (R&D), hi-tech, manufacturing, retail and travel/transportation/hospitality.
For more details about the IT sector, you can have a look at IT sector report on our website.
And to know what's moving the Indian stock markets today, check out the most recent share market updates here.