Tata Power Shares Fall 5% Despite Strong Operational Performance in Q4
May 14, 2021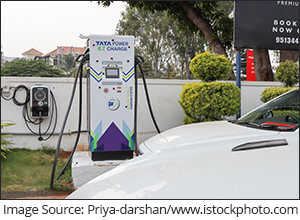 India's largest private power distribution company, Tata Power on Wednesday posted a marginal rise in its consolidated net profit at Rs 4.8 bn for the March quarter 2020-21 (Q4FY21).
The company had reported a net profit of Rs 4.7 bn in the year-ago period.
The company said the rise in consolidated net profit in the quarter under review is due to saving in finance cost offset by exceptional gain in the previous year.
Total income rose to Rs 102.2 bn in the quarter from Rs 67.9 bn in the same period a year ago.
Higher losses due to increase in coal prices at Coastal Gujarat Power, the loss-making mega power project, has led to 19% YoY decline in Tata Power's operating profit. Operating profit or EBITDA fell to Rs 14.5 bn from Rs 17.8 bn in the same quarter last year.
Fuel cost fell to Rs 23.1 bn from Rs 24.3 bn a year ago. However, cost of power purchased rose to Rs 27.7 bn from Rs 12.9 bn a year ago.
FY21 Highlights
For the full year ended March 2021, Tata Power's consolidated net profit rose to Rs 14.4 bn from Rs 13.2 bn reported in the previous year.
Total income in the year increased to Rs 329.1 bn from Rs 297 bn in 2019-20.
Reportedly, the figures rose mainly due to the acquisition of all four Odisha distribution companies (DISCOMs) and higher execution of solar engineering procurement and construction (EPC) projects.
The company registered a strong solar EPC order book of Rs 87.4 bn.
Despite pressure due to high international coal prices, the company managed to post growth due to higher execution of solar EPC projects.
The company's board in its meeting recommended a dividend of Rs 1.55 per equity share of Rs 1 each for 2020-21.
In an exchange filing, the company said its annual general meeting (AGM) is scheduled to be held on 5 July 2021.
Environmental Improvement


Operational Performance
During the quarter, all of company's businesses and operations performed well. This can be attributed to the overall performance of the generation, transmission, distribution and renewable businesses.
--- Advertisement ---
WATCH: FULL Replay of Our Urgent Broadcast

The full replay of our urgent broadcast on India's Revival is available for a limited time now.

In case you missed watching our broadcast LIVE...

You can see all the important highlights from our broadcast in this replay.

Please note that we may take this replay off the internet any minute.

So it is highly recommended you watch it immediately.

Click Here to Watch the Replay NOW
------------------------------
Praveer Sinha, CEO & MD, Tata Power said:
"The company stands strong with the nation to provide uninterrupted power supply and ensure that citizens continue to work from home, office, factory.

Our consumer base in Odisha has expanded to 9 million with the recent acquisition of the retail power distribution for the entire state.

With this, we have steadily grown to around 12 million consumers across the country, continuing to build our business in line with our strategy to become a highly consumer focused power utility."
Sinha added that Tata Power will continue to concentrate on key growth areas - renewables, distribution business and new businesses of rooftop solar panels, solar pumps and EV charging.
The company saw a significant revenue jump in solar EPC business with all three segments - utility EPC, rooftop solar, and solar pumps registering growth.
Solar EPC Business Showing Traction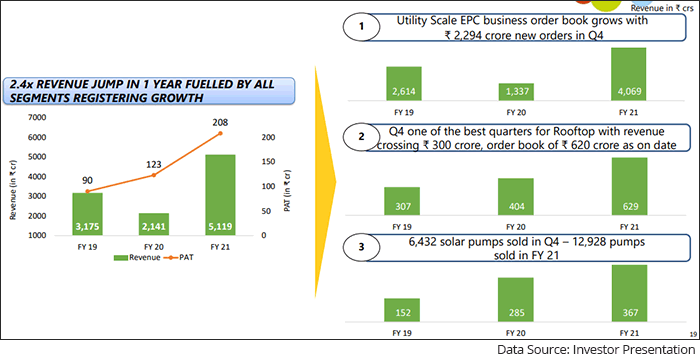 The company is anticipating a significant growth in the solar sector in line with the call for 'Aatmanirbhar Bharat' and has planned various initiatives to grow the solar business.
Recently, Tata Power's wholly owned subsidiary - Tata Power Solar Systems inaugurated a state-of-the-art expansion of its manufacturing facility in Bengaluru, thereby, taking up the total production capacity of cells and modules to 1,100 MW.
The company has begun investing in start-ups to speed up its innovation pipeline to help develop Smart Energy Management offerings.
BREAKING: It's Good Time to Invest in Gold, but Just Don't Go Blindfolded
Board Okays Raising Rs 55 bn via NCDs
The company's board has approved a proposal to raise up to Rs 55 bn through issuance of non-convertible debentures (NCDs).
The NCDs can be issued on private placement basis to any persons, entities, companies, banks and financial institutions.
The funds so raised will be utilised for refinancing of existing loans, among others.
Tata Power on its Renewable Energy Business IPO
Last month, it was reported that Tata Power is weighing an initial public offering (IPO) for its renewable energy business that could raise about Rs 35 bn.
The power company has abandoned earlier plans to seek a partner to invest in its green assets via an investment trust, people aware of the developments had said.
However, the company later confirmed that reports about a planned IPO of its renewables business are "speculative in nature" and added that it has taken no such decision.
How the Stock Markets Reacted to Tata Power Q4 Results...
Tata Power share price opened the day down by 3.5% today.
Earlier this week on Monday, stock of the company ended close to its 52-week high.
The stock has been in an uptrend after seeing a correction of about 20% between March 12 and April 12.
Over the past one year, shares of Tata Power have gained a whopping 244% as can be seen from the chart below: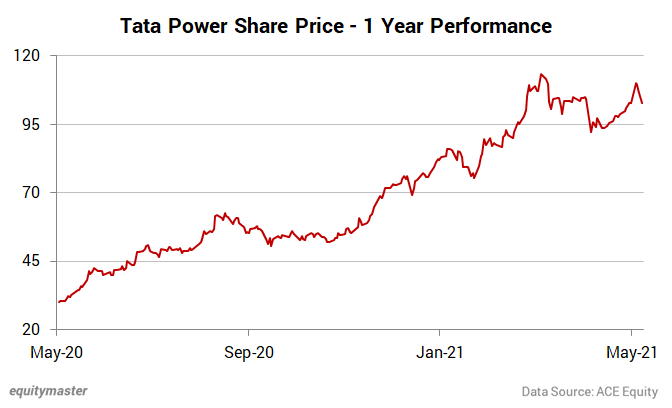 At its current price, it is trading at a P/E ratio of 37 and a P/BV ratio of 1.9.
About Tata Power
Tata Power is one of India's largest integrated power companies, present across the entire power value chain of conventional & renewable energy, power services and next-generation customer solutions including solar rooftop, EV charging stations and home automation.
Formerly known as Tata Electric, Tata Power has pioneered technology adoption in the utility sector with many firsts to its credit including setting up India's first hydroelectric power station in 1915.
Tata Power, together with its subsidiaries & joint entities, has 12,772 MW of generation capacity where 30% comes from clean and green sources.
From energy-saving power services, to making India EV ready with multi-city EV charging stations and being India's #1 rooftop solar provider, Tata Power is continuously delivering green technology for the smart consumer.
For more details about the company, you can have a look at Tata Power fact sheet and Tata Power quarterly results on our website.
For a sector overview, you can read our power sector report.
You can also compare Tata Power with its peers on our website.
To know what's moving the Indian stock markets today, check out the most recent share market updates here.