Pidilite Industries Q4 Net Profit Nearly Doubles Over Strong Operating Performance
May 14, 2021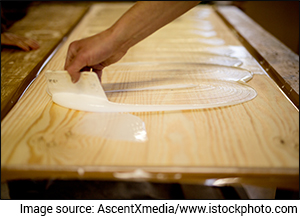 Pidilite Industries on Thursday reported a 96.4% increase in consolidated net profit to Rs 3.1 bn for the fourth quarter ended March 2021.
The leading manufacturer of adhesives, sealants and construction chemicals had posted a profit of Rs 1.6 bn in the January-March period a year ago.
For the fiscal year 2020-21, Pidilite Industries' net profit was marginally up at Rs 11.3 bn. It was Rs 11.2 bn in the previous financial year.
Revenue from operations climbed 44.7% to Rs 22.4 bn during the quarter under review as against Rs 15.4 bn in the year-ago period.
However, the company's total income dipped to Rs 73.7 bn in FY21, down 1% from Rs 74.4 bn crore in 2019-20.
On a consolidated basis, earnings before interest, tax, depreciation, and amortisation (EBITDA) came in at Rs 4.6 bn for the quarter under review, up by 52% over the same quarter last year. EBITDA for the fiscal year 2021 stood at Rs 16.8 bn and grew by 7% over last year.
Total expenses were at Rs 18.4 bn in Q4FY21, as against Rs 13 bn reported in the last year.
Earnings per share (EPS) stood at Rs 22.2 for the period ended 31 March 2021, as compared to Rs 22 for the period ended 31 March 2020.
Business Segment Wise Performance
The Company operates in two business segments namely Consumer and Bazaar (C&B) and Business to Business (B2B).
Consumer & Bazaar: C&B segment covers sale of products mainly to end consumers which are retail users such as carpenters, painters, plumbers, mechanics, households, students, offices, etc.
Sale consists of mainly Adhesives, Sealants, Art and craft Materials and Construction and paint Chemicals.
The C&B segment registered volume and value growth in excess of 45% during this quarter. Profit before interest and tax (PBIT) of C&B segment grew by 51.4%.
Robust growth was registered across all major categories like adhesives, construction chemicals and DIY segment driven by continued demand momentum in both rural and urban geographies.
Business to Business: B2B covers sale of products to end customers which are mainly large business users. This includes Industrial Products (IP) such as adhesives, synthetic resins, organic pigments, pigment preparations, construction chemicals (projects), surfactants, etc.
It caters to various industries like packaging, textiles, paints, joineries, printing inks, paper, leather, etc. Others includes sale of speciality acetates, raw materials etc.
The B2B segment posted sequential strong volume and value growth in excess of 26% aided by gradual and consistent pick-up in economic activities.
However, PBIT of B2B segment declined by 18.2% on account of rising input cost and exchange gains in same quarter last year.
--- Advertisement ---
These 3 Stocks are the Dark Horses of the Stock Market

The mainstream media mostly ignores them.

Mutual funds and hedge funds can't buy them in bulk.

Stock brokers rarely cover them.

These stocks are the dark horses of the stock market.

They only come in limelight after they have rallied by hundreds or even thousands of percent.

Our head of smallcap research, Richa Agarwal, has a knack for identifying such stocks before they begin their rally.

Over the years, she has spotted such stocks which have gone on to offer triple and even quadruple digit gains for investors. (* Past performance is no guarantee of future results)

Today, when the markets are near all-time high... and some investors are thinking of booking profits... Richa has spotted 3 such stocks which are set for a massive rally.

She will reveal the details of these 3 stocks on 28th June at her free online summit.

Click here to sign-up. It's free.
------------------------------
Overseas Subsidiaries Performance
The Company has 20 overseas subsidiaries (6 direct and 14 step-down) and one joint venture.
Overseas subsidiaries have reported high double-digit constant currency revenue growth as well as improved earnings growth for the quarter.
The performance of the following geographies in constant currency terms is detailed below. These are like for like actual reported numbers excluding translations and other consolidation impacts.
| Sales (Rs in mn) | Q4FY21 | Q4FY20 | Growth | FY21 | FY20 | Growth |
| --- | --- | --- | --- | --- | --- | --- |
| Asia | 696 | 564 | 23.5% | 2260 | 2339 | -3.4% |
| Middle East and Africa | 488 | 403 | 21.0% | 1560 | 1557 | 0.2% |
| Americas | 566 | 388 | 45.9% | 2445 | 1893 | 29.2% |
| Total | 1750 | 1355 | 29.2% | 6265 | 5789 | 8.2% |
Commenting on the quarter performance, Mr Bharat Puri, Managing Director, Pidilite Industries, said,
"This quarter witnessed robust broad-based growth across all businesses and geographies. Despite significant challenges in FY21, we have displayed adaptability and resilience while building capacity and capability.

Gross margins continue to be impacted due to unprecedented inflation in input costs. Despite pricing and cost actions, we expect margins to remain under pressure in the coming quarters.

The current second wave of the pandemic poses challenges and Pidilite remains committed to working with our partners to overcome this crisis".
Equity Dividend
The company's board of directors, at the meeting held on Thursday, recommended a final dividend of Rs 8.5 per equity share on the face value of Rs 1 each, for the financial year 2020-21 to the equity shareholders.
BREAKING: It's Good Time to Invest in Gold, but Just Don't Go Blindfolded
Steep Cost Inflation Likely to Weigh on Pidilite's Investors
There is no respite from input cost inflation for Fevicol-maker Pidilite Industries.
In the March quarter, its gross margins contracted by 460 basis points (bps) year-on-year (YoY) to 50.8%.
The price of key input chemical vinyl acetate monomer (VAM), surged from US$ 925 a ton in Q4FY20 to US$ 1,200 a ton in Q4FY21, the management said, adding it is now US$ 2,000 a ton.
In response, Pidilite raised prices across segments in the last week of March and is looking at another price hike in May.
While the management refrained from sharing a weighted average of price increases for its product portfolio, it said price hikes aim to absorb 75% of cost inflation.
Evidently, gross margins will remain under pressure in the near term. The increase in VAM price is driven by supply-side constraints rather than demand and should moderate in the second half of this financial year.
According to the management, the steep rise in VAM prices would translate to higher market share gains from smaller firms, who may not be able to deal with the cost pressures.
Pidilite Industries Shareholding Pattern as of 31 March 2021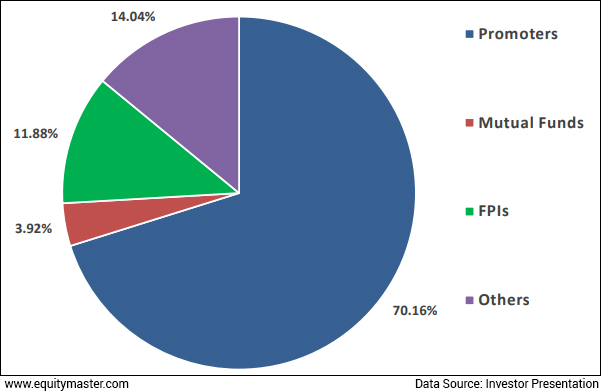 How the Stock Markets Reacted to Pidilite Industries Q4FY21 Numbers Today...
Shares of Pidilite Industries opened the day at Rs 1,880 on the BSE and Rs 1,865 on the NSE.
At the time of writing, shares of Pidilite Industries were trading down by 1.3% on the BSE.
At its current price, it is trading at a P/E of 85.5.
Shares of the company touched its 52-week high of Rs 1,928 on 9 April 2021.They had hit a 52-week low of Rs 1,307 on 6 August 2020.
Over the past one year, stock of the company has underperformed the benchmark BSE Sensex. Pidilite Industries is up 38.3% in the past one year in comparison with 63% gains in Sensex.
Pidilite Industries in comparison with Sensex - 1 Year Performance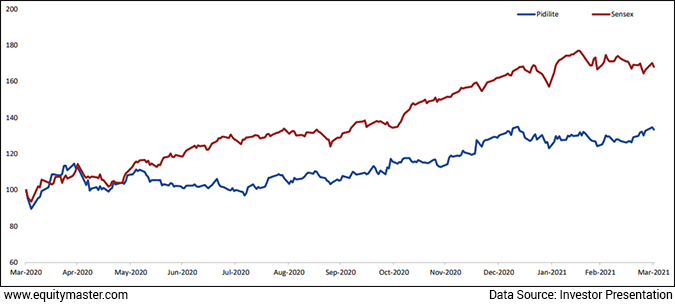 About Pidilite Industries
A consumer and specialty chemical company Pidilite Industries was incorporated on 28th July 1969.
Pidilite is the market leader in adhesives and sealants construction chemicals, hobby colours and polymer emulsions in India.
Its brand name Fevicol has become synonymous with adhesives to millions in India and is ranked amongst the most trusted brands in India.
The company's product range includes adhesives and sealants construction chemicals, craftsmen products, polymer emulsions paint chemicals, automotive chemicals, art materials and stationery fabric care, maintenance chemicals, industrial adhesives, industrial textile resins, and organic pigments & preparations.
Some of the company's major brands are M-Seal, Fevikwik, Fevistik, Roff, Dr. Fixit, Fevicryl, Motomax, Araldite and Hobby Ideas.
It has 9 regional offices with 28 plants and 31 co-makers in India. The company also has international manufacturing facilities in USA, Thailand, Dubai, Brazil, Egypt, Bangladesh, Sri Lanka and Kenya.
Pidilite Industries is exporter of Pigments and Pigment emulations to emerging markets as well as Europe and North America.
For more details about the company, you can have a look at Pidilite Industries factsheet and quarterly results on our website.
You can also compare Pidilite Industries with its peers -
Pidilite Industries vs Godrej Industries
And to know what's moving the Indian stock markets today, check out the most recent share market updates here.