Dr Reddy's Lab Shares Fall As Earnings Miss Estimates. What Next?
May 14, 2021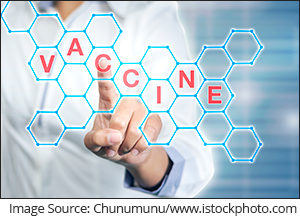 Drug-maker Dr Reddy's Lab on Friday during market hours reported a 28% year-on-year (YoY) decline in its consolidated net profit to Rs 5.5 bn for the quarter ended March (Q4FY21.
Profit was sharply below analysts' expectations.
The pharma major reported a marginal growth of 7% in its consolidated revenues to Rs 47.3 bn for the quarter under review, which was also below estimates.
Profit was estimated at Rs 6.5 bn on revenue of Rs 48.2 bn for the quarter.
The muted performance was largely due to a weak show in the North American market, which is Dr Reddy's largest revenue contributor.
On the operating front, it was a strong quarter for the company as its consolidated operating profit grew 13% to Rs 11.3 bn.
Here's a table comparing Dr Reddy's quarterly performance on key parameters.
Dr Reddy's Lab Financial Performance
| (Rs m) | Q4FY21 | Q4FY20 | Q3FY21 | YoY (%) | QoQ (%) |
| --- | --- | --- | --- | --- | --- |
| Revenue | 47,284 | 44,318 | 49,296 | 6.70% | -4.10% |
| Cost of Revenues | 21,909 | 21,510 | 22,758 | 1.90% | -3.70% |
| Gross Profit | 25,375 | 22,808 | 26,538 | 11.30% | -4.40% |
| Total expenses | 17,801 | 16,206 | 24,339 | 9.80% | -26.90% |
| Profit before tax | 8,071 | 7,142 | 2,843 | 13.00% | 183.90% |
| Tax | 2,536 | -500 | 2,645 | -607.20% | -4.10% |
| Profit after tax | 5,535 | 7,642 | 198 | -27.60% | 2695.50% |
Data Source: Company Presentation
Weak Show in North America; Domestic Growth Strong
The company's North America sales fell 3% YoY to Rs 17.5 bn. On a sequential basis, sales grew by a mere 1%.
The YoY decline was primarily on account of higher volumes last year due to the pandemic-related stocking up and price erosion.
Sales in the European market grew 15% to Rs 4 bn. Emerging markets sales climbed 10% to Rs 8.8 bn.
On the domestic front, company reported robust numbers compared with the year-ago period largely because of the effect of low base, due to the national lockdown and supply crunch last year.
India sales jumped 23% to Rs 8.4 bn during the quarter.
The global generics business grew by 6% YoY to Rs 38.7 bn during March 2021 quarter.
Pharmaceutical Services & Active Ingredients (PSAI) business of the company rose 10% compared to the year-ago period, but Proprietary Products & Others reported a 13% YoY decline.
Full Year Performance
In the financial year FY21, consolidated profit dropped 1.8% to Rs 19.1 bn and revenue grew by 8.7% to Rs 189.7 bn compared to the previous year.
G V Prasad, Co-Chairman & MD said in FY21, the company continued to grow across all businesses, enhance productivity and strengthen development pipeline.
"We are prioritising our efforts to launch Sputnik V vaccine across India while working on the development and commercialization of several drugs for the treatment of mild to severe COVID-19 infections."
The company recommended payment of a dividend of Rs 25 per share for the year ended March 2021 subject to the approval of members.
Sputnik V Vaccine Launched in India
Dr Reddy's today announced that the first consignment of imported doses of the Sputnik V vaccine received regulatory clearance from the Central Drugs Laboratory, Kasauli, on 13 May 2021.
As part of a limited pilot, the soft launch of the vaccine commenced and the first dose was administered in Hyderabad on May 14, the company said in an exchange filing.
Further consignments of imported doses are expected over the upcoming months. Subsequently, the supply of the Sputnik V vaccine will commence from Indian manufacturing partners.
One dose of the imported vaccine is priced at Rs 995.4 (Rs 948 plus 5% GST), with the possibility of a lower price point when local supply begins.
G V Prasad, Co-Chairman and Managing Director, said that with rising cases in India, vaccination is their most effective tool in our battle against Covid-19.
The launch will give a boost to the vaccination drive stuttering because of jab shortage at a time when India is facing a devastating second Covid-19 wave.
New Launches During the Quarter
During this quarter, Dr Reddy's said it launched 6 new products - Vigabatrin tablets (CGT status granted), Febuxostat tablets, Capecitabine tablets, Fluphenazine Hydrochloride tablets, Lansoprazole OD tablets and biraterone Acetate in Canada.
As of March 2021, cumulatively 95 generic filings are pending for approval with the USFDA (92 ANDAs and 3 NDAs under 505(b)(2) route).
Out of the pending ANDAs, 47 are Para IVs, and we believe 23 have 'First to File' status," the company added.
Earlier this week on Wednesday, the company launched Ertapenem for Injection, 1 g/vial, approved by the USFDA.
Earlier this week on Monday, shares of the company had climbed 5% after India's regulator approved a new, oral Covid-19 drug that promises to reduce hospitalisation time and oxygen dependency for moderate to severe cases.
Investigation for Anti-Corruption Laws
Dr Reddy's said it has commenced a detailed investigation into an anonymous complaint which alleges that healthcare professionals in Ukraine and potentially in other countries were provided with improper payments by or on behalf of the company in violation of US anti-corruption laws.
A legal firm is conducting the investigation at the instruction of a committee of the company's board.
Dr Reddy's noted that it has disclosed the matter to the US Department of Justice, the US market regulator and Indian markets regulator.
Equitymaster's View on the Pharma Sector...
We reached out to Tanushree Banerjee, Co-Head of Research at Equitymaster, and editor of the premium stock recommendation service StockSelect, for her view on the pharma sector.
Here's what she has to say...
The second Covid wave has given a new lease of life to pharma stocks.As the sector continues to invest in capacities for new drugs, the profitability will depend on the companies' ability to seek USFDA approval for the plants.

Or their ability to tie up with MNC pharma for producing variants of their vaccine.
In a similar vein, here's an interesting data on Dr. Reddy's Lab, investing just Rs 100,000 in Dr. Reddy's Labs in 1992, it would have given a whopping Rs 4.89 crores in 2014!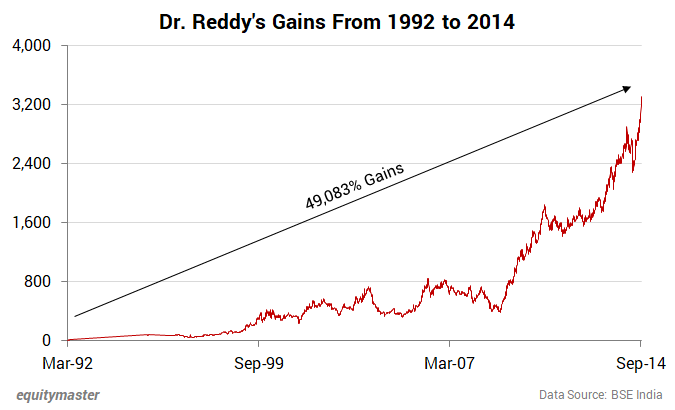 Co-head of Research, Tanushree Banerjee believes, the opportunities in the Rebirth of India are not only more profitable than the ones in 1991 but the gains could come faster too.
How the Stock Markets Reacted to Dr Reddy's Q4FY21 Numbers Today...
Dr Reddy's Lab share price slipped as much as 2% today after it reported numbers. Earlier in the day, it gained 1% after reporting news of vaccine launch in India.
Shares of the company ended lower by 1.7%.
Pharma stocks ended on a mixed note today with shares of Biocon and Aarti Drugs leading the gains.
Dr Reddy's shares have touched a 52-week high of Rs 5,515 and a 52-week low of Rs 3,613.
Over the past one year, Dr Reddy's shares have underperformed the benchmark BSE Sensex by rising 40% as compared to 55% gains in Sensex.
At its current price, Dr Reddy's shares are trading at a P/E ratio of 40 and a P/BV ratio of 5.5.
About Dr Reddy's Lab
Dr Reddy's Laboratories is a leading India-based pharmaceutical company headquartered and having its registered office in Hyderabad, Telangana, India.
Through its three businesses - Pharmaceutical Services and Active Ingredients, Global Generics and Proprietary Products, the company offers a portfolio of products and services, including Active Pharmaceutical Ingredients (APIs), Custom Pharmaceutical Services (CPS), generics, biosimilars and differentiated formulations.
The company has key presence is in India, North America, Russia and CIS countries, Europe and other emerging markets. The company has wide portfolio in several markets and has made several niche and Para IV launches.
For more details about the company, you can have a look at Dr Reddy's fact sheet and Dr Reddy's quarterly results on our website.
For a sector overview, you can read our pharma sector report.
You can also compare Dr Reddy's Lab with its peers on our website.
Dr Reddy's Lab vs Aurobindo Pharma
Dr Reddy's Lab vs Abbott India
To know what's moving the Indian stock markets today, check out the most recent share market updates here.