Inflation, Covid Drive Stocks Lower. What's Next?
May 15, 2021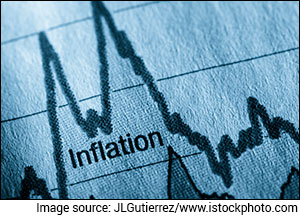 While global stock markets ended their volatile week sharply higher, Indian share markets ended a lacklustre week on a negative note, snapping a three-week winning streak.
Indian stock markets ended flat on Friday as losses in metal and auto stocks offset a surge in FMCG stocks.
The BSE Sensex ended 42 points higher at 48,732 while the NSE Nifty fell 19 points to settle at 14,678.
Over the week, both the BSE Sensex and the NSE Nifty lost 1%.
While Indian markets have logged gains over the past three weeks, they have been stuck in a tight range with the Nifty hovering between 14,200 and 15,000 for well over two months.
Rising covid-19 cases continued to dampen investors' sentiment towards stocks.
Apart from the above, higher-than-expected April inflation print in the US made investors cautious.
Foreign portfolio investors (FPIs) also took a cue from those concerns and sold stocks worth Rs 13.6 bn in the week.
In an update, famed commodity investor Jim Rogers told ET now:
"Whenever something goes straight up like that, it should correct in order to keep the bull market going. So I certainly see the possibility of a correction in commodities."
But it is interesting to note that the second wave of Covid-19 crisis has so far failed to spark a deeper correction like that seen last year.
Even as India reports more than 300,000 infections, the BSE Sensex has declined just 6.6% from a mid-February peak.
That compares with a 23% tumble in the Sensex in March last year when the coronavirus pandemic started.
Limited lockdown restrictions being implemented by state governments have prevented a slide in economic activity like last year.
Let's have a look at how the benchmark indices and BSE sectoral indices performed this week.
Performance of Benchmark Indices
| Index | Weekly Change |
| --- | --- |
| BSE Sensex | -1.0% |
| NSE Nifty | -1.0% |
| BSE Smallcap | -0.1% |
| BSE Midcap | -0.5% |
| BSE 500 | -0.7% |
Data Source: BSE
BSE Sensex Top 5 Gainers this Week
| Company | Weekly Change |
| --- | --- |
| Asian Paints | 8.5% |
| UPL | 7.5% |
| Power Grid | 6.7% |
| IOC | 6.7% |
| Coal India | 4.3% |
Data Source: BSE
BSE Sectoral Indices Performance This Week
| Index | Weekly Change |
| --- | --- |
| BSE FMCG | 1.6% |
| BSE Power | 1.0% |
| BSE Capital Goods | 0.9% |
| BSE Energy | -0.1% |
| BSE Consumer Durables | -0.1% |
| BSE Oil & Gas | -0.3% |
| BSE Auto | -1.6% |
| BSE Telecom | -1.8% |
| BSE Healthcare | -2.0% |
| BSE Teck | -2.2% |
| BSE IT | -2.3% |
| BSE Finance | -2.8% |
| BSE Realty | -3.2% |
| BSE Bankex | -3.2% |
| BSE Metal | -7.7% |
Data Source: BSE
Even metal stocks, which have seen a sharp up move over the past two months, had a horrid time this week.
The BSE metal index slumped over 7.5% for the week as investors aggressively booked profits on concerns that the rally may have run too hot too soon.
Buzzing Stocks that Moved the Most
Dr Reddy's Lab share price fell 2% yesterday after the company reported a 27.5% YoY decline in consolidated net profit for the quarter ended March 2021.
The company also launched Russian-made Sputnik V vaccine in India.
For the week, shares of Dr Reddy's Lab gained 0.4%.
UPL share price rallied over 7% after the agrichemicals company reported stellar earnings, with consolidated profit rising 74% to Rs 13.6 bn.
For the week, UPL shares rallied a whopping 18.2%.
Asian Paints share price rallied 10% in intraday trade on Friday after the company reported better-than-expected earnings for the March quarter, helped by volume growth in the domestic as well as in the international market.
For the week, Asian Paints' shares rallied 8.5%.
Stock of cigarettes and tobacco products company ITC ended higher by 4.5% on Friday, recording sharpest intraday gains in over three months.
ITC has not yet declared the date for the board meeting for consideration of financial results for the quarter and financial year ended March 31, 2021.
For the week, ITC share price gained 3.3%.
Adani group stocks were also in focus after 3 stocks from the group were included in the MSCI India index.
The three stocks included Adani Enterprises, Adani Total Gas and Adani Transmission.
For the week, all three shares ended in red with Adani Total Gas falling the most by 9.3% for the week.
Shares of Welspun India zoomed over 11% after its board approves buyback worth Rs 2 bn at Rs 120 per share.
For the week, Welspun India shares gained 5%.
Apart from the above, shares of PowerGrid InvIT made a muted debut on the bourses on Friday. The stock rose 3% to Rs 103 per share on BSE as against its issue price of Rs 100 per unit.
The initial public offering (IPO) of Power Grid InvIT was open for subscription from April 29-May 3 with a price band fixed at Rs 99-100 per unit. Sponsored by Power Grid Corporation of India, this was the first InvIT to be launched by the government company.
BSE Snapshot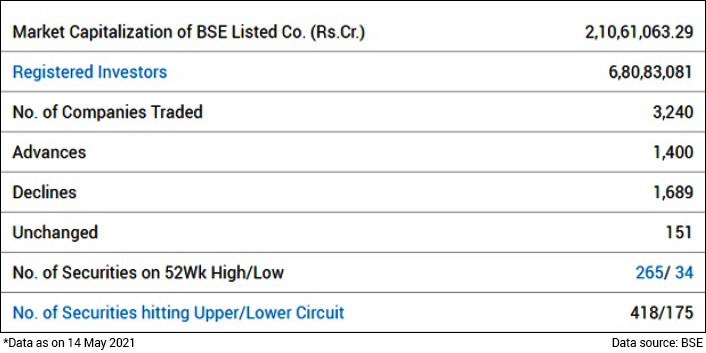 How Gold Performed
Gold prices extended gains on Friday, buoyed by a dip in the US dollar and US Treasury yields after data showed US retail sales unexpectedly stalled in April.
In India, prices of gold and silver declined marginally on Multi Commodity Exchange (MCX) on Akshaya Tritiya day, the day considered by many as an auspicious to make purchases of precious metals like gold and silver believing that it will bring good luck.
Price of gold futures for delivery in June declined as much as 0.2% to Rs 47,343 per 10 grams.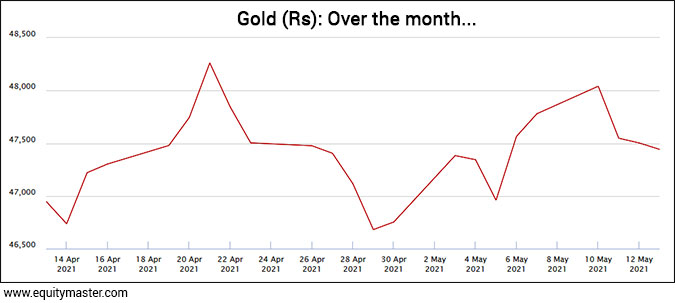 Speaking of bullion, earlier this month, our chartist Brijesh Bhatia shared his views in a video on gold and silver.
Brijesh thinks silver is a better trade for those who are interested in short term profits.
Watch the below video for more details.
What to Expect Going Forward?
With the Covid situation still terrible, Indian share markets are likely to witness volatility in the near term.
Going forward, market participants will closely track the pace of vaccinations, trajectory of active cases, Q4 earnings and management commentary of companies.
They will also track the movement of rupee. This week, a recovering rupee propped up markets, though the Covid-19 situation weighed on investor sentiment, as per traders.
Do watch Brijesh's weekly Momentum Moves video on Monday morning to get your trading week off to a good start.
Happy Investing!