May 16, 2023 - Big Whale Ashish Kacholia Takes Fresh Position in this Multibagger Small-cap Stock
Big Whale Ashish Kacholia Takes Fresh Position in this Multibagger Small-cap Stock
May 16, 2023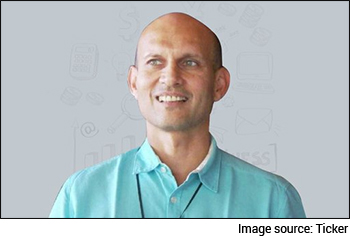 Ashish Kacholia needs no introduction. He is one of the prominent investors in the Indian investing community.
In the March 2023 quarter, Kacholia surprisingly expanded his portfolio significantly, adding a total of four new stocks.
Notably, recent filings of shareholding patterns by Aditya Vision, Inflame Appliances, and Virtuous Optoelectronics have unveiled Kacholia's substantial acquisition in these companies in the March 2023 quarter.
During the weekend, a disclosure from another company revealed Ashish Kacholia's name among the key shareholders' list.
His investments have often been seen as a validation of a company's business model and growth potential, attracting attention from other market participants.
Before we delve deep into the stock details, let's take a look at who Ashish Kacholia is and what are some of his top stock picks.
Who is Ashish Kacholia?
When we talk about successful investors in India, it's impossible not to mention Ashish Kacholia.
Kacholia is known for identifying the best multibagger stocks. He is known as the 'Big Whale' of the Indian stock market.
Over the years, he has picked the best multibagger stocks by looking at the fastest-growing companies from the midcap and smallcap space.
He started his career with Prime Securities in 1993. In 2003, he started Hungama Digital Entertainment Company along with Rakesh Jhunjhunwala. He is also the proprietor of Lucky Securities.
Which multibagger stock did Ashish Kacholia buy and why?
The latest shareholding pattern of DU Digital Global shows that Ashish Kacholia picked up around 5% stake in the small-cap company.
Kacholia bought 4.96% stake or 720,000 shares in the company for Rs 137 million (m).
In the previous quarter, Ashish Kacholia's name was missing from the list of shareholders. Any investor holding more than 1% stake has to report filing to the exchanges.
While we don't know the exact reasons why Kacholia bought a stake in DU Digital Global, there are some reasons we can guess...
Progressive Financial performance
Having an edge over its peers can be one of the reasons for Ashish Kacholia's bullishness. Compared to its peer Sanghvi Brands, the company's revenue was higher, aided by a strong brand presence.
DU Digital Global reported a 330% YoY increase in revenue at Rs 93.9 million (m) for the financial year 2022, while Sanghvi Brands registered revenue of Rs 53.5 m with a growth of 58.8% YoY.
The other reason could be the company's improving financial performance over the years and in recent quarters.
The company's operating profit has more than doubled in the past three years while it has also turned profitable.
DU Digital Global Financial Snapshot (2020-2022)
| Consolidated (Rs in million) | FY20 | FY21 | FY22 |
| --- | --- | --- | --- |
| Revenue | 315.1 | 21.8 | 93.9 |
| Growth (%) | | | |
| Operating Profit | 1.1 | 6.5 | 8.8 |
| OPM (%) | -0.5 | 0.5 | 0.5 |
| Net Profit | -2.4 | 1.5 | 1.3 |
| NPM (%) | -0.6 | 4.8 | 5.6 |
| Debt to Equity (x) | 0.2 | 0.2 | 0.0 |
Data Source: Ace Equity
Apart from this, the company is virtually debt free. It further has an efficient cash conversion cycle of 0 days.
Strong growth prospects
Du Digital Global has demonstrated strong financial performance throughout the first three quarters and is poised to sustain this momentum in the upcoming quarter.
This positive outlook significantly enhances the prospects of surpassing the financial year results of 2021-22.
The robust performance metrics indicate a favorable trajectory for the company, indicating the potential for improved financial outcomes in the current financial year.
In a bid to foster the growth of India's digital ecosystem, the Indian and Singaporean governments have forged an alliance to establish cross-border connectivity between UPI (Unified Payments Interface) and Singapore's PayNow.
This strategic move aims to streamline and expedite cross-border transactions while maintaining cost-effectiveness. The implementation of this synergistic payment infrastructure will further amplify the company's sales trajectory.
Going forward in the next two years, the company plans to expand over 100 centers countrywide.
The company on 27 April 2023 announced bonus shares. The company will issue bonus shares in a ratio of 3:1. This means three bonus shares for every one existing share.
The company will issue a total of 43.5 m equity shares not exceeding Rs 87.1 million (m). The bonus shares will be paid within 2 months by 27 June 2023.
The company's robust growth prospects could likely be among the key drivers behind the bullish stance of ace investors.
How DU Digital Global share price has performed recently
DU Digital Global is only listed on the NSE. Over the past one month, shares of the company have gained 12.5%
In the past one year, shares of the company have gained over 137.5%.
The company touched its 52-week high of Rs 302 on 11 November 2022 and its 52-week low of Rs 79.8 on 17 June 2022.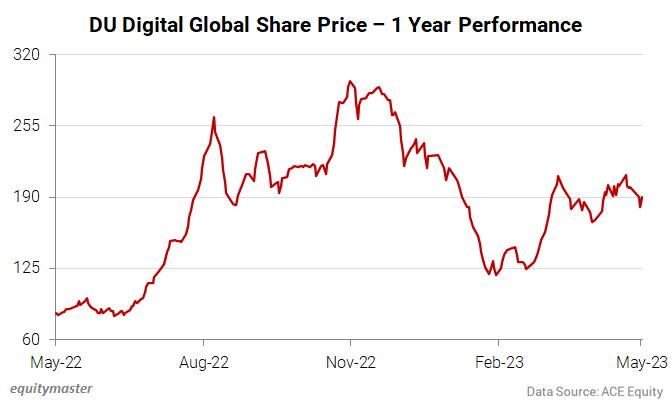 About DU Digital Global
DU Digital Global formerly known as Du Digital Technologies is an Indian IT management company.
DU Digital Global has a worldwide presence and is specialized for administrative and non-judgmental tasks cognate to visa, passport, identity management, and other citizen services for its client governments.
With over 35 centers in various countries, DU Digital Global has successfully processed over 5 million applications since its inception .
It is engaged in outsourcing and providing technology solutions for the government and diplomatic missions. The company offers back-office services to its clients depending on specific needs.
It handles the offline visa application processing and consular support services to the Malaysian diplomatic services like operations.
Investment in securities market are subject to market risks. Read all the related documents carefully before investing
Want to Grow Your Wealth With Safe Stocks?
If you want a simple, safe, and hassle-free approach to long term wealth building...
Without having to worry about negative news or every little downswing in the market...
And without having to worry whether your investments will actually "deliver"...
You must read our note on Blue Chip Stocks now.
Details of our SEBI Research Analyst registration are mentioned on our website - www.equitymaster.com
Disclaimer: This article is for information purposes only. It is not a stock recommendation and should not be treated as such. Learn more about our recommendation services here...
FAQs
Which are the top multibagger stocks in India right now?
As per Equitymaster's Stock Screener, these are the stocks which have given multibagger returns to shareholders -
These companies have been ranked as per the returns they have delivered to shareholders in the last three years on a compounded annual growth rate (CAGR) basis.
Remember, it's not easy to identify future multibagger stocks, but if you do it carefully and with due diligence, you can find high growth companies which can turn out to become future multibaggers.
When should you sell a multibagger stock?
There isn't any standard thumb rule for when to sell a stock. However, you can follow a few guidelines.
You can sell the stock if the company's fundamentals take a turn for the worse. You could also sell if the stock has achieved the predetermined target price.
Other reasons for selling could be if the business has entered a mature or a declining phase in the growth cycle, and for rebalancing your portfolio.
Which stocks can become multibaggers in the long run?
Fundamentally strong stocks that have a long runway for growth and are trading at reasonable valuations have the potential to become multibaggers in the long run.
Apart from the above, another way to look for future multibaggers is to look into the past. Stocks which have delivered the highest returns in the past might be a good place to begin your search.