Beware of Inflated Stock Market Angels
May 17, 2018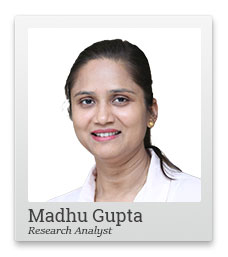 Have you ever watched a cricket match in a stadium?
The cheering crowds... the thunderous applause when the ball hits a boundary can fire the adrenalin of the players to play their best.
This is a big reason why, winning on home ground is easier.
Similarly, rising stock prices also boost adrenalin.
But unlike players whose skills are on full display on the field, stocks are like a running ticker on the screen for many.
And not all of them are backed by solid fundamentals.
But the Fear of Missing Out (FOMO) becomes so overpowering, their actual worth is overlooked as stock prices soar and defy logic.
Vakrangee Ltd was one such stock that multiplied ten times in the past three years.
The company took pride in building the world's largest rural retail network.
Basically, the company provides government related services such as passport, Aadhar, and financial inclusion services to rural and semi urban India through its Vakrangee Kendras.
--- Advertisement ---


What Warren Buffet and This Housewife from Chennai Have In Common…

Warren Buffet was one of the biggest advocates of this secret early on in his investing career (though you won't catch him talking of it now).

Closer home, a Mrs Khanna from Chennai has been using the very same secret for the last few years…with inspiring results. You can read her story here (We think you'll find it pretty interesting).

If you'd like to learn about this secret, and how you can use it — go here to read what Rahul has to say.
------------------------------
In the company's own words, it evolved into an asset light, franchisee-based business model - with the Vakrangee Kendras being central to its success.
Its business model is novel and unique. But equating its valuations to a fast-moving consumer goods (FMCG) company was a bit stretched...but that's the kind of valuations the market gave it.
An FMCG company's underlying product enjoys brand loyalty and stickiness from consumers. The distribution network helps it in reaching out to them.
But Vakrangee's services are neither branded nor repeatable. Once people's incomes start increasing, there won't be any reason for them to visit the kendras.
In other words, Vakrangee's moat was not durable to command such steep valuations.
However, at the pinnacle of its frenzy in January this year, the stock crossed Rs 500 billion in market cap and was trading at astronomical valuations of over 70 times its earnings!
The first chink in Vakrangee's armour appeared when the stock came under the regulator's scanner for corporate governance lapses. More recently, its auditor PWC quit citing irregularities in its account books related to its bullion and jewellery business.
The stock has been in a free fall, wiping out more than 80% of its value.
So the question to ask while investing in a market's favourite stock is... 'return on capital or return of capital'?
By ignoring management quality, an investor not only end up forgoing his returns but also eroding his capital.
The futility of the market chatter has been beautifully summed up by Peter Lynch in his famous book 'One up on Wall Street'...
Logic is the subject that's helped me the most in picking stocks, if only because it taught me to identify the peculiar illogic of Wall Street. Actually, Wall Street thinks just as the Greeks did. The early Greeks used to sit around for days and debate how many teeth a horse has.

They thought they could figure it out by just sitting there, instead of checking the horse. A lot of investors sit around and debate whether a stock is going up, as if the financial news will give them the answer, instead of checking the company.
So cheer the team with the crowds on the playing field but in the stock markets... avoid investing in a company just because others are doing it.
Warm regards,


Madhu Gupta
Research Analyst, ValuePro
Madhu Gupta (Research Analyst), ValuePro has a post graduate degree in both physics and finance. Having worked with India's leading economic research agency, she has a natural flair for numbers and analytics. She brings with her a near-decade long rich experience in the field of finance. A firm believer of the principles of value investing, she looks for robust businesses with durable competitive advantages.