How Do India's Banks Score on Asset Quality?
May 17, 2019
There is a lot of negativity surrounding banks & financial institutions (FIs) these days.
Banks are struggling under the burden of bad loans and stringent provisioning norms. It took the wind out of their earnings sail.
They have been battling one challenge after another ever since the 2008 global financial meltdown.
Falling asset quality, digitisation, disruption from new competitors and demonetisation have all taken their toll.
It wouldn't be wrong to compare them to performers juggling balls in a circus. You are bound to drop some eventually. You may end up focusing too much on the juggling and lose sight of things around you.
Despite juggling to the best of their ability, most of the country's banks are not in the pink of health.
Credit offtake has been poor due to over-leverage in the corporate sector, excess capacity, and the economic slowdown. Also, higher provisioning for bad assets has affected profitability.
--- Advertisement ---


What's Common Between Four of the World's Top Five Companies?

If you look at the four of the world's top five companies by market capitalisation - Apple, Alphabet (Google), Amazon, and Microsoft, you'll find something amazing.

They are using one powerful strategy to scale their business all over the world, without any major costs involved.

Even Nike, Uber and Netflix are using the same strategy to kill their competitors mercilessly.

Want to know which Indian companies are using this strategy?

Click here and see yourself...
------------------------------
But amid all this gloom, should you ignore all banking stocks?
We do not think so.
All these challenges have no doubt tested banks.
But it also brought out the best in them. The cyclical and structural factors still present opportunities for growth and re-rating over the long-term.
The only thing you need to do is find stocks with the best asset quality.
Corporate banks have underperformed retail-focused banks in the last five years. The chart below shows the annualised returns of the last five years.
Corporate Banks Underperform Retail-focused Banks
Retail-focused banks such as HDFC Bank and Kotak Mahindra bank have outperformed.
One of the important reasons for this outperformance is stable asset quality. They could maintain gross NPAs below 1% in the previous five years.
Now, have a look at the table below.
It shows the trend of Net NPA ratio of all the BSE Bankex stocks over the years. The overall picture shows the asset quality has improved.
Net NPAs to Net Advances (in %)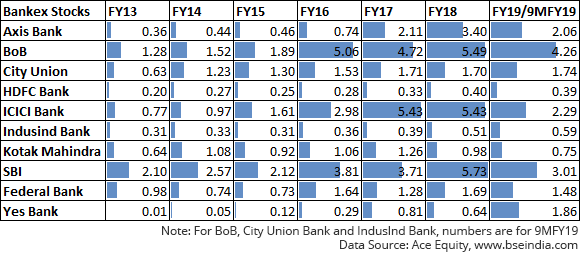 Banks have been facing the unpleasant prospect of seeing a fifth of their corporate exposure turning into bad loans, putting a question mark on the entire sector's profitability.
Even though there are signs of improvement, the NPAs still remain high.
Corporate focused banks such as ICICI Bank, Axis Bank, and SBI are facing serious asset quality issues.
Not to mention, some of these banks had management issues as well. No wonder they not only underperformed retail-focused banks, but also the BSE Bank index as well.
Further, recent tensions in the sector have added to their worries.
On one hand, banks are trying to recover dues using the Insolvency and Bankruptcy Code. On the other, new accounts such as Infrastructure Leasing & Financial Services, Anil Ambani Group entities, Jet Airways, Essel Group, and DHFL are casting a shadow over their future earnings.
Some of these are already in default while others are stressed.
There seems to be no end in sight to mounting bad loan worries for Indian banks.
Owing to these troubles, the housing finance regulator, National Housing Bank, has restrained some entities from lending.
So, the quantum of funds as well as the cost of loans have both shot up.
Smaller public sector banks are struggling to keep themselves afloat.
The few good quality private sector banks are only lending to retail clients, most cautiously.
Banks are Lending Only to the Aam Aadmi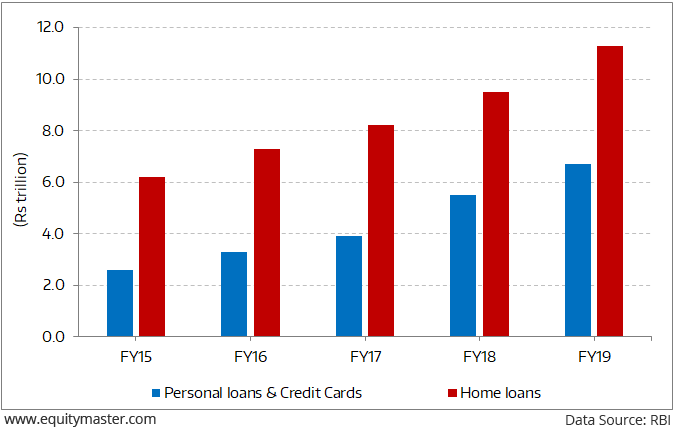 Amid this, it is difficult to expect Indian companies to increase their capacities. Thus, their earnings may not grow at a fast clip.
But co-head of research, Tanushree Banerjee believes there's a silver lining to this cloud.
She noted two important trends in this regard...
The stricter credit norms are making corporates less dependent on bank lending for their capex.
The new NPA recognition norms and insolvency process could put an end to willful defaults.
Here's an excerpt of what she wrote in the latest edition of The 5 Minute WrapUp:
"The cleanup of India's financial sector may be long drawn.

But it will, once and for all, rid the economy of a big growth hurdle.

It won't matter if oil prices keep spooking India's consumer inflation.

It won't matter if domestic interest rates remain steep.

Indian companies will be in a position to manage their cash flows and debt obligations across cycles.

The leaner, well capitalised financial entities will benefit the most."
Warm regards,
Rini Mehta
Rini Mehta is a keen follower of the stock markets and economy. At Equitymaster, she covers daily stock market moves and broader market trends across Indian and global markets.