Why L&T Shares Fell 3% Despite Strong Operating Performance
May 17, 2021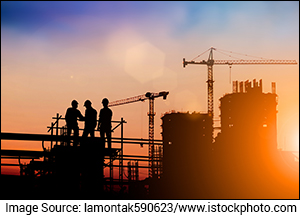 India's largest engineering-to-construction firm, Larsen & Toubro (L&T) on Friday posted a consolidated net profit of 32.9 bn, up 3% year-on-year (YoY), as against Rs 32 bn net profit reported on 31 March 2020.
The profit was slightly below analysts' estimates.
A 9% growth in revenues to Rs 480.9 bn was reported, which also marginally missed the street's expectations.
On a sequential basis, the company's performance was strong, reflecting the impact of unlocking the economy prior to the second wave on project execution.
Its consolidated sales jumped 35% sequentially, while net profit rose by 33%.
In the year-ago quarter, L&T's performance was affected by the nationwide lockdown in March and the slowdown in the economy.
L&T's board also approved a final dividend worth Rs 18 per share for the financial year ended March.
New Order Inflows
The infrastructure company's new order inflows during the quarter slumped 12% YoY to Rs 506.5 bn.
L&T's order book at the end of the financial year stood at Rs 3.3 lakh crore, up 8% YoY. Out of this, the company received fresh orders worth Rs 506.5 bn in the fourth quarter.
Significant orders during the quarter were received in various segments like factories, hydel and tunnel, metros, special bridges, nuclear power, rural water, renewable energy, hydrocarbon, offshore, and minerals and metal.
International orders at Rs 184.4 bn made up 36% of the total order inflow, with receipt of the company's biggest solar PV plant order and transmission line orders.
The company's MD and CEO, SN Subrahmanyan said most of the multilateral agency-funded projected are on as per plan.
"We do see some postponement of projects since some states are fighting Covid-19 and government employees are on Covid duty and some states are coming back from elections."
While the new orders were lower than the year ago period and the preceding three months, they were the second highest in the last four quarters and also higher than the average of at least 12 quarters.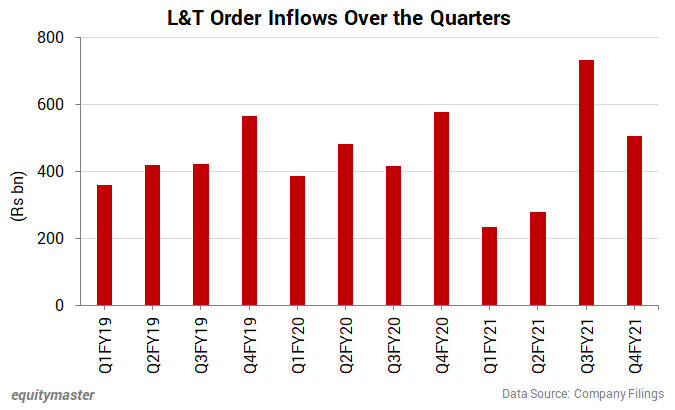 Segment Revenues
The infrastructure segment's revenue rose 3.4% YoY while the metric more than doubled in its power unit.
The segment order book stood at Rs 2,445.7 bn on 31 March 2021, a growth of 13% with receipt of prestigious large value orders.
The IT & technology services segment (comprising L&T Infotech, L&T Technology Services, and Mindtree) recorded customer revenues of Rs 68.5 bn during the quarter January-March 2021, recording YoY growth of 6%.
--- Advertisement ---
WATCH: FULL Replay of Our Urgent Broadcast

The full replay of our urgent broadcast on India's Revival is available for a limited time now.

In case you missed watching our broadcast LIVE...

You can see all the important highlights from our broadcast in this replay.

Please note that we may take this replay off the internet any minute.

So it is highly recommended you watch it immediately.

Click Here to Watch the Replay NOW
------------------------------
The hydrocarbon segment recorded customer revenues of Rs 54.1 bn during the quarter January-March 2021, recording a YoY growth of 9% with peaking of execution activities in the onshore vertical segment.
Financial services segment recorded income from operations at Rs 33.8 bn during the quarter, almost at the same level when compared to the similar quarter in the previous year.
L&T Q4 Segment-Wise Performance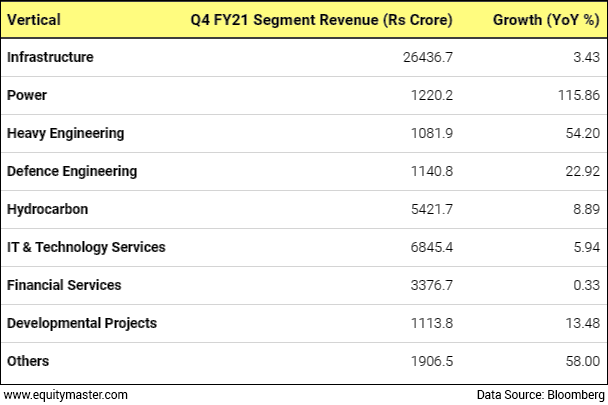 The company refrained from giving a firm guidance. R Shankar Raman, L&T's chief financial officer, said that the company is estimating that it could close FY22 with a growth that could range anywhere up to low to mid-teens in terms of order inflows and revenues.
The company expects margins to remain stable.
However, the company added that if the conditions change materially either positively or negatively, it will apprise the market.
L&T did not give a guidance last year stating that the situation as a result of Covid-19 was new and the company did not know what it was staring at.
BREAKING: It's Good Time to Invest in Gold, but Just Don't Go Blindfolded
L&T's Outlook for the Year Ahead
On outlook for the financial year 2021-22, L&T projected second wave to temporarily impact growth momentum during the first quarter of current fiscal, but economy would recover once the current surge is past its peak and states begin lifting restrictions.
For FY21, L&T reported 21% rise in consolidated net profit to Rs 115.8 bn on a 7% decline in revenues to Rs 1,359.8 bn.
The company attributed the decline in revenues to lockdown related disruptions in the first two quarters of the year and new norms of social distancing, quarantine procedures, and safety protocols.
These were coupled with supply chain disruptions which hurt the progress of executing projects. However, the severity declined throughout the year.
At the post-earnings conference call, Subrahmanyan said, "We are very excited about the future" with a level of certainty that may be hard to find at a time when Indian economy is affected by a severe second wave of the Covid-19 pandemic.
L&T said the backlog of orders could see it report up to low-to-mid teens growth in both sales and order flows in this financial year.
Here's an excerpt from The Economic Times:
The "careful optimism" of the company, which won one of the biggest infrastructure orders in the country last year related to a part of the bullet train project, does not factor in the possibility of a third wave which government experts have warned could happen.

Instead L&T, much like most other companies, expects the second wave to subside without doing any more damage in the coming months paving the way for gradual return of normalcy to the economy as vaccination picks up.
Recent Order from Chennai Metro Rail
The company also informed exchanges on Friday that its construction arm has bagged an up to Rs 50 bn contract from Chennai Metro Rail Corporation.
"The business has secured an order from Chennai Metro Rail Corporation Ltd (CMRL) to construct nearly 12 km twin bored tunnels from Kellys station to Taramani Road Junction station," the company said in a regulatory filing.
L&T did not provide the exact value of the contract, but as per its project classification, large orders are those valued between Rs 25 bn and Rs 50 bn.
Comparing L&T with France's Vinci
Last month, French infrastructure group Vinci posted a 5% rise in first-quarter sales, helped by a rebound of its construction business even as its airport arm suffered from the Covid-19 crisis.
Q1 revenues were reported at € 10.2 bn, up 5% YoY. In comparison, L&T had reported a 9% growth in revenues to Rs 480.9 bn.
Vinci's international business accounted for 61% of the order book versus 57% at the end of March 2020. In comparison, L&T's international orders at Rs 184.4 bn made up 36% of the total order inflows.
Equitymaster's View on the Infrastructure Sector and L&T
We reached out to Tanushree Banerjee, Co-Head of Research at Equitymaster, and editor of the premium stock recommendation service, StockSelect, for her view on the infrastructure sector and L&T.
Here's what she has to say...
'While the infrastructure sector is headed for a big upswing in terms of size and frequency of orders, investors must be extremely careful when it comes to selecting stocks.

They must verify the execution track record of the company and must be vary of companies with high debt levels or poor transparency in financials.'
Here's Tanushree on the prospects of L&T...
'In the post Covid-19 phase, private capex and infrastructure investments will be instrumental for revival of economy and corporate earnings.

I believe L&T can sustain its dominant position by judiciously bidding for projects across segments such as infrastructure (power, roads), urban infrastructure, defence manufacturing, and nuclear.

More importantly, the company is on track to keep its balance sheet lean and create value from profitable subsidiaries in the technology space.'
How Stock Markets Reacted to L&T Q4 Results...
L&T share price fell over 3% in early trade today despite reporting decent Q4 results.
The 52-week high and 52-week low of the stock of L&T is Rs 1,593 and Rs 792, respectively.
In 2021, the share price of L&T is up around 9%. Over the past one year, it has gained 70%.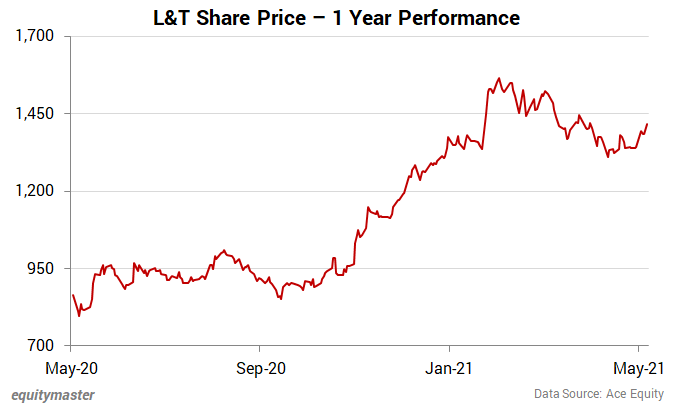 At the current price of Rs 1,384, the P/E ratio for L&T stands at 45 times.
About Larsen & Toubro (L&T)
Larsen & Toubro is engaged in core, high impact sectors of the economy and its integrated capabilities span the entire spectrum of design to deliver.
L&T is major technology, engineering, construction, manufacturing, and financial services conglomerate, with global operations.
L&T addresses critical needs in key sectors - Hydrocarbon, Infrastructure, Power, Process Industries, and Defence - for customers in over 30 countries around the world.
For more details about the company, you can have a look at L&T's factsheet and L&T's quarterly results on our website.
For more details about the engineering sector, you can check out the engineering sector report on our website.
You can also compare L&T with its peers on our website.
To know what's moving the Indian stock markets today, check out the most recent share market updates here.