Adani Green Energy in Talks for SoftBank's SB Energy? Stock Rallies 5%
May 17, 2021
Shares of Adani Green Energy are locked in the 5% upper circuit band today after it was reported that the company is in advanced talks to acquire privately-held SB Energy Holdings.
Shares rose 5%, touching their highest level in more than a month.
This follows the collapse of a plan to sell SoftBank's entire 80% stake in SB Energy to Canada Pension Plan Investment Board (CPPIB) for an estimated US$ 550 m.
Reports suggest that talks between both sides have moved to advanced stages over the last fortnight, ever since it became evident that the CPPIB would not back down or accept several of their terms that were increasingly getting difficult to meet.
These included meeting certain project commissioning deadlines, securing new businesses, bond issuance as well as SoftBank bearing any future liquidated damages liability for acquiring the stake.
Adani Green Exploring a Buyout
Shareholders of SB Energy have approached the Adani Group with a proposal to buy them out from their struggling renewable energy venture, as per sources.
Owned by SoftBank Group Corp. and Bharti Enterprises, this deal could value SB Energy, at more than US$ 650 m, as per people close to the matter.
Sunil Mittal, chairman Bharti Enterprises, is driving the negotiations currently with Gautam Adani, chairman of the energy to ports and coal trading group.
About SB Energy
Set up in 2015, SoftBank Group Corp's solar power producer SB Energy is an 80:20 alliance between Softbank Group and Bharti Enterprises that had a target of setting up 20 gigawatts (GW) of clean energy projects with an investment of US$ 20 bn over 10 years.
SB Energy sets its core business in three categories:
The watts business that generates power using natural energy
The bits business that combines renewable energy with AI and IoT to build energy platforms
The mobility business that combines renewable energy with battery cells of electric vehicles (EVs), etc. to develop services.
Based on these three categories, the company expands its business domains and helps to spread the use of renewable energy.
What this Deal Could Mean for Adani Green Energy
Note that Adani Green Energy has been looking at expanding its portfolio via brownfield acquisitions to reach its 25,000 megawatts (MW) capacity target by 2025.
Adani Green has a total capacity of 15,240 MW worth of renewable energy projects across the country, out of which 3,470 MW is currently operational.
SB Energy's 4,000 MW capacity, half of which is operational and another half in the pipeline, would help Adani Green to bulk up its portfolio.
Moreover, 3,700 MW worth of projects are under active development, but construction hasn't started on these as of yet.
As per industry experts, the US$550 m CPPIB offer has set a valuation benchmark for SB Energy. They also believe that Adani may seek to buy 100% of the company, buying out both Softbank and Bharti.
--- Advertisement ---
WATCH: FULL Replay of Our Urgent Broadcast

The full replay of our urgent broadcast on India's Revival is available for a limited time now.

In case you missed watching our broadcast LIVE...

You can see all the important highlights from our broadcast in this replay.

Please note that we may take this replay off the internet any minute.

So it is highly recommended you watch it immediately.

Click Here to Watch the Replay NOW
------------------------------
Adani Group's Recent Acquisitions
The Adani group is constantly looking to grow its green energy portfolio.
Recently, it bought Sterling and Wilson Pvt. 75 MW operating solar projects and Toronto-based SkyPower Global's 50MW solar project in Telangana.
Another group company - Adani Enterprises has partnered EdgeConneX to develop 1 GW of data centre capacity over the next decade that will be powered by renewable energy.
India's Green Economy
There has been sustained interest in India's green economy despite the turmoil caused by the coronavirus pandemic.
India is running the world's largest clean energy programme to achieve 175 GW of renewable capacity, including 100 GW of solar power by 2022.
According to the Central Electricity Authority - India's apex power sector planning body, India will require 280 GW from solar projects by 2030 to meet its power requirement of 817 GW by then.
Equitymaster's View on Adani Green Energy
We reached out to Tanushree Banerjee, Co-Head of Research at Equitymaster, and editor of the premium stock recommendation service, StockSelect, for her view on the company.
Here's what she has to say...
"Power projects are backed by long-term purchase agreements which helps companies raise substantial debt. But even then, with a debt-to-equity ratio of 9.2 times as of March 2021, Adani Green's balance sheet is amply bloated.

At the same time, profitability remains poor. Adani Green has shown some profits during the fourth quarter of FY21. However, its bottom line remains extremely vulnerable.

With return ratios in low single digits, Adani Green's valuations are certainly in the bubble space."
A few months back, Rahul Shah also shared his views on the company in an edition of Profit Hunter.
BREAKING: It's Good Time to Invest in Gold, but Just Don't Go Blindfolded
Here's an excerpt of what Rahul wrote...
Well, there are companies that value investors don't like to touch even with a 10-foot pole.

Adani Green is certainly one of the top contenders for this rare honour.

Don't get me wrong. I totally understand why investors love this company. They see it as one of the prime beneficiaries of the disruptive shift in the energy landscape.

A shift where traditional hydrocarbon-based energy will be replaced by green energy like solar and wind.

However, this investor exuberance seems to be overdone in my view.

Even if the company logs in very high growth in earnings over the next few years, valuations have run very far ahead of its fundamentals.
You can read Rahul's entire article on this topic here: Is this Sector the Best Contrarian Bet Right Now?
He has also made a video on YouTube analysing Adani Green Energy.
Bigger than most PSUs and up almost 10x in the last one year, Adani Green's stock has seen a meteoric rise.
In the video, Rahul talked about whether the company will continue to rise or is it all a big, speculative bubble that can burst any time.
How the Stock Markets Reacted to the News
Shares of Adani Green Energy opened at Rs 1,139 on the BSE and at Rs 1,142.5 on the NSE and are locked in the 5% upper circuit limit today.
It touched its 52-week high of Rs 1,341.6 on 24 March 2021, and its 52-week low of Rs 219 on 6 May 2020.
The stock has gained more than 400% in the last year and more than 3,500% since the company got listed on the exchanges.
At its current price, it is trading at a P/E ratio of 466.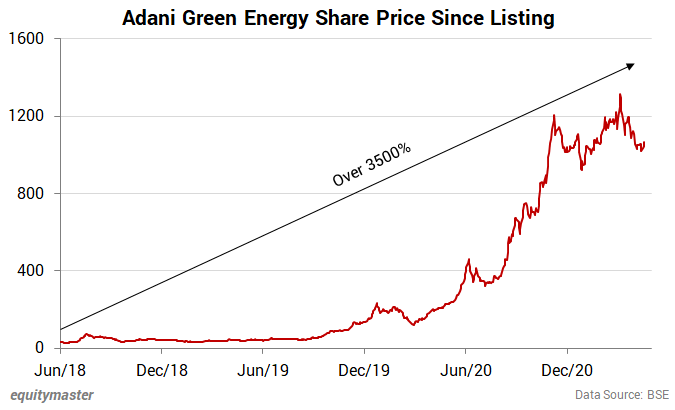 About Adani Green Energy
Adani Green Energy Limited (AGEL) is an Indian renewable energy company headquartered in Ahmedabad, Gujarat. It is owned by the Indian conglomerate Adani Group.
The company operates the Kamuthi Solar Power Project, one of the largest solar photovoltaic plants in the world.
Currently, the company manages wind energy and solar energy power plants in 11 states of India.
In May 2020, AGEL won the world's largest solar bid worth US$ 6 bn by the Solar Energy Corporation of India (SECI). The bid entails AGEL building an 8 GW photovoltaic power plant.
For more details about the power sector, you can have a look at the power sector report on our website.
And to know what's moving the Indian stock markets today, check out the most recent share market updates here.