Bharti Airtel Q4: Back to Quarterly Profit on Subscriber Additions & Data Usage
May 18, 2021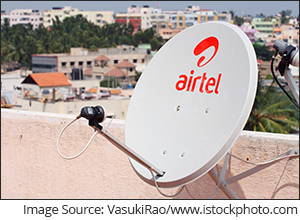 Telecom major Bharti Airtel on Monday reported a 11.1% quarter-on-quarter (QoQ) fall in its consolidated net profit to Rs 7.6 bn.
Profit was sharply below analysts' estimates.
In the December quarter (Q3FY21), profit stood at Rs 8.5 bn. The company had posted a loss of Rs 52.4 bn during the same period a year ago.
Net profit fell sequentially despite the company reporting an exceptional gain of Rs 4.4 bn for the quarter and a near-doubling of other income to Rs 839 m.
Bharti Airtel's consolidated revenue from operations fell 3% sequentially to Rs 257.5 bn, which was also below estimates.
Revenue performance was dragged down by company's India mobile operations where sales declined 4.7% to Rs 140.8 bn in the reported quarter.
The country's second largest telecom operator registered drop in both net profit and revenue despite increase in subscriber bases.
EBITDA stood at Rs 125.8 bn, up 28.9% YoY and EBITDA margin was at 48.9%, an expansion of 647 basis points (bps).
--- Advertisement ---
Replay Available: The Great Indian Wealth Project

Watch Tanushree Banerjee reveal the details of first stock to potentially accumulate Rs 7 crore long-term wealth.




Watch Now
------------------------------
Key Takeaways from Bharti Airtel's Q4 Results...
ARPU - The Sunil Mittal-led telecom operator reported an average revenue per user (ARPU) of Rs 145 per user, a 13% sequential fall. It was Rs 166 in Q3FY21.
Many analysts had expected the number to be around Rs 154 per user.
The fall in ARPU came as the interconnect usage charge, the amount paid by a telco to another when its users make voice calls to subscribers of the other network, went to zero on 1 January.
Earlier, country's largest telecom operator, Reliance Jio Infocomm's had also reported disappointing ARPU for the March quarter.
Bharti Airtel's ARPU and data usage per customer continues to be ahead of rival Reliance Jio and the best in the industry.
Bharti Airtel's APRU Trend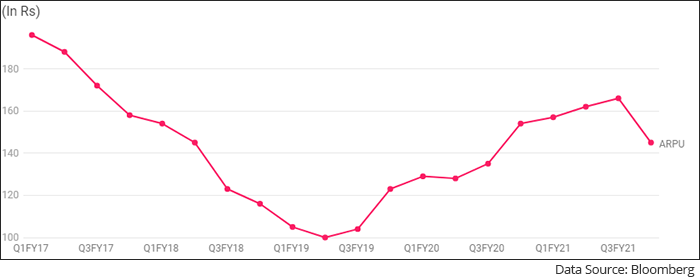 Highest Sales in Home Business - Bharti Airtel's home connectivity business reported a 5% YoY revenue growth and reported the highest sales in three years, largely reflecting the effect of rising work from home in urban India.
The company's focus on re-calibrated offerings and launch of Xstream bundles to accelerate penetration has resulted in the highest ever net addition of 274,000 to reach a total base of 3.07 m.
Postpaid Business - Bharti Airtel said it continues to see strong traction in its post-paid business also and added 63 lakh post-paid customers in Q4 and 19 lakh over the last four quarters.
Watch the Replay: The Smallcap Revival Summit
Geographical Revenues - The company's India's revenues grew 17.5% YoY on a comparable basis and 9.6% YoY on a reported basis, while Africa's revenues rose 21.7% YoY.
Revenues from mobile services rose 19.1% YoY, on a comparable basis, led by strong customer additions.
Bharti Airtel added another 13.7 m new 4G users in the March quarter after 12.9 m new subscribers joined in the December quarter.
Here's a table comparing Bharti Airtel's quarterly and yearly performance and the company's operational highlights.
Bharti Airtel - Performance at a Glance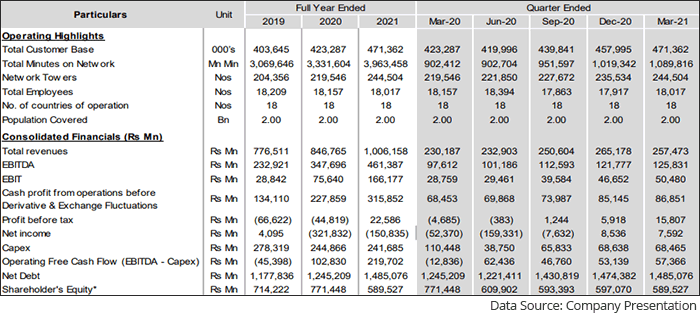 Airtel Africa's Net Profit Doubles
Earlier this month, the company's Africa business reported a net profit of US$ 154 m in the fourth quarter this fiscal which doubled YoY and jumped 32.7% sequentially on the back of strong growth in data and mobile money revenue.
Revenue rose 15.4% to US$ 1.04 bn.
Airtel's subscriber base across 14 countries in Africa declined 1% sequentially to 118.2 m users but monthly churn rate dropped to 3.9%, the lowest in the last five years. For the whole year, subscriber base grew 6.9%.
The ARPU grew 6.6% to US$ 2.9 in the January-March period.
Challenges amid Second Wave
Commenting on the challenges posed by the second wave, Gopal Vittal, MD and CEO of Bharti Airtel said:
"Our services are the digital oxygen that the country needs in this challenging time as we experience a vicious second wave of COVID-19.

I am grateful to our people who are doing all they can to strengthen our network experience and serve our customers braving massive odds.

We recognize the criticality of our role as a telecom operator in keeping our customers and nation connected in such times. Our focus continues to be on delivering uninterrupted services and great end user experience while ensuring safety of our employees and partners."
He added that the company is seeing strong momentum in homes business with 2.74 lakh net adds. The enterprise segment delivered double-digit growth.
The company's digital assets continue to scale, and it is beginning to see strong traction in monetisation of these assets.
Comparing Bharti Airtel with AT&T and Verizon Communications
AT&T's consolidated revenues for the first quarter totaled US$ 43.9 bn versus US$ 42.8 bn in the year-ago quarter, up 2.7%.
The company's net income was US$ 7.5 bn versus US$ 4.6 bn in the year-ago quarter.
AT&T posted strong wireless subscriber growth while showing that its WarnerMedia business is continuing its recovery from effects brought on by the pandemic.
Meanwhile, Verizon Communications, which belongs to the Zacks Wireless National industry, posted revenues of US$ 32.9 bn for the quarter ended March 2021, a 4% growth. This compares to year-ago revenues of US$ 31.6 bn.
The company reported net income of US$ 5.4 bn, an increase of 25.4% from first-quarter 2020.
Equitymaster's View on the Telecom Sector
We reached out to Tanushree Banerjee, Co-Head of Research at Equitymaster, and editor of the premium stock recommendation service StockSelect, for her view on the telecom sector.
Here's what she has to say...
"While the telecom sector can have huge upsides due to 5G, investors must be very selective about the stocks. Higher-than-expected investments in spectrum acquisition or 5G deployment remain a risk.

Other than a few telecom companies, most others do not have sufficient balance sheet strength".
In a separate vein, last month in April, Rahul Shah had recorded a video analyzing the stock of Bharti Airtel.
In the video, Rahul discussed whether Bharti Airtel's valuations are running ahead of fundamentals or the stock still seems reasonably priced from a long term perspective.
How the Stock Markets Reacted to Bharti Airtel Q4FY21 Numbers Today...
Bharti Airtel share price fell nearly 2% today, a day after the company's net profit for the March quarter fell 11% sequentially.
The company's share price had lost 4% in five straight days of decline ahead of the earnings.
The stock has touched a 52-week high of Rs 623 and a 52-week low of Rs 394.
Shares of the company are presently trading around the same levels they were trading a year ago.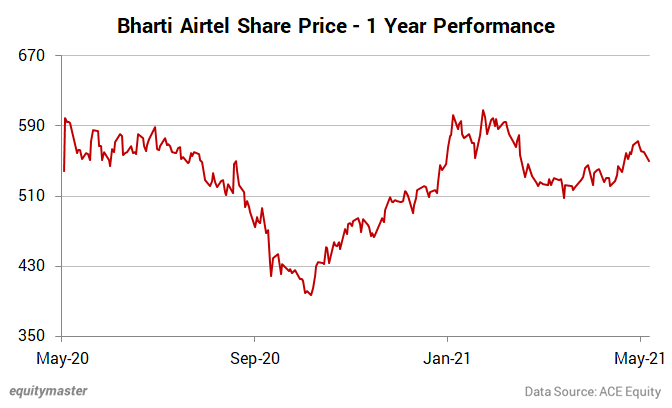 About Bharti Airtel
Headquartered in India, Airtel is a global telecommunications company with operations in 18 countries across South Asia and Africa. The company ranks amongst the top three mobile operators globally and its mobile network covers a population of over two bn people.
Bharti Airtel is India's largest integrated telecom provider and the second largest mobile operator in Africa.
Airtel's portfolio includes high speed 4G/4.5G mobile broadband, Airtel Xstream Fiber that promises speeds upto 1 gbps, converged digital TV solutions through the Airtel Xstream 4K Hybrid Box, digital payments through Airtel Payments Bank as well as an integrated suite of services across connectivity, collaboration, cloud and security that serves over one million businesses.
Airtel's OTT services include Airtel Thanks app for self-care, Airtel Xstream app for video, Wynk Music for entertainment and Airtel BlueJeans for video conferencing.
In addition, the company has forged strategic partnerships with hundreds of companies across the world to enable the Airtel platform to deliver an array of consumer and enterprise services.
For more details about the company, you can have a look at Bharti Airtel's factsheet and Bharti Airtel's quarterly results on our website.
For more details about the telecom sector, you can check out the telecom sector report on our website.
You can also compare Bharti Airtel with its peers on our website.
Bharti Airtel vs Vodafone Idea
To know what's moving the Indian stock markets today, check out the most recent share market updates here.