Colgate Q4 Results Doesn't Excite Investors Despite Strong Operational Performance
May 18, 2021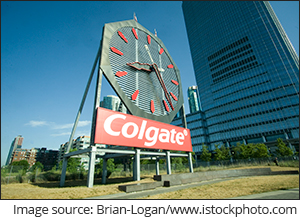 FMCG company Colgate Palmolive has posted a 54.1% jump in its net profit at Rs 3.1 bn for the quarter ended 31 March 2021 (Q4FY21), helped by higher sales.
In the year ago period, the company had posted a net profit of Rs 2 bn.
The company's net sales went up by 20.2% to Rs 12.8 bn during the quarter under review, as against Rs 10.6 bn in the year-ago period.
EBITDA increased as much as 60% year-on-year (YoY) to nearly Rs 4.2 bn.
The company's EBITDA margin was the key surprise element, rising by 833 basis points YoY to 32.9%. This is the highest in its history. Colgate's EBITDA margin stood at 30.1% in the December quarter.
Colgate's Q4FY21 earnings exceeded analysts' expectations by a good margin.
Here's a table comparing Colgate's quarterly performance on key parameters.
Colgate Financial Performance
| (Rs m) | Q4FY21 | Q4FY20 | Q3FY21 | YoY (%) | QoQ (%) |
| --- | --- | --- | --- | --- | --- |
| Net Revenues | 12,832 | 10,713 | 12,319 | 20% | 4.20% |
| Cost of Materials | 3,426 | 3,198 | 3,077 | 7% | 11.30% |
| Gross Margin | 8,683 | 6,926 | 8,594 | 25% | 1.00% |
| Profit before tax | 3,814 | 2,344 | 3,330 | 63% | 14.50% |
| Tax | 667 | 302 | 847 | 121% | -21.30% |
| Profit after tax | 3,147 | 2,042 | 2,483 | 54% | 26.70% |
Data Source: Company Filings
Conference Call Highlights
Colgate witnessed double digit growth across key categories.
Toothbrush category, which was significantly impacted in H2FY20, revived strongly. While rural growth continued to sustain, urban witnessed strong recovery.
--- Advertisement ---
FREE Event on Equitymaster's New Project

On July 29 , we are holding a FREE event to reveal Equitymaster's Great Indian Wealth Project.

At this event, we'll reveal the details of your first stock for a potential Rs 7 crore in long-term wealth.

Seats for this event are filling up fast.

Since there are limited seats, we urge you to register at the earliest.

Click here for free sign-up
------------------------------
Ram Raghavan, Managing Director at Colgate-Palmolive, said the company continues to witness strong momentum across all categories.
"Our focused approach to executing our strategic initiatives has been instrumental in our continued abilities to sustain our growth momentum versus year ago as well as on a sequential basis."
Colgate expanded its shelf offerings with new products like toothpaste for diabetics, Colgate Vedshakti Spray and Oil Pulling.
The company also launched Colgate Magik, the first augmented reality toothbrush.
In the conference call, the company said premiumisation trend is likely to continue going ahead. Premium products constitute 30% of Colgate's business.
Colgate charcoal is gaining traction in the premium category.
In order to enhance its rural presence, Colgate has launched a loyalty program, 'Muskaan', to engage with wholesalers, strengthen relationships and increase its market share in this channel.
The company said this initiative has gained tremendous traction.
Colgate's ecommerce Business Over the Years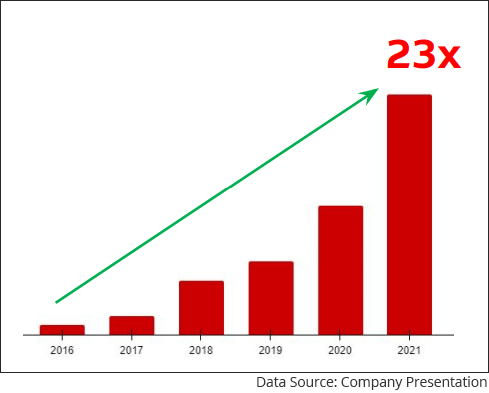 Market Share in Toothpaste Category
Colgate said that it continues efforts to re-gain lost market share in the toothpaste category. During the quarter, the company gained 50bps and 20bps market share in volume and value terms.
New launches and continuous investment in brand building helped the company to post sequential improvement.
Colgate recently launched Asia's first diabetics toothpaste and Naturals toothbrush portfolio - Super Flexi Salt and Zig Zag Turmeric, which are already gaining traction.
Colgate Diabetics witnessed 20% repeat rate, despite it not being a family toothpaste.
Further, it also launched Vedshakti oil and Vedshakti mouth protection spray, which is available in 100 thousand outlets and witnessing repeat orders.
Free Signup: The Smallcap Revival Summit
FY21 Highlights
For FY21, Colgate saw 7.2% growth in sales to Rs 48.1 bn.
FY21 at a Glance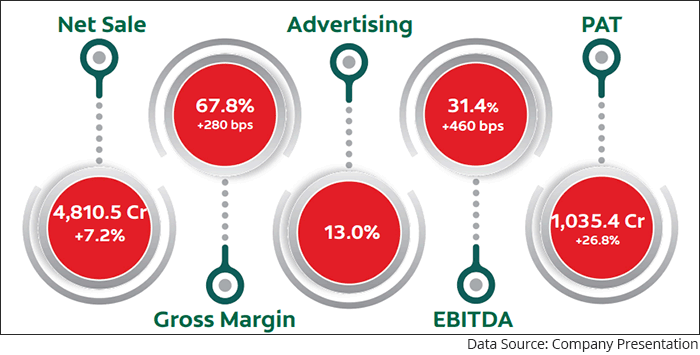 Going ahead, government efforts to increase farmer's wages and focus on rural infrastructure should boost oral care category.
However, analysts suggest that increase in competition and better product offerings by competitors like Dabur will remain a key challenge.
Consistency in Dividend Payout
Colgate has a consistent track record of rewarding shareholders by paying dividends.
For FY21, the company has paid out dividends totaling Rs 38 per share.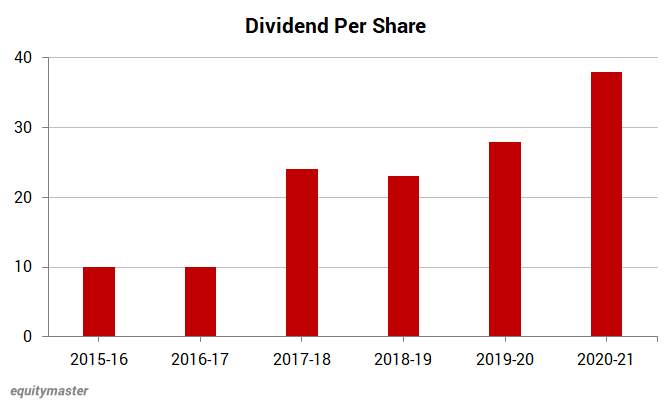 Colgate Shareholding Pattern as on 31 March 2021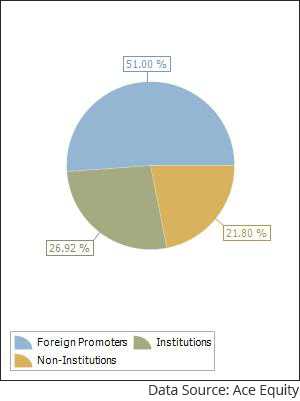 Equitymaster on FMCG Stocks...
Here's an excerpt of what Aditya Vora, Financial Writer at Equitymaster, wrote about FMCG stocks in one of the editions of Profit Hunter...
When the markets bottomed out in less than a month and started rising, the pundits who experienced the 2008 crash, said it was a 'temporary rise' or a 'dead cat bounce'. They said the fall would accelerate.

In hindsight, they were wrong ...

We saw the fastest recovery in the history of financial markets.

The talk of the town during the crash was portfolio rebalancing to defensive plays. Stocks like HUL, Marico, Dabur, Britannia, etc.

And rightly so.

After all, while sitting at home, it was natural to consume more biscuits and chyawanprash.

These resilient FMCG stocks fell the least and rallied the most till the lockdown was lifted in June when life started to crawl back to normalcy.
You can read Aditya's entire article on this topic here: Is History Repeating Itself in the Stock Market?
--- Advertisement ---
Predict Stock's Next Move Using Volumes

Volumes play a key role in identifying emerging trends.

They help you track activities of big smart investors.

Watch this video to learn how to use volumes to identify trades with astonishing risk:reward profile.
------------------------------
How Stock Markets Reacted to Colgate's Q4 Numbers
Shares of Colgate opened 0.6% higher today but erased gains later.
Colgate share price ended the day down by 1%.
FMCG stocks ended on a mixed note today with shares of Godrej Consumer and Marico among the top losers.
Colgate share price has touched a 52-week high of Rs 1,676 and a 52-week low of Rs 1,257.
Over the past one year, shares of Colgate have gained 14% as compared to 67% gains in the Sensex.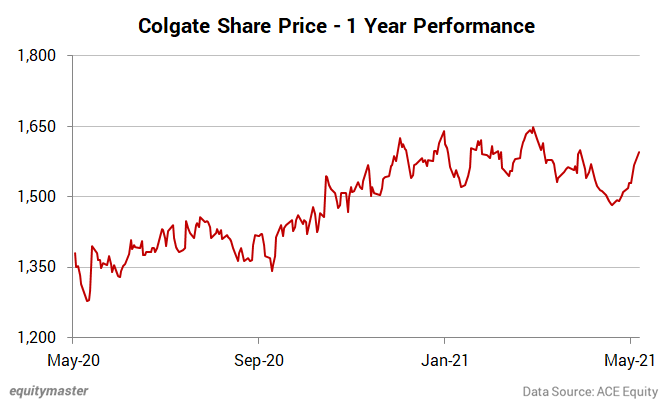 At the current price of Rs 1,580, the P/E ratio for Colgate stands at 46.5 times.
About Colgate-Palmolive
Colgate-Palmolive (India) is India's leading provider of scientifically proven oral care products.
The range includes toothpastes toothpowder toothbrushes and mouthwashes under the 'Colgate' brand as well as a specialized range of dental therapies under the banner of Colgate Oral Pharmaceuticals.
The company also provides a range of personal care products under the 'Palmolive' brand name.
Colgate-Palmolive (India) was incorporated in the year 1937. In the year 1983, the company introduced their successful product Colgate Plus toothbrush in the market.
In the year 1988, the company received a licence for producing 24,000 tonnes per annum of fatty acids.
Colgate-Palmolive Company USA is the company's ultimate holding company.
For more details about the company, you can have a look at Colgate's fact sheet and Colgate's quarterly results on our website.
For a sector overview, you can read our FMCG sector report.
You can also compare Colgate with its peers on our website.
Colgate vs Pidilite Industries
To know what's moving the Indian stock markets today, check out the most recent share market updates here.