Torrent Pharma Beats Expectations: Stock Gets a Boost
May 19, 2021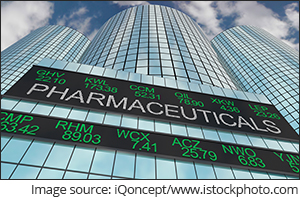 Torrent Pharma on Tuesday reported a 3.2% rise in its consolidated net profit to Rs 3.2 bn for the quarter ended 31 March 2021.
The company had posted a net profit of Rs 3.1 bn in the same period last year.
The profit was mainly on the back of continued recovery in the India business, and cost control measures.
Revenues stood at Rs 19.4 bn for the quarter under review. It was Rs 19.5 bn for the same period a year ago.
Here's a table comparing Torrent Pharma's quarterly performance on key parameters.
Torrent Pharma Financial Performance
| (Rs m) | Q4FY21 | Q4FY20 | Q3FY21 | YoY (%) | QoQ (%) |
| --- | --- | --- | --- | --- | --- |
| Net Revenues | 19,370 | 19,460 | 19,950 | 0% | -2.90% |
| Total Expenses | 15,930 | 16,680 | 16,460 | -4% | -3.20% |
| Profit before tax | 3,830 | 2,930 | 3,570 | 31% | 7.30% |
| Tax | 590 | -210 | 600 | 381% | -1.70% |
| Profit after tax | 3,240 | 3,140 | 2,970 | 3% | 9.10% |
Data Source: Company Filings
FY21 Highlights
For the financial year ended March 2021, net profit of the company was Rs 12.5 bn as against Rs 10.3 bn in 2019-20.
Revenue from operations for the fiscal year stood at Rs 80.1 bn. It was Rs 79.4 bn in the previous fiscal year.
Torrent Pharma's Q4 results were in line with analyst's estimates. Strong trends in India and Germany offset weak US numbers.
--- Advertisement ---
Revealing Tomorrow at 5 PM

Details of Top 3 'Crorepati' Stocks for 2022

Use this link to join the Top 3 Stocks for 2022 MEGA summit tomorrow at 5 PM.

Richa will be revealing the details of 3 'Crorepati' stocks that are potentially set to soar high in the coming years.

If you haven't registered for the summit, please use the link below to save your spot right away.

Top 3 Stocks for 2022 MEGA Summit - FREE Sign Up Here
------------------------------
The company's US revenue declined by 30% YoY owing to erosion in the base business and the impact of product discontinuations in the sartan portfolio.
US sales were the lowest quarterly sales in last four years.
Performance in Germany was decent despite the impact of Covid-related disruptions. The recovery in Brazil surprised on the upside and was driven by volume traction in key brands.
Revenue Summary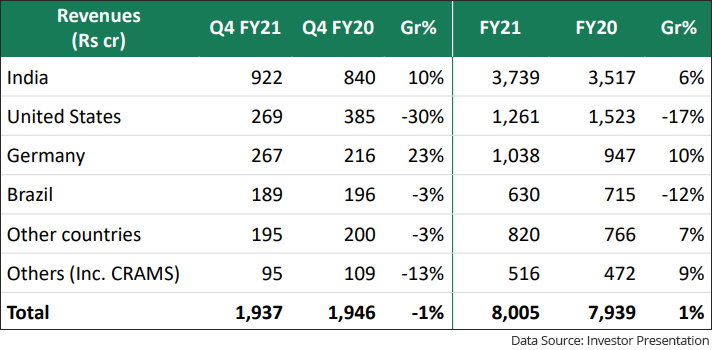 The company generated high free cash flows (FCF) and also repaid debt of Rs 9 bn in FY21. The management also guided for similar debt reduction in FY22.
The company's board has recommended a final dividend of Rs 15 per equity share of Rs 5 each.
Plans to Raise Rs 50 bn
The company informed exchanges that its board has approved raising funds up to Rs 50 bn (US$ 682 m).
The company will seek to raise the amount by issuance of equity shares including convertible bonds through Qualified Institutional Placement (QIP) and/or depository receipts or any other modes.
However, it did not specify the reason for raising the capital.
Introducing: Equitymaster's Brand New Stock Screener
Actively Participating in Acquisitions
Torrent Pharma is known for its actively acquisitions. Here are some of its acquisitions over the past few years.
2018: Torrent Pharma acquired US-based generic pharmaceuticals company Bio-Pharm, Inc. for an undisclosed amount.
2017: The drug maker acquired the branded formulations business of Unichem Laboratories in India and Nepal for Rs 36 bn.
In the same year, it had purchased a portfolio of brands from Novartis India.
2016: The company bought an active pharmaceutical ingredient facility of Hyderabad-based Glochem Industries for an undisclosed amount.
2015: Torrent Pharma acquired Zyg Pharma, which manufactures various dermatological formulations like creams, ointments, gels, lotions and solutions, for an undisclosed amount.
Agreement with Eli Lilly for Covid-19 Drug in India
Earlier this month, Torrent Pharma announced that it has entered into a voluntary licensing agreement with Eli Lilly to make the Covid-19 drug Baricitinib in India.
Under the royalty-free, non-exclusive voluntary licensing agreement, Eli Lilly has provided the license to manufacture and distribute Baricitinib to Torrent for India along with Lilly's other license partners.
Other major firms have also entered licensing agreements with Eli Lilly for Baricitinib. The companies include Cipla, Dr Reddy's Lab, Sun Pharma, Lupin, MSN Labs, among others.
Torrent Pharma said the agreement will help ensure wider reach and access of the drug to patients in India and further adds to the company's efforts in helping patients affected by the pandemic.
--- Advertisement ---
[Alert] Sell These 3 Stocks Immediately

These 3 stocks are ticking time bombs in your portfolio.

It is very likely that you could be owning these 3 overvalued...

fundamentally weak... ready to crash stocks... in your portfolio today.

Because many stock brokers have painted rosy pictures of these stocks. But the reality is starkly different.

If the market crashes, then these stocks could wipe out your wealth.

You should get rid of these stocks as soon as possible.

Click her for full details of these 3 landmines
------------------------------
Equitymaster's View on the Pharma Sector
We reached out to Tanushree Banerjee, Co-Head of Research at Equitymaster, and editor of the premium stock recommendation service StockSelect, for her view on the pharma sector.
Here's what she has to say...
The second Covid wave has given a new lease of life to pharma stocks. As the sector continues to invest in capacities for new drugs, the profitability will depend on the companies' ability to seek USFDA approval for the plants.

Or their ability to tie up with MNC pharma for producing variants of their vaccine.
How the Stock Markets Reacted to Torrent Pharma's Q4FY21 Numbers Today
Torrent Pharma share price rose 6% to Rs 2,891.55 in intra-day trade on the BSE today after the drug firm reported its results.
Presently, the stock is trading at Rs 2,855, up 4.5%. Around 1.1 m shares changed hands on the BSE and NSE combined, at the time of writing.
Pharma stocks are trading on a mixed note today with shares of Wockhardt and Cadila Healthcare leading the gains.
Torrent Pharma shares have touched a 52-week high of Rs 3,040 and a 52-week low of Rs 2,232.
Over the past one year, Torrent Pharma's shares have underperformed the benchmark BSE Sensex by rising 9% as compared to 66% gains in Sensex.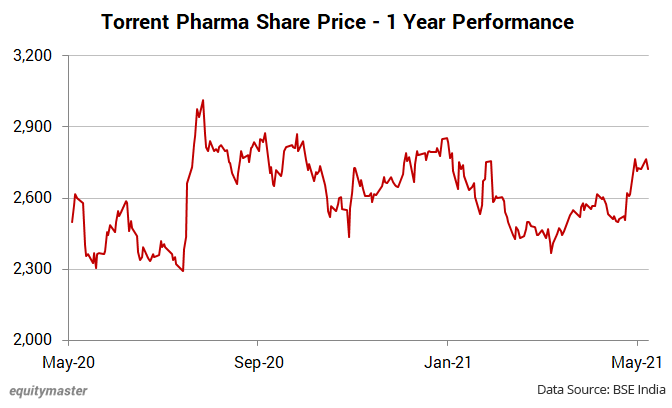 Promoters held 71.25% stake in the company as of 31 March 2021, while overseas investors and domestic institutional investors ownership stood at 12.94% and 6.77%, respectively.
At its current price, Torrent Pharma's shares are trading at a P/E ratio of 39.8 and a P/BV ratio of 10.1.
About Torrent Pharma
Torrent Pharma is one of the leading pharmaceutical companies having presence in Indian and global markets.
The company is a dominant player in the therapeutic areas of cardiovascular (CV) and central nervous system (CNS).
The company also has significant presence in gastro-intestinal, diabetology, anti-infective and pain management segments.
The company has a modern and well-equipped state-of-the-art R&D centre at Bhat near Ahmedabad built with an investment of US$ 40 m.
Torrent Pharma has a strong international presence spread across 40 countries with operations in regulated and emerging markets like US, Europe, Brazil, and rest of the world.
The company operates through its wholly owned subsidiaries spread across 12 nations with major setups in Brazil, Germany, and US.
Torrent Pharmaceuticals, the flagship company of the Torrent Group was incorporated in the year 1972.
For more details about the company, you can have a look at Torrent Pharma fact sheet and Torrent Pharma quarterly results on our website.
For a sector overview, you can read our pharma sector report.
You can also compare Torrent Pharma with its peers on our website.
Torrent Pharma vs Neuland Labs
Torrent Pharma vs Dr Reddy's Lab
To know what's moving the Indian stock markets today, check out the most recent share market updates here.