Tata Motors Shares Plunge After Reporting Surprise Loss in March Quarter
May 19, 2021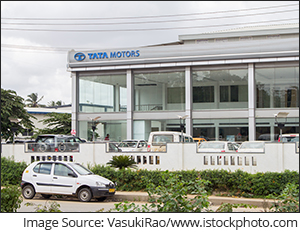 Shares of luxury car maker owner Jaguar Land Rover, Tata Motors, fell as much as 6% to hit an intraday low of Rs 312.2 on the BSE after it reported surprise loss in quarter ended March 2021.
Auto Major Tata Motors announced a Rs 76 bn loss on Tuesday despite a strong performance in the first quarter of 2021.
Restructuring costs related to its British luxury car brand Jaguar Land Rover (JLR) hit the automaker's bottom line.
The figure is, however, narrower than the Rs 98.6 bn loss a year ago as Tata Motors and JLR reported robust sales during the period.
The luxury carmaker, which owns JLR, has incurred cash write downs on assets worth Rs 96.1 bn.
This is apart from the restructuring costs of Rs 53.9 bn. In total, the exceptional loss in Q4 related to JLR stood at nearly Rs 150 bn.
For the full financial year 2020-21, the company reported a consolidated net loss of Rs 134 bn, against a net loss of Rs 119.8 bn in the previous year.
The company reported losses for three consecutive quarters last year, as the pandemic hammered demand in domestic and international markets.
The carmaker's revenue from operations came in at Rs 886.3 bn for the fourth quarter, up 42% from the revenue of Rs 624.9 bn clocked in the same quarter last year.
--- Advertisement ---
Revealing at 5pm Today - The Great Indian Wealth Project

Today at 5 PM sharp, we will reveal our Great Indian Wealth Project at a special online event.

At this event, our co-head of research, Tanushree Banerjee, will reveal the details of your first stock for accumulating a potential Rs 7 crore in long-term wealth.

Please watch this short video message, which Tanushree recorded just for you.




Watch Now
------------------------------
For the full fiscal year 2021, the company's revenue from operations stood at Rs 2.5 tn, down 3.8% as against Rs 2.6 tn in the last year.
Tata Motors reported an operating profit or the earnings before interest, tax, depreciation and amortisation (EBITDA) at Rs 127 bn.
On a standalone basis, Tata Motors reported a net profit of Rs 16.5 bn crore as against a loss of Rs 48.7 bn in the year-ago period.
The domestic business reported a 106% year-on-year (YoY) jump in revenues to Rs 200.5 bn in the March quarter.
Key Financial Indicators

Jaguar Land Rover's Performance During the Fourth Quarter and FY21
The business continued to recover following the onset of the Covid-19 pandemic. Retail sales in the fourth quarter were 1.2 lakh vehicles, up 12.4% YoY.
This was supported by a strong recovery in China, where sales grew 127% over Q4 last year, when the impact of Covid-19 peaked in that market.
Full year retail sales of 4.4 lakh vehicles were still down by 13.6%, although sales in China increased 23.4% YoY.
The award-winning new Land Rover Defender contributed significantly to retail sales, with 16,963 units sold in Q4 and 45,244 units for the full year.
Pre-tax profit before exceptional charges increased significantly to 534 m pounds in Q4 and 662 m pounds for the full year, reversing losses in the same periods a year ago.
Get Details: These 3 Stocks are the Dark Horses of the Stock Market
The EBIT margin improved to 7.5% in Q4 and 2.6% for the full year, up 10.7 and 2.5 points respectively YoY.
The improving performance mainly reflects recovering volumes, favourable mix, cost performance (including lower marketing spend), and foreign exchange.
In February 2021 the company announced its new global strategy to reimagine the future of modern luxury by design and deliver double-digit EBIT margins by fiscal year 2025-26.
Tata Motor's Domestic Sales Decline By 41% In April 2021
The company announced that it has sold a total of 39,530 units in the domestic market last month.
The sales performance can't be compared with April 2020 sales since the country was in a complete lockdown state in the corresponding period last year.
In terms of month-on-month sales the numbers are down by a whopping 41% as it sold 66,609 units in March 2021.
The 39,530 domestic unit sales include 25,095 units of passenger vehicles (PV) and 16,644 units of commercial vehicles (CV).
Tata Motor's domestic passenger vehicle sales also saw a decline of 15% in terms of month-on-month sales as it sold 29,654 units in the month of March 2021. The commercial vehicle sales also recorded a degrowth of 59%.
Passenger Vehicle (PV) sales in Q4 stood at 79,600, up 191.6% and the PV market share improved to 8.2% during the FY21.
Meanwhile, EBITDA of this segment stood at 4.9% and absolute EBITDA highest in the last 10 years.
In Q4FY21, wholesales (including exports) increased 90.2% to 2 lakh units.
Company's Outlook on the Business
While demand remains strong, the supply situation over the next few months is likely to be adversely impacted by disruptions from Covid-19 lockdowns in India and semi-conductor shortages worldwide.
Tata Motors expect Q1 FY22 to be relatively weak due to the ongoing pandemic as well as rising commodity inflation and expect to improve gradually from the second quarter.
Tata Motors Sets Business Agility Plan Amid Evolving Covid Situation
On 26 April 2021, the company informed the exchanges that it remains vigilant about the evolving Covid-19 situation and has scaled up efforts to enhance the wellbeing of its personnel and their supporting ecosystem.
The lockdown enforced in various parts of the country is expected to impact vehicle demand temporarily.
Hence, the company has set in motion a comprehensive 'Business Agility Plan' to protect and serve the interests of its customers.
By carefully calibrating and matching supplies with retail demand, Tata Motors shall ensure that optimal levels of inventory are maintained with dealers to meet whatever customer demands arise.
It will also be prepared for a rebound in demand once the situation returns to normalcy.
Equitymaster's View on Tata Motors
Here's an excerpt of what Rahul Shah, Co-head of Research at Equitymaster, wrote about the stock of Tata Motors a few months back...
Of late, I have seen a perceptible change in the way car enthusiasts think about home grown brands, especially the ones sporting the Tata badge.

They believe that Tata Motors has definitely upped its game when it comes to cars, offering a much better bang for the back in terms of safety, reliability, and style.

So much so that they've even persuaded a few in the group to go for a 'Tata' as their next car.

Well, it is not just in these chatrooms that Tata Motors is a hot commodity. It has also set the Indian stock market on fire with its stellar run in the last year or so.

However, any strong connection between the company's share price jump and its much improved car line up should be taken with a pinch of salt.

The company's car division is a small contributor to its overall fortunes.

What really moves the needle for the company in terms of its fundamentals is its overseas subsidiary of Jaguar Land Rover and its commercial vehicles division.

And therefore, investors should track these divisions closely if they have to take a call on the company as an investment candidate.
You can read Rahul's entire article on this topic here: Is the Tata Motors Stock Running Out of Juice?
He has also made a video on YouTube analysing Tata Motors.
Rakesh Jhunjhunwala, one of India's most successful investors, shelled out Rs 5 bn for buying Tata Motors shares a few months back and Rahul's video was about trying to understand this huge bet.
In case you haven't seen it yet, you can access it below:
How the Stock Markets Reacted to Tata Motors Q4FY21 Numbers Today
Shares of Tata Motors opened the day at Rs 315 on the BSE and Rs 313 on the NSE.
Tata Motors share price closed at Rs 314.5 (down 5.4%) on the BSE and the NSE.
The share touched its 52-week high of Rs 357 and 52-week low of Rs 63.6 on 03 March 2021 and 24 March 2020, respectively.
Over the last 30 days, the Tata Motors share price is up 4.9%. Over the last one year, the company's share price is up 291.3%.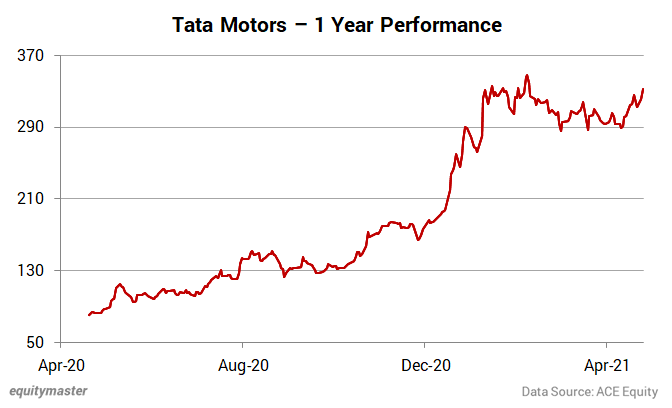 About Tata Motors
Tata Motors is a leading global automobile manufacturer of cars utility vehicles buses trucks and defence vehicles.
As India's largest automobile company and part of the US$ 113 bn Tata group, Tata Motors has operations in the UK, South Korea, Thailand, South Africa, and Indonesia through a strong global network of 76 subsidiary and associate companies including Jaguar Land Rover in the UK and Tata Daewoo in South Korea.
In India Tata Motors is a market leader in commercial vehicles and among the top passenger vehicles manufacturers with 9 m vehicles on Indian roads.
With design and research & development (R&D) centres located in India, UK, Italy, and Korea, Tata Motors strives to pioneer new products that fire the imagination of Gen-Next customers.
For more details about the company, you can have a look at Tata Motors factsheet and quarterly results on our website.
You can also compare Tata Motors with its peers.
And to know what's moving the Indian stock markets today, check out the most recent share market updates here.