How Did Canara Bank Perform in Q4FY21?
May 19, 2021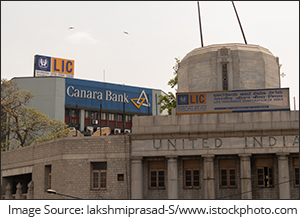 State-owned Canara bank's net profit for the fourth quarter ended March 2021 (Q4FY21) stood at Rs 10.1 bn as against net loss of Rs 65.7 bn in the same period a year ago.
The net profit for FY21 stood at Rs 25.6 bn as against net loss of Rs 58.4 bn FY20. For the purpose of comparison, these figures (Q4FY20 and FY20) depict combined performance as if Syndicate Bank had merged with it in FY20.
The actual merger with Canara bank happened in April 2020. Thus, FY21 was the first complete year of the amalgamated entity.
Canara bank's net interest income (NII) rose 18.6% year-on-year (YoY) to Rs 240.6 bn in FY21, while non-interest income grew 40.8% to Rs 152.9 bn. For the quarter under review, NII increased by 21.9% to Rs 52.1 bn.
The bank's net interest margin (NIM), a key profitability parameter, improved to 2.8% for the quarter under review from 2.5% in the year ago period. NIM was higher at 2.8% for the December quarter.
Asset Quality Deteriorates
The asset quality deteriorated as the gross non-performing assets (NPA) stood at 8.9% versus 7.5% on a sequential basis while the net non-performing assets (NNPAs) stood at 3.8%, compared to 2.6%.
On a quarter-on-quarter basis (QoQ), gross non-performing assets (NPAs) ratio of the lender improved 2 basis points (bps) to 8.93%, compared to reported proforma gross NPAs of 8.95% in the previous quarter.
Its provisions for the reporting quarter declined sharply to Rs 46.9 bn as against Rs 89.8 bn in Q4FY20.
The provision coverage ratio was 79.7% at end of March 2021 (against a guidance of 81%) as against 77% in March 2020.
--- Advertisement ---
This is a Powerful Mega Trend Playing Out in India

We have uncovered a powerful mega trend that is playing out in India right now.

It could potentially generate immense wealth for early movers.

Our co-head of research Tanushree Banerjee has also zeroed in on one specific stock riding this mega trend.

It's her #1 stock pick right now.

And she believes, this could be one of the top stocks to get to potential Rs 7 crore wealth over the long term.

Tanushree will reveal all the details about this mega trend and her #1 stock at her special online event on July 29.

At the event Tanushree will also show you, how to potentially accumulate Rs 7 crore in wealth over the long term.

What you learn at the event could possibly change your financial fortunes forever.

Click here to reserve your FREE seat.
------------------------------
Key Summary of Business Performance
Global business increased by 8.2% YoY to Rs 16.9 tn as of March 2021 with global deposits at Rs 10.1 tn 11.5%. YoY and global advance (gross) at Rs 6.8 tn 3.7% YoY.
Domestic deposit of the bank stood at Rs 9.6 tn as of March 2021 with growth of 10.7% YoY, while domestic advances (gross) of the bank stood at Rs 6.5 tn as of March 2021 with growth of 5.5% YoY.
Current and saving account (CASA) deposits rose 14% to Rs 3.3 tn for the financial year 2021.
Retail, agriculture & allied and micro, small & medium enterprises (RAM) constitute 56.2% of total advances.
Retail lending portfolio increased 12.1% YoY to Rs 1.2 tn as of March 2021.
The company's housing loan portfolio increased 15.1% YoY to Rs 643.5 bn for the quarter under review, while vehicle loan portfolio increased 13.3% YoY to Rs 137.1 bn.
The bank's advances to agriculture grew by 17.4% YoY to Rs 1.6 tn as of March 2021.
Free Signup: The Smallcap Revival Summit
Priority Sector and Financial Inclusion
The bank has achieved targets in priority sector at 44.1% and agricultural credit at 18.7% of
adjusted net bank credit (ANBC) as of March 2021, as against the mandatory target of 40% and 18%, respectively.
Credit to weaker sections stood at 17.7% of ANBC, against the target of 10%.
Bank has opened 138 lakhs accounts under Pradhan Mantri Jan-Dhan Yojana (PMJDY) and mobilised CASA deposits of Rs 61.5 bn as of March 2021.
Canara Bank's Shareholding Pattern as on 31 March 2021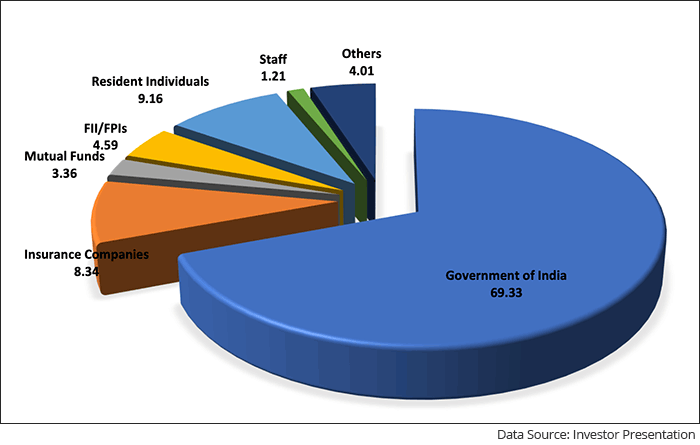 Company's Network Across India
As on 31 March 2021, the bank has 10,416 number of branches, out of which 3,069 are rural, 3,140 semi- urban, 2,094 urban and 2,113 metros along with 13,452 ATMs.
How the Stock Markets Reacted to Canara Bank Q4FY21 Numbers Today
Shares of Canara Bank opened the day at Rs 148.9 on the BSE and Rs 148 on the NSE.
Canara Bank's share price closed at Rs 146.4 (down 0.2%) on the BSE and the NSE.
At its current price, it is trading at a P/E of 7.7.
The share touched its 52-week high of Rs 174.4 and 52-week low of Rs 75.8 on 18 February 2021 and 20 May 2020, respectively.
Over the last 30 days, the Canara Bank share price is up 13.7%. Over the last one year, the company's share price is up 89.3%.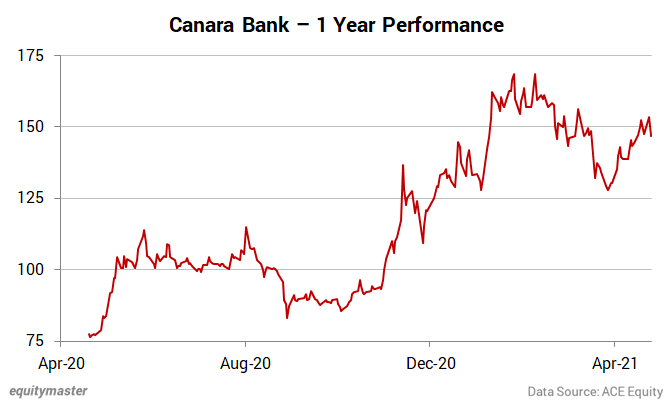 About Canara Bank
Canara Bank is one of the largest Indian government owned banks. It is under the ownership of Ministry of Finance, Government of India. It's headquartered in Bengaluru.
The bank operates in four segments namely treasury operations retail banking operations wholesale banking operations and other banking operations. It provides a range of products and services to the customers.
Canara Bank has a strong pan India presence. Across the borders the bank has 8 branches one each at London, Leicester, Hong Kong, Shanghai, Manama, Johannesburg, New York, and DIFC (Dubai), and a representative office at Sharjah UAE.
As per the announcement made by the Finance Minister Nirmala Sitharaman on 30 August 2019, Manipal based Syndicate Bank merged with Canara bank on 1 April 2020, making it the fourth largest bank in the country.
For more details about the company, you can have a look at Canara Bank factsheet and quarterly results on our website.
You can also compare Canara Bank with its peers.
Canara Bank vs Punjab National Bank
Canara Bank vs State Bank of India
And to know what's moving the Indian stock markets today, check out the most recent share market updates here.