Dr Reddy's Net Profit Falls 76%. Company Declares 600% Dividend
May 19, 2022
Pharma major Dr Reddy's Lab today reported its March quarter results during market hours.
Concerns regarding cost pressures were mounting for the past couple of months, so investors were keen to know how the pharma company's profit margins were impacted.
Dr Reddy's has a huge exposure to Russia, and CIS regions. The company has the highest export exposure to these regions, among domestic drugmakers.
Though the company doesn't have any manufacturing plant in Russia, it has had a presence in the region for over three decades. Revenue from Russia accounts for about 8-10% of the company's total revenue.
Here are four key takeaways from Dr Reddy's March quarter results.
Dr Reddy's consolidated net profit for the quarter ended March 2022 dropped to Rs 875 m, compared with Rs 3.6 bn in the same quarter last year. This translates into a 75.6% drop.
The company's revenues rose to Rs 54.4 bn, a growth of 15% YoY and 2% on a sequential basis.
During the quarter, there were significant changes to the market conditions of the products forming part of Dr Reddy's generics and proprietary products segments.

The changes include decrease in the market potential of products, increased competition leading to lower volumes, and revenues not being in line with projections.
Dr Reddy's board recommended a final dividend of Rs 30 per share (600% on face value).
Dr Reddy's Lab share price opened the day at Rs 3,850 against its previous close of Rs 3,908.
As soon as it declared results, shares saw a sudden spike and rose over 1% to Rs 3,949.
Interestingly, Dr Reddy's Lab and ITC were the only gainers today from the pack of BSE 30 stocks. Even as stock markets continue to fall, both these stocks traded in green.
The reason behind ITC's outperformance is that ITC's results beat estimates, which sent the stock to its 52-week high.
Coming back to Dr Reddy's performance...
So far this year, shares of Dr Reddy's Lab have underperformed the markets and have lost over 25%.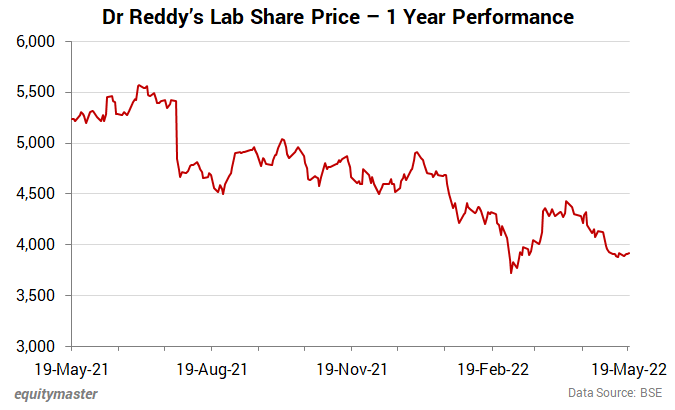 About Dr Reddy's Lab
Dr Reddy's Lab is a leading India-based pharmaceutical company headquartered and having its registered office in Hyderabad, Telangana, India.
The company has key presence is in India, North America, Russia and CIS countries, Europe and other emerging markets. The company has wide portfolio in several markets and has made several niche and Para IV launches.
For more details about the company, you can have a look at Dr Reddy's fact sheet and Dr Reddy's quarterly results on our website.
For a sector overview, you can read our pharma sector report.
You can also compare Dr Reddy's Lab with its peers on our website.
Dr Reddy's Lab vs Aurobindo Pharma
Dr Reddy's Lab vs Abbott India
Disclaimer: This article is for information purposes only. It is not a stock recommendation and should not be treated as such. Learn more about our recommendation services here...
Yash Vora is a financial writer with the Microcap Millionaires team at Equitymaster. He has followed the stock markets right from his early college days. So, Yash has a keen eye for the big market movers. His clear and crisp writeups offer sharp insights on market moving stocks, fund flows, economic data and IPOs. When not looking at stocks, Yash loves a game of table tennis or chess.