IOC Reports Highest Ever Annual Profit
May 20, 2021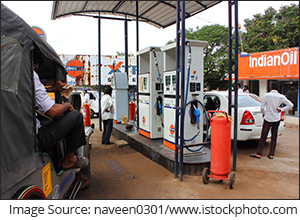 State-owned oil refining and marketing company Indian Oil Corporation (IOC) on Wednesday reported a net profit of Rs 87.8 bn for the January-March quarter (Q4FY21), helped by higher refining margins.
This is compared with a loss of Rs 51.9 bn in the same period a year back.
The bottomline was also helped by higher crude prices, which boosted the inventory value.
Inventory gains are booked when crude oil prices rise by the time a company processes oil into fuel. Brent crude prices have jumped about a quarter during the March quarter.
Revenues surged to Rs 1.63 lakh crore from Rs 1.39 lakh crore last year.
Tax expenses declined 24.6% over the previous quarter.
The company sold more petroleum products during the quarter under review at 21.2 m tonnes as opposed to 20.7 m tonnes in the previous year.
Indian Oil's Q4 gross refining margin (GRM) - which is what a company earns by processing a barrel of crude into fuel - was not available.
The benchmark Singapore gross refining margin, however, recovered from US$ 1.2 a barrel in the third quarter to US$ 1.8 per barrel in the January-March period.
--- Advertisement ---
REVEALED: 3 "Super Smallcaps" You Didn't Know About

You may not have heard of these 3 "super smallcaps" ever before...

The mainstream press doesn't cover them... Most brokers don't know about them either...

Stock like these 3 "super smallcaps" only come to your notice when they have rallied by hundreds or even thousands of percent... and are all over the news!

However, thankfully, our top analyst Richa Agarwal is ready to reveal their details at her Super Smallcaps Summit on 11th August...

Make Sure to Grab Your Free Spot Right Now
------------------------------
FY21 Highlights
India's biggest oil firm posted a record net profit of Rs 217.6 bn on a consolidated basis, during fiscal year 2020-21 against a loss of Rs 18.8 bn in the year before period.
This was the highest annual profit ever reported by the IOC.
The company's revenue in the period fell by 9% to Rs 5.19 lakh crore.
The company reported total income of Rs 5.23 trillion during FY21 as compared to Rs 5.78 trillion during corresponding period a year before.
IOC Chairman, SM Vaidya attributed the increase in profit to inventory gains, which came from fluctuations in global crude oil prices and rising sales of high-margin petrochemical products.
"Our refining throughput for FY21 was 62.351 million tonne (MT) and the throughput of the Corporation's countrywide pipelines network was 76.019 MT during the year."
IOC achieved the highest ever petrochemical sales of 2.5 MT in FY21, up 20% annually. The petrochemicals segment reported a turnover of Rs 195.6 bn, 24% more than FY20.
Watch Now: Get Details of Richa's 3 Dark Horse Stocks
The company announced the board's approval to expand the capacity of Bongaigaon refinery to 3 MTPA from 2.7 MTPA.
For the full fiscal, Indian Oil's GRM stood at US$5.64 a barrel against US$0.08 in FY20.
The company's board also declared an interim dividend of Rs 1.50 per equity share.
This final dividend is in addition to the interim dividends of Rs 10.50 per share paid for the financial year 2020-21.
Reduced Crude Processing
IOC's Chairman said the company has reduced crude processing to average at 84% of overall capacity from 96% last month as a devastating second wave dented fuel demand.
In May last year, IOC was operating its plants at an average 67%.
IOC, along with subsidiary Chennai Petroleum, controls about a third of India's 5 million-barrels-per-day (bpd) refining capacity.
Domestic sales of gasoil and gasoline by Indian state refiners plunged by a fifth in the first half of May from a month earlier, preliminary data showed on Monday, as lockdowns to curb Covid-19 cases hit industrial activities and consumption.
Developments in the Refinery Space...
Indian refiners and at least one European refiner are re-evaluating their crude purchases to make room for Iranian oil in the second half of this year, anticipating that US sanctions will be lifted.
As per a leading financial daily, several Indian state refiners, whose refineries are suited to the crude, have committed to buying Iranian oil once sanctions are lifted.
Indian refiners have raised the share of spot purchases to take advantage of cheaper barrels in a surplus market and replaced lost Iranian cargoes with US oil.
IOC is expecting to reduce spot purchases and can easily process about 2 m tonnes (14.6 m barrels) of Iranian oil this fiscal year, said a company source.
A BPCL spokesperson also said it will buy Iranian oil if sanctions are lifted.
Meanwhile, HPCL said it would buy Iranian crude given the right price and economic suitability.
Crude Oil Prices During the Quarter
Brent crude prices have jumped about a quarter during the March quarter.
This helped IOC to post robust profit as higher crude prices boost inventory value. Inventory gains are booked when crude oil prices rise by the time a company processes oil into fuel.
IOC Shareholding Pattern as on 31 March 2021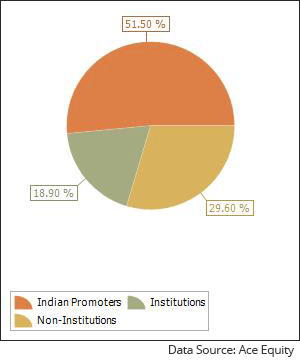 Promoters held 51.5% stake in the company as of 31 March 2021, while overseas investors and domestic institutional investors ownership stood at 5.81% and 12.98%, respectively.
How the Stock Markets Reacted to IOC's Q4FY21 Numbers Today
IOC share price opened the day up by 2% at Rs 109.9 but succumbed to profit booking later in the session.
Shares of the company fell as much as 1.5% and are presently trading down by 1%.
IOC share price has touched a 52-week high of Rs 109 and a 52-week low of Rs 71.
Let us compare IOC's share price with its competitors over the past one year.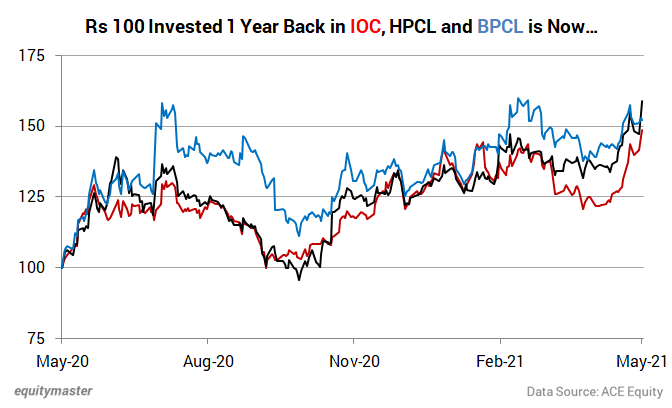 While Rs 100 invested in IOC 1 year back turned out to be Rs 149, Rs 100 invested in HPCL and BPCL would have fetched Rs 159 and Rs 152, respectively.
Note that shares of oil marketing companies (OMCs) have seen an up move in their share prices recently after petrol and diesel prices were hiked.
Earlier this month, Maharashtra joined Rajasthan and Madhya Pradesh in the league of states where petrol rates breached the Rs 100-a-litre mark.
Fuel prices differ from state to state depending on the incidence of local taxes such as value added tax (VAT) and freight charges.
About Indian Oil Corporation (IOC)
Indian Oil Corporation (IOC) is India's flagship national oil company with business interests straddling the entire hydrocarbon value chain - from refining pipeline transportation and marketing of petroleum products to exploration & production of crude oil & gas marketing of natural gas and petrochemicals.
The company is the leading Indian corporate in the Fortune 'Global 500' listing ranked at the 151th position for the year 2020.
Of India's more than 20 refineries, IOC owns approximately 10, which processed 61.70 m metric tons (about 40% national refining market share) in fiscal 2019.
The group also owns more than 14,200 km of pipeline and operates a chain of gas stations across India.
Indian Oil has about 80% of India's downstream pipeline throughput capacity, and its network of more than 27,700 retail outlets represent 60% of the country's petroleum products market share. Indian Oil also has exploration and production operations in India and around the world.
For more details about the company, you can have a look at IOC's fact sheet and IOC's quarterly results on our website.
For a sector overview, you can read our energy sector report.
You can also compare IOC with its peers on our website.
To know what's moving the Indian stock markets today, check out the most recent share market updates here.